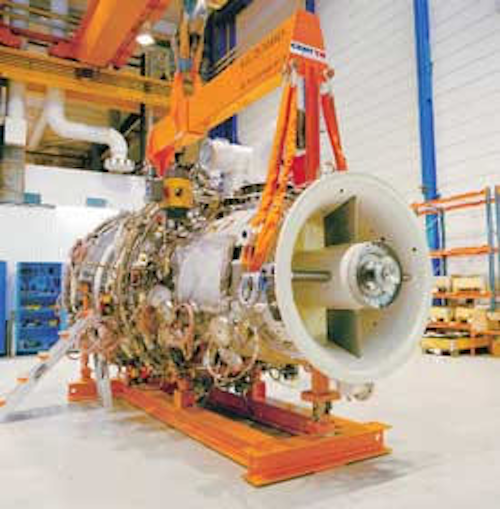 A new addition to the Alstom range of gas turbines is undergoing final testing at the Alstom Power factory at Finspong, Sweden. The new turbine has a 30MW power output and is a development of the successful GT10B, which is a 25MW unit.
Despite its increased power output, the new turbine, designated GT10C, is roughly the same weight as the 10B and occupies the same footprint as both engines use the same base frame. It should therefore attract strong interest for offshore power generation, including from existing Alstom clients seeking a replacement of their GT10B installation as an alternative to undertaking a major 80,000 hour overhaul.
The increased power output of the new gas turbine has been achieved by designing it to run at a higher temperature and this has been made possible by cooling the first blades in the turbine. The exhaust flow and temperature is also expected to make it particularly efficient when used in combined cycle generating systems.
Trials of the turbine are being conducted in a newly-built test facility in Finspong that can accommodate gas and liquid fuels. This in turn makes string tests possible. The test program, devised to replicate a wide range of offshore conditions, has been in progress since October and is expected to continue until the summer. The new turbine will only become commercially available when the testing program is complete, however Alstom's technical team has been encouraged by the performance to date.
For more information contact Inger Welander, Alstom Power. Tel: +46 122 819 49, Fax: +46 122 165 80, Email: inger.welander@power.alstom.com.