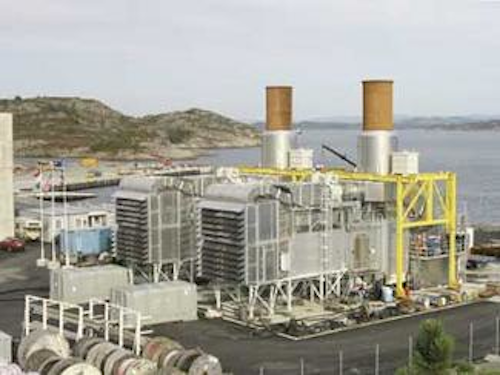 The marine environment is a hostile one for turbines and diesel generators. Air-borne dust, salt, and moisture will wreak havoc on internal parts without properly cleaned air to feed the combustion chambers.
Camfil Farr's multistage filtration systems trap airborne particles, capture water droplets, and remove them from the air stream to protect and maintain high operating efficiency of generating sets. The three-stage process involves the Cam Vane, a separator with airfoil vanes that remove water droplets, followed by bag filters to catch medium-size particles and the finest mist. The final stage is the Cam GT filter, featuring reinforced vertical pleats that support the high capacity filter as it strips the air of particles down to 0.3 microns.
With a normal life of two to three years, the filter minimizes routine maintenance as it captures and holds salt to prevent corrosion and fouling of compressors, turbines, or gensets. This capability improves efficiency and reduces costs for the air package. With a low-pressure drop across the unit, it minimizes fuel expense and helps reduce emissions. Disposal is simple, as the CamGT is incinerable.
An example of the cost-effectiveness of a Camfil system is its performance on the Snorre B platform in the North Sea. Normally, generating sets require water washing after 1,000 hr of operation to remove dust and salt that passes through conventional filters. For this platform, the Camfil system operated for 4,000 hr before the turbine underwent a water wash. This 400% improvement over the normal maintenance cycle represents a significant savings for the platform operator.
Recent deliveries
This year the company has been working on air filtration packages for 11 LM2500+ generating sets for Gulf of Mexico deepwater projects. In the North Sea, the company delivered a filtration system for the Valhall development, as well as filtration and acoustic packages for Statoil's Kvitebjørn platform. It also built air filtration and acoustical controls for General Electric generating sets for Norsk Hydro's Grane platform. A further order, from Dresser Rand for Statoil's Kristin project, involves supply of aluminum inlet and ventilation components, and stainless steel enclosures for two gensets and one compressor set. For Iranian National Oil Co., Camfil is building enclosures for three Alstom GT35 gas turbines for a platform deck for the Soroosh field in the Persian Gulf. All of the above units will use the Cam GT air filter.
Demand for the company's products is growing in other offshore sectors. Recently, it opened new manufacturing facilities in China and sales offices in Australia and the Middle East.
For more information, contact Peter Sandberg, Camfil Industrifilter. Tel: +46 33 17 85 00, fax: +46 33 17 85 55, email: peter.sandberg@camfilfarr.se.