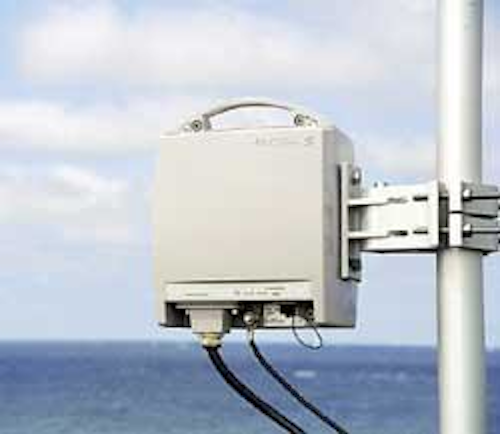 The need for high quality communications continues to grow throughout the off-shore sector. Ericsson, a world leader in microwave communications, is experi-encing particular success offshore Mal- aysia, Brunei, and in the North Sea.
While satellite communications are important for mobile drilling rigs, fixed installations can use more cost-effective means to knit together the data flows from daily operations to wherever the data is needed. This includes production statistics, data streams from downhole tools, routine orders for consumables, and many other data types.
On drilling rigs and production platforms digital communications are increasing. Wireless communication is connecting all the members of the operation al team regardless of their location on the installation. This, coupled with data streams from the operation, helps crew and management make quick decisions for the effective use of time and materials.
Internet connections are expanding as well, linking remote operations into the "corporate mind" so that experts are always available to remote operations whatever the situation at the wellsite or production facility. Access to this increasing knowledge density is helping onsite crew shorten cycle time on routine processes and quickly reduce delays caused by the need to bring in specialists from shore. With digital video and voice communications operational problems are solved without the need for an expert's physical presence onsite.
Flexible networks
More and more mobile communications and Internet applications are increasing the need for flexibility from existing communication systems. Data traffic patterns are unpredictable, so operators must build flexible systems to make the best use of existing equipment. Ericsson is very experienced in linking and meshing cross-technology systems, which may include microwave, optical, Ethernet, and copper components.
Ericsson accomplishes this by providing a range of comprehensive microwave solutions, combined with optical solutions like dense wavelength division multiplexing (DWDM) and synchronous digital hierarchy (SDH) systems to build the "first mile" backbone for an integrated communications system. Such systems can include wireless broadband, fiber Ethernet, or DSL connections for the Internet.
The company's strategy is to build network flexibility in parallel with high capacity to keep unit costs low. SDH systems are built for backbones, which are then augmented by DWDM to increase capacity. This is especially useful in local networks spanning a large area to connect a company's dispersed operations.
MINI-LINK
Ericsson manufactures the MINI-LINK family of products to join point-to-point and point-to-multipoint systems. These can be deployed in different topologies including star, ring, and tree forms in capacities up to 155 Mbps.
The MINI-LINK E microwave radio is compact and reliable. Its mean time to failure is 30 years, so any installation will be in service throughout the life of most oilfield projects. The radio provides transmission links from 2 Mbps to 17x2 Mbps and operates within the 7 to 38 Ghz frequency range.
The unit comes in two types, a self-contained, all-outdoor terminal or a split system. The split system has an indoor access module and an outdoor radio unit. This is especially good for cluster sites and offers maximum flexibility.
Network management
Netman, Ericsson's element manager software, provides centralized network management. It can operate as a stand-alone system or be integrated into a larger network management system. This is especially useful for high-density networks.
The software presents the network topology graphically, including dynamic maps that can be customized. The system runs under Windows NT, is scalable, and can be expanded as the network grows. Netman includes fault, performance configuration, and security management. Remote software upgrades save time and simplify maintenance.
For more information, contact Hans Herbertsson, Ericsson. Tel: +46 31 747 00 00, fax: +46 31 277225, email: hans.herbertsson@emw.ericsson.se.