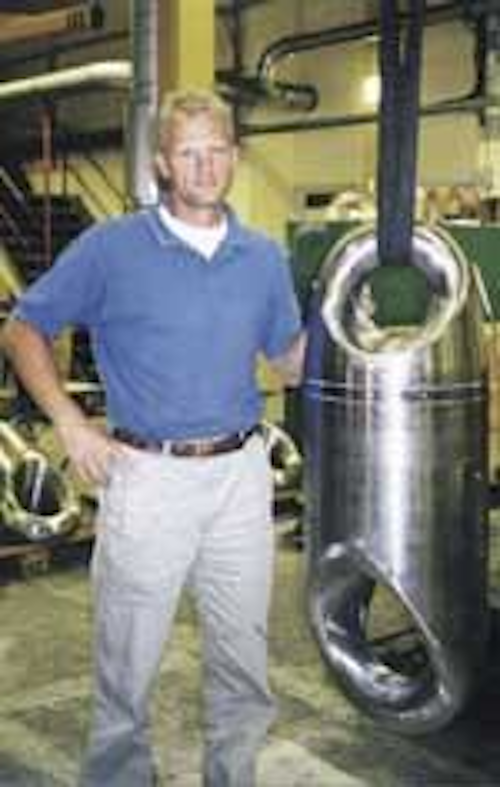 Deepwater mooring systems require high-strength components to join the various parts of the system into a whole. Often, they are used to combine diverse materials together, which may include chain, wire rope, or synthetic fiber of different types. The systems needed are all site-specific and unique for the type of vessels to be moored. This means that each linking component needs to be tailored to the materials employed and the types of stresses expected at that section of the mooring system.
MoorLink produces both standard and customized products to cover varying connection needs. These components include ball swivels, roller bearing swivels, anchor-handling swivels, anchor chain swivels, wire clamps, chain clamps, swivel connection links, and wire rope sockets.
The market for the company's products has grown strongly over the past year as drilling contractors added new rigs to their fleets, such as GlobalSantaFe Rig 184 and Rig 185. Each rig required 24 custom swivels and new sockets, which were provided by MoorLink.
Many older drilling rigs are being refitted with new mooring systems. Diamond Offshore is in the process of replacing the systems on five of its older vessels. The new enhanced mooring system for two of the vessels includes eight MoorLink ball swivels per rig. These will ex-tend the rigs' life use and water depth capacity. New mooring systems also make the rigs more marketable, especially for deeper water depths.
MoorLink performs both bench testing and full-scale testing of its new designs. Function-al testing is preferred with side load measured with strain gauges to improve understanding of the forces on the links. Different operational sequences are simulated to determine the strength of the connections and how they will respond under actual conditions.
Pipeline protection
It is important for pipelayers to avoid clashes between their mooring lines and existing pipelines. MoorLink has developed a new wire clamp that allows pipelayers to attach buoyancy cans to their mooring lines. This in turn keeps the mooring lines away from the pipeline, preventing damage. Pipelayers also use the clamps for lifting the mooring spread in shallow water. This increases mobility within a set anchor pattern while keeping the mooring lines off the seabed. MoorLink recently sent 13 clamps to the Stolt Offshore LB 200 for work in West Africa.
For more information, contact Bjorn Palmquist, MoorLink. Tel: +46 31 711 18 19, fax:+46 31 708 79 00, email: bjpa@moorlink.se.