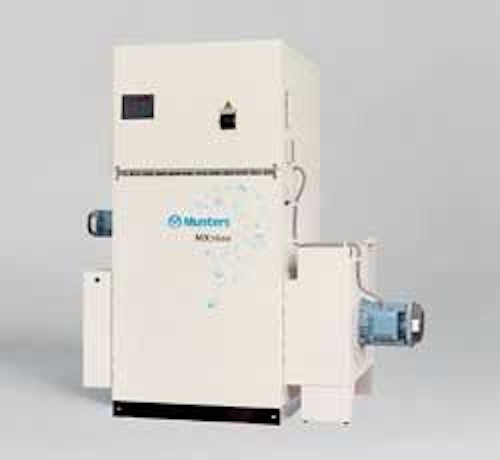 High humidity is an accepted fact of life working on water. But, to preserve equip-ment, minimize corrosion, and protect both stores and cargo, humidity levels need to be reduced.
The moisture load on a vessel comes from four main sources:
Infiltration of moisture-laden air from outside
Ventilation air pumped through the vessel
Moisture from the ship's stores and cargo
Rainwater in the vessel's hold.
On rigs and production platforms, drilling mud and chemical additives can be compromised by moisture. Absorption of moisture can activate caustic or acidic bulk materials, which can lead to corrosion problems in storage areas and make material handling dangerous for personnel. For most offshore applications, 40% relative humidity should be the highest acceptable level, meaning that some form of moisture control is necessary.
High moisture levels also affect people. Mold and bacteria thrive at high moisture levels, irritating respiratory tracts and allergies. The solution is proper control of the relative humidity inside the holds and living spaces.
Steel corrodes quickly above relative humidity levels of 60%. Humidity levels above 40% can damage wood and paper products. Electronic equipment is damaged by humidity levels above 20%. So the need for humidity control is widespread, especially to extend the useful life of vessel structures and equipment.
In response, Munters has developed humidity control systems built around its patented Honeycombe sorption rotor. This cylindrical glass fiber device uses a silica gel or lithium chloride with a combination of absorption and adsorption properties to remove moisture from process air as it is moved out of an enclosed space.
By heating reactivation air to 120° C and forcing it through 25% of the rotor, the rotor is cleared of moisture and is readied to absorb more. In this way, the moisture can be regulated in the space to maintain the appropriate level of humidity. This ability to control the temperature/moisture balance of the air allows the creation of very low humidity levels, which can then be sustained for the protection of people, equipment, and stores.
No painting needed
Proper humidity control can actually eliminate the need for painting of interior surfaces if the humidity level is reduced and maintained below 40%. This was the approach used on the Oresund Bridge span connecting Sweden and Denmark. Munters provided 17 dehumidifiers to keep the unpainted interior of the boxes at low humidity, preventing corrosion and thereby lowering lifetime costs for the structure.
For more information, contact Johan Hellman, Munters Europe. Tel: +46 31 709 84 20, fax: +46 31 709 84 29, email: johan.hellman@munters.se.