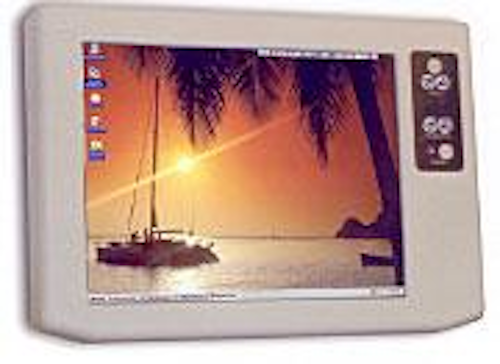 Veronica Murillo, Business Editor
Barometric pressure sensor
Model 61202 Barometric Pressure Sensor from R.M. Young Co. offers a choice of voltage, current, or serial outputs. The model is calibrated to ensure accuracy over a wide pressure and temperature range. It is available in 0-5 VDC signal to satisfy a variety of requirements. In addition to the analog signal, each barometer features an RS 232 serial output for connection to modern data acquisition systems. It is housed in a weatherproof molded case. A U-bolt mounting is included for secure attachment to towers or masts. The Model 61002 Pressure Port minimizes dynamic pressure errors due to wind in outdoor installation.
All-weather monitor
Digital Systems Engineering introduces the PT-AWM all-weather monitor, designed for outdoor use or where environmental protection is required. The 12.1-in. display can be read in direct sunlight or can be dimmed to almost black to use at night. It comes with an optional analog resistive touch screen. The case is tested to IP68 submersible standards and is made from tough cast aluminum. It is powder-coated and rated at 0°C to 50°C without special cooling. It can mount in a console or attach to an adjustable ball-joint mount.
Bolting facility
Hydratight Sweeny's new facility in Pasadena, Texas, is specifically built for bolting services and equipment. The company caters to a range of industries where specialized bolting is needed, such as petrochemical exploration, refining, and transportation.
Engineers help assist customers with the bolting service and products for most all applications, including RSL torque wrenches, bolt tensioning, Sea Serpent Sub Sea tensioners, nut splitters, flange spreaders, Morgrip pipeline connectors, and other company products.
Handheld meter analysis
Marine Vibration's Handheld Vibration Meter allows access to predictive maintenance and preliminary vibration analysis in a handheld device. The meter indicates vibration severity when a vibration is physically evident. Using this information gives users an early warning of possible problems. Users can monitor vibrations caused by a mechanical fault such as damaged coupling or bent shaft. They can assess conditions of a critical pump or motor. It's also applicable to acceptance testing to determine if something falls within acceptable limits. The meter is battery-operated and includes a vibration sensor. It complies with ISO 2954 and ISO 10816 and has optional headphones for audio output.
Generator interconnection relay
Schweitzer Engineering Laboratories introduces the SEL-547 distributed generator interconnection relay. It provides utility-grade protection of distributed generation utility systems connections. The product protects against abnormal conditions when using the distributed generator in all operating modes, including peak shaving, base loading, islanding, and emergency backup. It is valid under IEEE Standard P1547, provid-ing basic generator protection functions. It sets up via an EIA-232 port and integrates into programmable logic controllers using the EIA-485 port with the Modbus communications protocol.
Gas turbine
General Electric Aeroderivative and Package Services's LM Aeroderivative gas turbine is able to replace major engine assemblies, referred to as Engine Maintenance Units, quickly without lacking in quality performance. The company's package service has developed a program where the EMU can be installed at the customer's site. Replacing the EMU onsite benefits users by eliminating lease engine costs and time. The company offers temporary EMUs while the initial one is repaired.
Hanging tray
Cablofil designed the AS Trapeze Clip to integrate Cablofil's assembly system by folding down a tab to securely hold the wire cable tray in place. It is fastened to threaded rod by snapping into grooves and folding a tab upward. This meth-od is re-engineered to support all threaded rod sizes. The tray can be assembled using a screwdriver or wrench. Hanging installations are made easier by eliminating poly grommets.
Radar inspector
ABB's Riser Active Data Acquisition Recorder (Radar) is an advanced tool to inspect drilling riser, production riser, C&K lines, and other metallic tubulars internally. The portable Radar can be used on a rig or job site. It requires two service hands and is integrated for deployment and setup. The device can make a complete field inspection service by adding another technician. The equipment is housed in an environmental enclosure to be stationed onsite with internal elements fully operational. The housing contains needed support equipment.
Deep well hammers
Halco developed Deep Well 600 and Deep Well 880 hammers that the company says are 50% faster than any other 6-in. or 8-in. hammer in the market. The company says the hammers offer the lowest cost-per-foot in industry. The hammers include an air system to overcome pressure to allow underwater drilling. Specifically designed for demanding deep well oil and gas applications with minimal moving parts and simple maintenance, the hammers have completed an 18-month test market and are available nationwide.
Liner hanger system
Dril-Quip features the LS-15 liner hanger system. The a high-strength, high-pressure system is capable of carrying high loads. It has a metal-to-metal packer seal for high pressure service. The system has a positive back-up of one-piece C-ring slip, which the company says assures trouble-free performance. It is set with the running tool, not with hydraulic or mechanical devices on the hanger body. The large slip area and controlled friction minimizes stress in the supporting casing. All hangers are automatically centralized when set. The bypass flow area is the same after setting the liner hanger slip as in the running-in position. It maximizes circulating flow-by areas for efficient cementing operations. The LS-15 liner hanger system can be sized and configured to customer specifications.
Intranet database
Caterpillar has created a secured intranet database for CAT dealers to provide model specific information. It lets manufacturers know when dealers have accessed this database to service their product. The product is designed to leverage the CAT worldwide product support, increase communication and response time, and reduce time spent resolving product support issues. The interlink includes dealer contact information, installation audit data, special instructions, and component information.
Underwater pipe data system
BJ Process and Pipeline Services developed Update, an underwater pipeline data acquisition and transmission equipment system designed to reduce costs by changing hydro testing of newly laid subsea pipelines. This is the first system to monitor and transmit pressure and temperature data of underwater pipe during the hold period of a hydro test while the marine support vessel travels upward to 9.5 km from the testing site. The system stores data, then transmits it through water to the surface assembly on a supporting marine vessel.