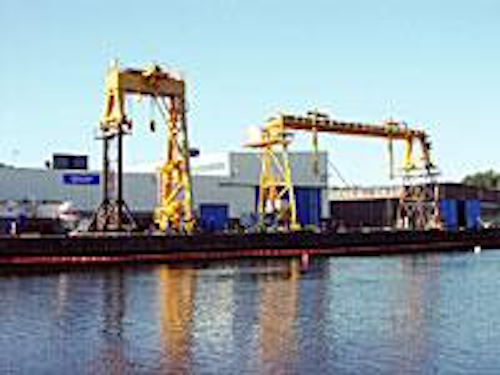 Complex angles and curved metalwork are everyday tasks for Junoverken's machinists, as are specialized welding and finishing. The company has achieved ISO 9000 certification and special welding certification, EN729-2, which puts it ahead of most companies in northern Europe.



The company has full machining, assembly, and painting facilities for heavy metal work. With 10,000 sq m of production space to handle large materials, it can also install piping, assemble components, heat treat, surface treat, and document all fabrication for future reference.
The company routinely creates gas turbine diffusers, the latest being for Alstom Power. These components require the welding of five different steel types into a single unit to meet the extreme temperature and pressures forces within the turbine. Different welding materials are used, depending on the metal types to be joined.
Oilfield applications
The market for pressure vessels is likely to grow as more LNG trains are produced. The company is currently producing pressure vessels for Stena for the transport of LPG. These pressure vessels hold 650 cu m of LPG in large cylinders 24 m long by 6.5 m wide. The steel is 40 mm thick, which means the fabricator must have the ability to bend steel for the large vessels and also to relieve the metal stresses created.
The LPG tanks must withstand 25 bar, but generally operate at 16-18 bar working pressure. Because of the size of these vessels, fabrication stresses are relieved by stretching with high pressure rather than using heat treatment. After fabrication, the vessels are pressurized up to 45 bar to equalize the stresses in the tank's walls and welds. The welds are then temperature tested to -70° C because the tanks will be transporting chilled gas.
In another application of the company's skills, it recently completed a series of offshore cranes under contract to Hydralift for Diamond Offshore's Ocean Baroness and Ocean Rover. Each semisubmersible drilling rig required two cranes for pipe handling, each with the capacity to lift a 330-ton BOP. Junoverken's large facilities for covered construction, as well as its dockside quay, permit very large equipment to be fabricated onsite and shipped anywhere it is needed.
Pod housings
Housings for podded propulsion units are a large challenge because of their size and shape. During 2002, the company will make nine such housings for the Rolls Royce Mermaid propulsion system, of which three measure 3 m in diameter and weigh 90 tons when complete. The propulsion system for large ships housed within the pod produces 25 MW of power. Such power transfer requires very large and strong enclosures to withstand the forces produced. They also have to be manufactured to tolerance class h7.

For more information, contact Sten Holmqvist, Junoverken. Tel: +46 522 984 00, fax: +46 522 367 30, email: sholmqvist@juno.mattsson.se.