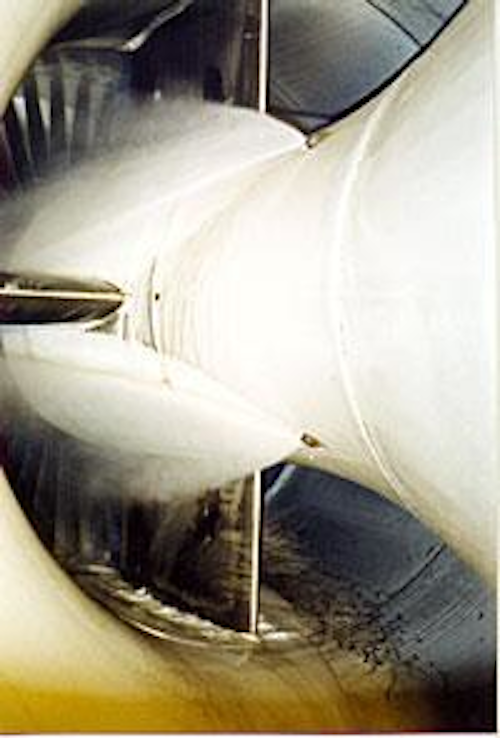 Gas Turbine Efficiency (GTE) has recently completed a performance study of the high-pressure turbine washing system upgrades that it has supplied to offshore operators. The equipment is being used on a wide range of gas turbines to provide online cleaning. This eliminates the risk of damage to the engine caused by salt laden atmospheres and significantly extends the intervals between the occasions when it is necessary to shut down the power units for cleaning.
With conventional systems, it is typically necessary to shut down every 1,000 hr for cleaning and on occasions up to 16 times a year. In one Statoil installation, application of a GTE system enabled the cleaning intervals to be extended to every 4,000 hr.
The GTE system uses patented injection nozzles that are either installed permanently around the air intake of the engine or supplied as a mobile unit. The nozzles enable a combination of detergent and de-mineralized water to be delivered throughout the engine while it is running - at full power, if necessary.
Over the past year, GTE has been delivering a cleaning upgrade product line to a number of customers, including Alstom Power for all the latter's GT35, GT10, and GTX 100 type gas turbines world wide. Statoil has also chosen the GTE 400 cleaning system for its two LM2500 turbines on the Gullfaks C platform.
Evaluation of the cleaning systems' performance was carried out last year by Statoil, Phillips Petroleum, and Norsk Hydro, who presented their results at a meeting in Norway in October. Although each user experienced different results according to the turbines used and their operating procedures, the findings were generally favorable and produced some unexpected conclusions.
4,000 hr for Siri
The most notable findings were achieved by Statoil, which had a GTE system installed on the Siri platform in the Danish sector (now operated by Dansk Olie og Naturgas). The company started its wash program in June 2000 when it used the GTE installation to clean the turbine with detergent every 1,500 hr while the engine was stopped. Perform-ance analysis afterwards revealed that the front end of the turbine was relatively clean, but contamination was found in the rear of the compressor. Statoil subsequently changed from using detergent to only water and found results were far superior, without any associated detergent costs or pollution problems. It also found that the intervals between washing the engine off-line could now be extended to 4,000 hr.
GTE concluded after studying the results of the trial that the use of detergent can cause severe contamination in the middle and rear of the compressor. The use of plain water is now recognized as being superior and further supports the company's objective of ultimately eliminating the use of environmentally hazardous detergents.

For more information, contact Peter Asplund, Gas Turbine Efficiency. Tel: +46 8 760 85 50, fax: +46 8 760 86 50, email: peter@gte.se.
null