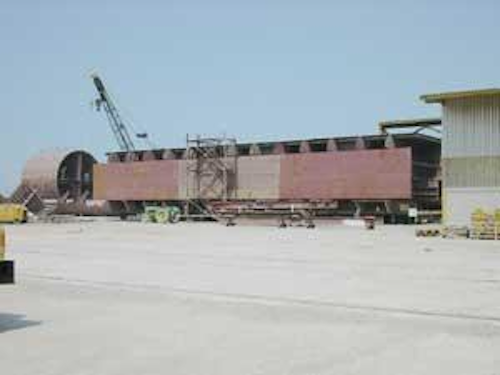 Access and maintenance lifts
Alimak specializes in rack and pinion driven lifts for industrial locations and has more than 25 years' experience of offshore applications. The modular-built lifts are adaptable in size and capacity and do not need any machine room or lift shaft. Available in explosion-protected design, the lifts provide safe and convenient access in hull columns, derricks, flare towers, and platform modules. Recent references include lifts for the Kvitebjørn and Valhall developments in the North Sea and the new Mærsk semisubmersible drilling rig for the Caspian.
Subsea field developments
The Alpha Thames method uses field-proven equipment, packaged into a unique "just in time" building block approach, that enables continuous production to suit varying reservoir conditions throughout field life. Recent studies using Alpha Thames' approach on behalf of major clients in the Gulf of Mexico, Brazil, and Africa have shown potential production costs savings of $2-3/bbl, and increased recovery of between 50% and 100%.
Clean air for turbomachinery
Reliability of gas turbines, compressors, and engines is dependent on clean filtered air to perform efficiently. With 25 years experience of supplying air intake and acoustic systems for turbo-machinery, Camfil Farr – which has offices in Sweden, Belgium, Canada, and the USA – offers complete systems for all types of environments. The company's products include a complete range of barrier and static filters for offshore, marine, and land-based installations, Pulsejet filters for desert and heavy dust-load installations as well as acoustic systems, including inlet and exhaust silencers and acoustic enclosures with vent systems. Customers include Alstom Power, Dresser-Rand, General Electric, and Rolls Royce.
Engineering/fabrication
DalaOffshore is a cooperation of Swedish comp-anies. Members work as independent suppliers or in partnership, depending on project size. Of these, Allards provides heat transfer solutions and processes vessel design and fabrication. HIAK specializes in acoustic insulation for diesel and gas turbine engines, ventilation, steam management, as well as office and personnel modules.
Kollin & Ström specializes in manufacture, assembly, and service of steel and aluminum constructions as well as manufacture of niche products, primarily for use offshore in the North Sea area. Siljan Stainless manufactures stainless steel heat exchangers, pressure vessels, tanks, tube systems, sewage and fresh water treatment facilities, as well as parts for high-temperature applications in thermo-alloys. Finally, Remote Control designs, manu-factures, and markets pneumatic, hydraulic, and electric actuators for standard and special valves.
Drinking water treatment
E.C.T. Offshore Service offers comprehensive services for the treatment of drinking water offshore. Its systems have operated on over 250 rigs and platforms, many of which have annual service contracts with E.C.T. Due to the company's close cooperation with the Norwegian government, it can ensure that the installations fulfil their requirements for this service. E.C.T. also runs courses each year titled "Drinking water treatment for offshore personnel."
Galley and laundry
Galleys and laundries on offshore installations need to be equipped with the sturdiest and most heavy-duty equipment, due to the harsher conditions, compared with onshore installations. Electrolux Marine commits considerable resources to improving and developing not only its own manufactured equipment, but also features such as hygiene, ergonomics, design, layout, and safety. For the past three decades, the company has supplied food service and laundry equipment to the offshore sector.
Living quarters design and fabrication
Emtunga, one of the leading manufacturers of offshore living quarter modules, has changed its name to Pharmadule Emtunga following a merger with Pharmadule, which specializes in modular pharma-ceutical plants. The merger provides improved use of facilities and access to more experienced engineering capacity, which should in turn increase efficiency and reduce fabrication costs. Offshore-related activities will continue under the brand name Emtunga, and business is improving with success in several new geographical areas. The cost level of Emtunga's living quarters has proved attractive all over the world, and the tendency from oil companies to order two or more identical quarters helps to further reduce costs.
Welding equipment
On June 13, 2001, Esab was granted membership of the International Pipeline and Offshore Contractors Association (Iploca), which is operational in 125 countries. Esab's application was approved by Iploca for its extensive experience and reliability in the supply of welding equipment, consumables, and technology to pipeline engineering and construction. Letters of reference from Esab's pipeline customers also contributed positively to the decision. All Esab units will be included in the official Iploca directory, and the company's welding consumables will display the Iploca symbol.
Gas turbine cleaning
Gas Turbine Efficiency has developed the first cleaning concept for gas turbines using the same nozzle installation for both on and off-line cleaning, thereby reducing the installation and hardware costs. It is designed for use on every type of gas turbine, installation or application – new or retrofit. The concept saves water, space, and weight and has been subjected to extensive on-site and test cell tests. The company claims it is the most cost-effective cleaning program available. GTE's cleaning technology has been adopted by Alstom Power, GEPS, Dresser-Rand, Statoil, Norsk Hydro, and Phillips Petroleum, among others.
Optimizing deepwater production
Glisco Optekon's software tool Optekon makes intelligent evaluations of each stage of a process to show how even seemingly minor actions can impact the end result, often negatively. Optekon can then be applied to implement action to optimize costs and other benefits, even for the most complex deepwater production systems.
Semisubmersible design
GVA Consultants specializes in the design and project management of semisubmersible units. The company, with its roots in the former GVA shipyard, has more than 20 years' experience of semisubmersibles for various applications. It has designed more than half of the world's purpose-built production semisubmersibles and is designing the BP Thunder Horse and Statoil Kristin units. GVA-C is also leading a consortium that is building a drilling unit for the Caspian Sea.
Winch performance
Hagglunds has been working with manufacturers and operators of winches to optimize applications for 40 years. This experience and knowledge has made the Hagglunds name well known for performance and reliability, particularly with mooring and lifting applications. Typical features of the company's winch drives are: high power (up to 1,200 kw); accurate, constant tension at low and even zero speed with very high mechanical and starting efficiency; no stick-slip effects; strong low-speed performance and low inertia, providing highly responsive controls.
Submersible agitators
ITT Flygt manufactures submersible agitators and slurry pumps for sediment-free mixing and the efficient transfer of drilling mud. The company's products are operating offshore on rigs and supply vessels, saving customers time and money on a daily basis. The company operates a worldwide network of sales companies, distributors, and after sales support.
Tempered water for eyewashes
Krusman has developed a unique blending system for eyewashes that is equipped with a safe thermostat to eliminate the risk of scalding. This is important when there is a need to prolong the flushing time in cases where the victim has been exposed to splashes of corrosive substances that may attack the eyes or skin. If only cold water is accessible, it may be difficult for the victim to endure the required flushing time. Krusman supplies safety blending systems for eye and drench showers.
Brake control systems
Lidan Engineering manufactures brake control systems especially for upgrade of drawworks with band brakes. They include the DBS Brake Servo, a servo-hydraulic brake control system, which not only improves drillers' productivity, but also eliminates injuries to the driller. The system provides the necessary feedback for the driller to continuously "feel" the load. An integral function of the creep speed qualities of the DBS Brake Servo is the ADS Autodriller. The automatic feed out is controlled through a closed loop transmission between the drawworks drum and a small feed back hydraulic motor. A signal for automatic weight-on-bit control facilitates this operation within extremely narrow limits, working in concert with a steady rate-of-penetration, selectable between 1-75 m/h.
The BCS Block Control is an aid for the driller to avoid collision against drill floor, crown block, or racking arms. A PLC continuously directs the auxiliary electric brake to keep the travelling block within stored speed limit profiles and, when necessary, trigger the fail-safe spring brake actuator for full stop.
Hot isostatic processing
Metso Powdermet has won numerous major contracts from the offshore industry in recent years. Hot Isostatic Processed (HIPed) PM near-net shape products are supplied from the largest hot isostatic processing facility in the world, at the company's facility in Surahammar, Sweden. Main applications are pressure vessel items such as manifolds for topsides, subsea installations, valve-bodies, swivels, wye-pieces, and large wall thickness fittings. Material grades are primarily high strength stainless steel: Ferritic 12%Cr, 6Mo-austenitic and 22-25%Cr duplex grades with excellent corrosion resistance.
Mooring components
MoorLink Sweden, founded in 1995, specializes in tailor-made mooring components. The company has developed a series of fittings, including swivels, wire clamps, and chain clamps. Clients are mainly drilling contractors, anchor-handling operators, oil companies, floating production system operators and marine equipment contractors. One of MoorLink's most successful products is its multi-functional ball swivel, designed using 3D CAD models and finite element analysis. This combines a wire socket, swivel, and chain connector into one simple unit. The company offers numerous ABS-approved sizes of swivel, in either forged or cast high-grade steel, meeting material properties of rig chain grade 4. At the end of this year, it will also introduce a subsea connector that allows for remote connection/disconnection of permanent and temporary mooring systems in deep and ultra-deep waters.