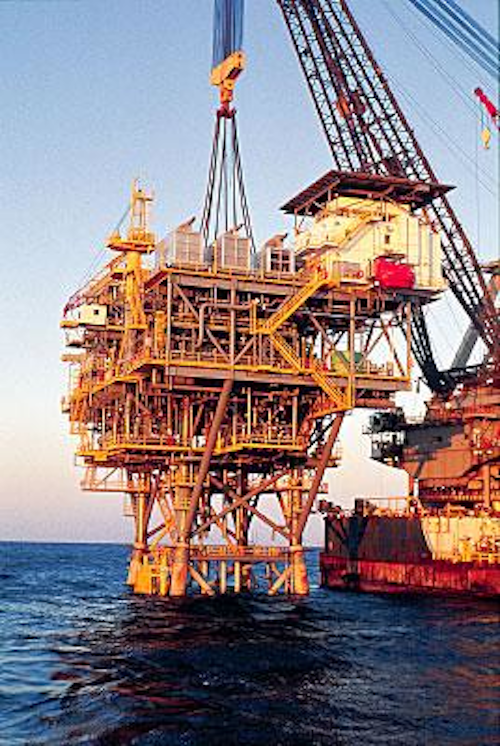 New subsea umbilical manufacturing facility
Building from a seven-year alliance with Vector Schlumberger, Cabett Subsea Products recently opened a new subsea umbilical manufacturing facility in Freeport, Texas. In a joint venture with the Port of Freeport, John Martin, president of Cabett Subsea Products, said the company expanded an existing 26,000-sq-ft building by 32,500 sq ft for a total of 58,500 sq ft needed to accommodate the specialized equipment required for umbilical manufacturing.
The facility features a 12-bay planetary machine capable of handling 880,000 lb of steel tubes, fiber optics, electrical lines, and hoses, which it spirals into a bundle. The bundles are encapsulated using a 6-in. Meritt extruder with a 180-ft chilled-water trough. The facility includes three, 1,100-ton carousels used in various phases of the manufacturing process.
Martin said the main advantage of the new facility is its deepwater access. The building is located next to a 750-ft quayside with a 36-ft minimum draft. Large spools can be loaded at the facility directly onto a lay vessel or barge. The facility also has transpooling capability that would allow up to 2.2 million lb of finished product to be loaded directly onto a vessel. This is the only domestic facility at this time to have this capability, although Kværner has plans for a deepwater facility at Mobile, Alabama.
In the past, umbilicals were limited to 100-ton capacity for shipment by truck. At other facilities, umbilicals are either barged and transpooled at a deepwater site or transported via specialized trucks to a loading facility. This dockside capability is a definite advantage, saving time and costs.
The facility was renovated and constructed over an eight-month period and produced the first umbilical in July. As of the first of August, three umbilicals with a combined length of over 55,000 ft have been produced. One of these umbilicals, in conjunction with 55,000 ft of 8-in. flowline, was loaded onto a vessel and shipped to the North Sea. It is presently being installed.
First in-transit riser inspection
While Dolphin Drilling's Belford Dolphin drillship was en route from Trinidad to Brazil, a new system was being used to inspect the vessel's drilling riser. Dolphin was required to provide riser inspection information prior to spudding a well for Kerr-McGee. To save time and money, the company used the Riser Active Data Acquisition Recorder while on the high seas.
Larry Harthorn, ABB Vetco Gray regional manager for sales, service, and aftermarket based in Lafayette, Louisiana, said the inspection was successful. "All tasks were completed safely and well within the transit time allowance, without any problems." The teams conducted the inspection working from baskets and scaffolding while the drillship was underway. This was possible because the system can be used without removing buoyancy modules or stripping the riser.
Operation of the equipment requires only two technicians, and the system is totally integrated for deployment and set-up. With the addition of a third technician, dimensional and other non-destructive testing can be provided for a complete field inspection service.
The Radar tool, support equipment, and office space are housed in a portable, self-contained air-conditioned unit that can be deployed to any job site.
The technicians on this job joined the drillship while it was off Trinidad. Working from scaffolding and baskets in two teams of three on two shifts, the initial plan was to inspect 120 joints of riser over 20 days before arrival in Brazilian waters. However, they successfully inspected 140 joints, pups, and telescopic joints, plus extras - inspection of the spider and gimbal - all in just 16 days.
Radar is an automated robotics inspection tool designed to traverse the interior diameter of the pipe and inspect the quality of internal welds by providing real-time data acquisition and analysis through the use of two time-of-flight diffraction channels and four Pulse-Echo shear wave transducers in a four-channel set-up. The pipe wall thickness is inspected by Pulse-Echo longitudinal wave transducers in a four-channel set-up, spaced at 90° apart for increased data acquisition, Harthorn said.
The system was jointly developed in the US by ABB and Global Automated Systems to provide economical, safe, and efficient internal inspection of riser tubes, choke and kill lines, and other metal pipes. The system performs extensive data processing to identify defects based on specific rejection criteria, determine location, orientation, type and size of reportable flaws, provide a display of the data, and make a video recording of the internal portion of pipe.
The reporting criteria can be customized to a particular application so that the analysis program provides the flexibility to follow industry standards or alternative criteria based on fit-for-purpose criteria.
Platform deck installed
McDermott's derrick/lay barge DB 50 has installed a 3,450-ton deck for the Williams Canyon Station production platform on East Main Pass block 261 in 299-ft water depth. The four-pile, four-legged platform completed hook-up and commissioning on schedule in late June. The jacket completed installation in October 2001, and the deck was installed in late May. Hickman Brown, contractor Paragon's project manager, said the cycle time from contract award to platform installation totaled 18.5 months.
The project included a methanol recovery and reuse process, developed by Paragon. The Canyon Station will treat, process, and handle natural gas and gas liquids from 10 subsea deepwater wells 55 mi south of the platform in the Camden Hills, Kings Peak, and Aconcagua fields. These fields make up the Canyon Express project and are located in 5,000 to 7,200 ft water depth. Williams will operate all subsea well monitoring, flow control, and chemical injection systems from the Canyon Station platform.
Atlantis begins fabrication
The Atlantis artificial seabed has been bouncing around the industry for several years. Pioneered during the first rush to deepwater, the system fell victim to the decline in oil prices and activity in the late 1990s. Now it looks as if the system may finally see its first application. Reports are it will undergo marine testing shortly, with an eye toward first application next year.
Atlantis is owned by Atlantis Deepwater Technology Holdings of Norway. The first unit is being fabricated at the Nymo yard in Norway and should be complete and ready for testing some time in 4Q 2002. The month-long testing program will be conducted in a Norwegian fjord. Shell and BP helped fund the unit, and assuming the testing goes well, plan to use it in an exploration drilling program offshore West Africa in mid-2003.
Atlantis allows deepwater wells to be drilled in the same manner as conventional depth projects by providing an artificial seabed. The Atlantis unit is basically a large air can on which the wellhead rests. Below the Atlantis unit is the casing string, which runs through the water column to the seabed. This reduces the length of the drilling riser, the variable load, and the weight of the mud column above the wellhead. By reducing the weight, Atlantis allows a conventional vessel to operate in much deeper waters.