Frank Frazer
Editor, Scotland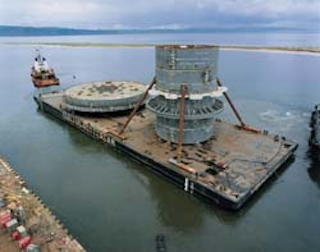 The turret for BP's Foinaven FPSO Petrojarl IV (built by Barmac, Ardersier) on its way to Astano in El Ferrol, Spain for assembly into vessel.
Despite a summer lull in orders which left two yards without work, the overall outlook for Scotland's fabrication industry is decidedly brighter than a year ago. There is less talk of yards being faced with permanent closure, despite the changes in offshore technology which are reducing demand for conventional structures.
Restructuring has taken place at the main yards not only to respond to foreign competition, but also to meet oil company requirements for new concepts to recover remaining marginal North Sea accumulations and reserves from deepwater Atlantic discoveries.
The Barmac joint venture, formed by Brown & Root and McDermott to combine the skills and resources of their Nigg and Ardersier yards, has taken the boldest step to date with a $13 million plan to develop dry dock facilities at Nigg. These would be used to handle floating production systems as well as providing space to dismantle any decommissioned structures brought ashore.
Under conditions laid down by the European Union which is providing about $5 million towards the investment, Barmac has been barred from performing conversion of existing vessels into floaters. This work is defined as shipbuilding, which does not qualify for regional aid under EU rules.
Don Wright, Barmac's general manager, said he was disappointed at the restriction, but added: "While this is not an ideal solution for Barmac, we felt that it is the best option available at the moment. Further delay would have jeopardised the entire project."
Construction of the new facility is due to be completed by the second quarter of 1997, creating up to 800 permanent jobs and a similar number with local suppliers if the investment meets its target of making Nigg one of Europe's premier FPSO construction sites.
The application for EU funding of the Nigg project was made after studies by Barmac showed that 26 North Sea and Atlantic fields could be developed over the next five years using floating production systems.
Don Wright said: "This potential major infrastructure investment is a clear indication of the confidence our parent companies have in our ability to win a significant share of growing new markets, of our employees' ability to adapt in order to capitalise on these new markets, and our determination to build a sustainable future for the yards."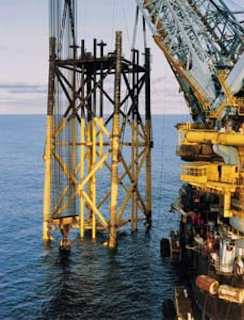 S7000 installing the Andrew Field jacket, built by Barmac, Nigg.
Huge package
But the main boost to the Scottish fabrication industry this year did not require diversification from the type of construction handled by Scottish yards for over 20 years. UK Government approval for the seven-field Eastern Trough Area project (ETAP) led to the award of the largest package of offshore contracts for at least a decade. ETAP involves the integrated development of seven oil and gas/condensate accumulations in the central North Sea.
Barmac's Ardersier yard will fabricate the jacket for the main ETAP processing facility, while Kvaerner will construct two smaller jackets and topsides at the Methil yard it acquired under the takeover of Trafalgar House.
Admittedly the ETAP partners only decided to award the main jacket to Ardersier award after withdrawing a letter of intent issued to Belleli. The Italian yard was in the midst of financial reconstruction when the contract was being finalised with firm delivery dates.
In latter years, competition for UK sector contracts has increased, with yards in Spain and Italy winning awards. Local authorities in Scotland with fabrication sites in their areas are meeting regularly with labour unions to monitor the situation. They are keeping a close eye on the extent to which funding allowed under European Union rules is used to restrain the cost of competing bids from fabricators in other countries.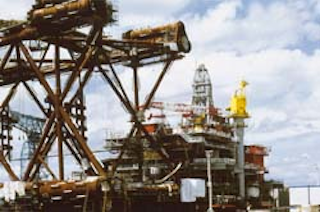 The jacket and topsides for Texaco's Captain project at UIE, Clydebank.
Jacket traffic
The current conventional fabrication workload should give Barmac breathing space to adapt to the changing shape of the new opportunities. As the ETAP order for a 7,000 tonne jacket was being negotiated for Ardersier, the Nigg yard was completing the jacket for BP's Andrew Field which went onstream in June. Under the gainshare arrangement negotiated between BP and the alliance contractors, Nigg picked up a bonus thought to be worth around $4 million from savings made on the overall project budget.
Other work being handled by Barmac includes a jacket for British Gas' Armada development in the northern North Sea and a compression platform which Conoco will install as part of its CMS gasfield project in the southern North Sea. A jacket and piles are also being provided for Maersk's Dan Field in the Danish sector.
Although it will be next year before Barmac is ready to fabricate its own FPSOs and possibly jack-up production rigs, as permitted by the EU, Ardersier will provide about 7,000t of pre-assembled topside units for the purpose-built vessel under construction at the Harland and Wolff shipyard, Belfast for BP's Schiehallion oilfield.
These recent successes have also boosted local subcontracting firms which normally pick up about 15% of work outsourced by the two yards. This helps to supplement other oil-related work from rig repair and maintenance using the sheltered anchorage of the Cromarty Firth, two local pipe assembly yards and the BP oil terminal at Nigg.
Justin Calder, area economic development manager for the Highland Regional Council, says that most of the spin-off from the present fabrication operations involves welding, electrical and maintenance work. Demand for skills might change, he believes, if orders were secured for floating production systems, but points out that there are also well-established local retraining services.
Subcontracting work is estimated to support 200-300 jobs, mainly in electrical and small-scale fabrication put out to tender in the Clydebank area where a workforce peaking at over 1,000 was employed by UIE over the past year on the construction of a 5,000 tonne jacket and 7,000t deck unit for Texaco UK's Captain Field. Both were recently completed.
Although UIE has no immediate follow-on contract, managing director Brian Divers is confident that it will pick up some of the conventional fabrication orders expected to be placed shortly, restoring jobs that were run down after the Captain completion.
Meantime, the company is also looking at ways of benefitting from expected demand for floating production systems, according to commercial manager Willie McLean. "I don't know if we would see it as diversification, but rather falling in line with supplying the market with what it really needs. I am sure most of the other fabricators would be of a similar opinion."
Despite occupying the site of the former John Brown shipyard that built the QE2 and other luxury liners, UIE's ability to handle vessels with high super-structures is restricted by a road bridge which has since been built downstream of the yard. But the company has discussed using the former Scott Lithgow yard on the lower part of the estuary for any conversion work it might win by selling its expertise in assembling topsides and installing process plant in deck structures at Clydebank.
Copyright 1996 Offshore. All Rights Reserved.