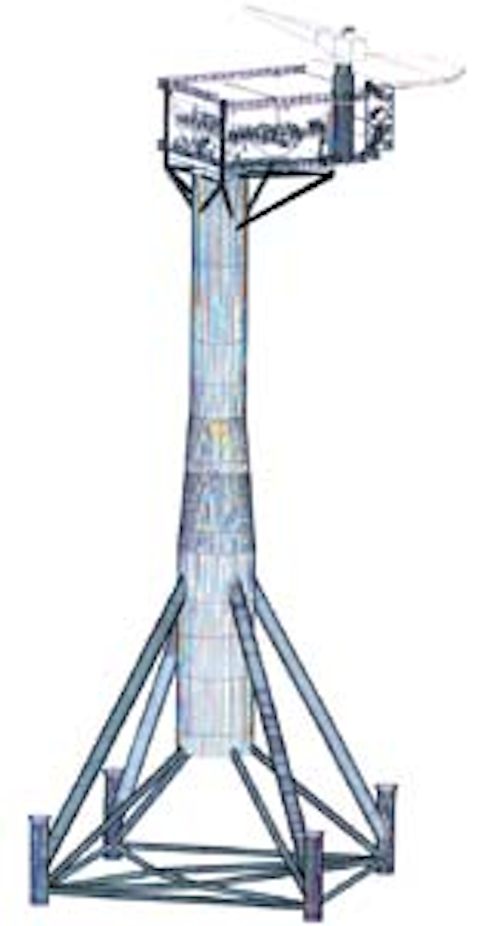 Nick Terdre
Contributing Editor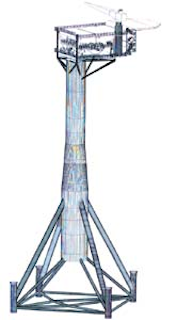 Aker sees potential in the monotower support structure it is supplying for the Varg development.
---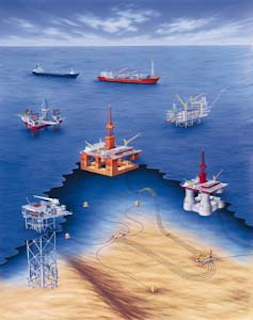 Statoil's Yme Field is being produced using the Maersk Giant jackup on lease, an arrangement likely to prove popular for marginal fields.
Norway is known for its big fields - Troll is the obvious example of the moment - but also has a host of marginal finds littered about its continental shelf. Interest is now growing across the industry on finding ways to bring the marginal finds into production.
In the past marginal fields have been sidelined as oil companies have busied themselves with developing large and medium sized fields in the North Sea. Not only were the marginal fields uninteresting in terms of reserves volumes, but the technology for producing them profitably did not exist.
That situation has changed - on the one hand most of the large fields are now either in production or under development, and on the other hand the technological perspective has been transformed by Norsok. Not only has this movement done much to bring down technology costs through means such as standardization, but it has also opened the way to cooperative relations between oil companies and contractors, thus further reducing costs.
So the time for marginal field development is arriving - operators are dusting off their portfolios of undeveloped finds, the Norwegian Petroleum Directorate (NPD) is talking to them about the obstacles that have to be overcome, the oil companies' association OLF is examining the regulatory situation, and the big contractors are ensuring that their technology repertoire includes plenty that is relevant to the marginal case.
A number of marginal fields, including some with only a few million barrels of reserves, have already been developed, either by platform wells or subsea facilities, primarily because their proximity to infrastructure makes them economic. BP's Gyda South, Norsk Hydro's Oseberg West, Statoil's Loke and Gullfaks West all come into this category.
This year the first marginal field using stand-alone facilities has been brought into production. This is Statoil's Yme (45 MMbbl), which was followed in mid year by its own satellite, Yme Beta East (21 MMbbl). The main production facility is the Maersk Giant jackup, which has been equipped for simultaneous drilling and production operations. Subsea wells on Yme Beta East are tied back to it.
The platform is leased from Maersk, which also operates it. Oil is stored in and offloaded from a tanker under a similar lease arrangement. Such forms of contractor model are expected to prove popular for marginal field development. In the light of its duty to ensure the proper exploitation of Norway's hydrocarbon resources, the NPD has a statutory interest in encouraging marginal field development. In its latest annual report it lists 61 finds without concrete development plans (see table). A breakdown of the finds shows the following:
three quarters of the total reserves of 737.5 MMcm of oil equivalent are gas;
most of the finds are small - there are 27 of 5 MMcm or less, and 17 of 5-10 MMcm, but only 13 of 15 MMcm or more, which are virtually all gas fields;
most of the reserves lie in the North Sea, which accounts for some 100 MMcm of oil and 296 bcm of gas;
37 of the finds lie in water depths of up to 150 metres, 15 in 150-350 metres, and nine in more than 350 metres.
Following a screening exercise of the 61 finds, the NPD has now selected 30-40 for further analysis, according to Leif Erik Abrahamsen of the NPD's field development section. The selection has been made according to a number of criteria, such as those with bigger reserves and those close to existing infrastructure. In the case of those close to existing infrastructure, the question of time criticality arises, Abrahamsen says - it may be possible to use the infrastructure to develop the finds, but this option will only exist while retention of the infrastructure remains economic. This is mainly a long-term problem - at present there are only a few finds situated close to producing fields in terminal decline. The NPD is in dialogue with a number of operators, looking at questions such as field economics, possible development solutions, the cost of platform modifications, commercial obstacles to development, and so on.
A number of reasons why marginal fields have failed to get developed have been identified, Abrahamsen says. Some have to wait for well-slot or process capacity to become available on the host platform they will be tied back to. Small gas and gas/condensate finds are obviously less commercial than big ones, which are abundant in Norway, and are more difficult to market. The solution for some fields which are uneconomic on their own may be to group them with other nearby fields, thus spreading costs over a greater volume of reserves. An encouraging model is BP's ETAP project in the UK. A variation on the theme of joint development could be the use of a dedicated floater on a number of fields in series.
The existence of too many partners on a licence may also hinder development, because each partner gets too small a slice of the cake. Here the obvious solution is a bout of asset trading to reduce the number of licensees. The problem has been recognized by the government, which in the latest licensing rounds has limited the number of partners on each licence.
The problem of finding buyers for marginal gas fields can be an acute one. For finds such as Elf's Byggve and Skirne, small fields in the Frigg area, the question of time-criticality looms large, as Frigg itself nears depletion. The same situation applies to a number of small finds in the Heimdal area.
In general the oil companies' attitude to marginal finds is more positive now than it used to be, and new marginal finds are often quickly taken on board, Abrahamsen says.
Statoil studies standardization
Meanwhile Statoil has an in-house project under way to look for ways of developing its own small fields, encompassing even finds containing as little as 2.5 MMcm of oil. In many cases the key to development is likely to be standardized facilities on a mobile production unit, according to project leader Terje Helgoey.
But the current tax system favors investment by the oil company rather than leasing, and the rules may need to be modified to facilitate the leasing option, Helgoey says.
Marketing gas can be a problem, he agrees, but he points out that under the Troll agreements, there is provision to take delivery of gas from a small field as long as the economics of the fluid-phase development are viable.
"Our prime target at the moment is the thin oil zone underlying Midgard," Helgoey says. "It's about 3 MMcm in 300 metres water depth. We're doing a lot of work to make it good enough to fly." The solution Statoil is pursuing is subsea wells producing to a stand-alone FPSO.
The company is also hoping to implement a joint development on the Tyrihans South and North and Trestakk Fields, which hold combined reserves of some 7.3 MMcm of oil and condensate, 28.7 bcm of gas and 5.3 million tonnes of NGLs. A verification well is currently being drilled on Tyrihans North - if this brings the desired results, a fast-track development using an FPSO will go ahead, with gas being re-injected to maximize condensate recovery, Helgoey says.
The question of the regulatory and fiscal framework appropriate for marginal field development is one that is being looked at by a working group in the OLF. The group is currently talking to the authorities in the shape of the Ministry of Industry and Energy and the NPD, according to head of section Frode Boehm. The question of owning versus leasing is one of the issues being debated, he confirms.
"We intend to produce a discussion document in September or October, looking at the frame conditions needed to provide the right conditions for small field development. Among the measures we are looking at is the further simplification of PDO procedures to make the transition from exploration to development smoother and reduce costs," Boehm says. For very small fields the requirement for a PDO is likely to be abolished.
Aker offers leased topsides
The provision of a complete topside process plant on a lease basis is one initiative undertaken by Aker which could prove of interest for fields with short producing lives. On a 50/50 basis with Statoil, the contractor has established Advanced Production Systems, which in addition to leasing process plant, can also provide operations and maintenance services. APS could win its first contract shortly, Aker says.
The APS service allows field licensees to cut their capital costs while having the use of equipment suited to their needs. It is aimed at fields with reserves of 20-50 MMbbl, productive lives of two to seven years, and with production rates of 30-70,000 b/d. If necessary, a complete floating production system can be provided, using a Statoil multipurpose shuttle tanker as the platform on which the APS equipment is installed. The topsides plant has been designed as a series of standardized, skid-mounted modules arranged either side of a central rack carrying pipework and cables. Flexibility in the layout of modules is achieved by having the modules interface with the rack rather than directly with each other. A bank of compressor units provides gas compression and re-injection facilities. In total the plant weighs some 2,000 tonnes and covers some 2,400 sq metres of deck space. Aker also sees a good potential in future projects for the new wellhead platform which Aker Verdal is building for Saga's Varg project. Designed jointly with the installer, Saipem, the platform has been optimized for installation by the S7000 crane-barge, which will transport it to the field vertically. The platform comprises a 900-tonne deck supported on a 2,100-tonne steel monotower fixed to the seabed by 1,000 tonnes of piles.
Kvaerner downsizes process equipment
An important contribution to cutting costs in marginal field development can be made in the area of topside facilities, according to Kvaerner, which believes that the size of process and utility equipment can be substantially reduced both by refining existing technology and developing new technology.
By reducing the weight and size of this equipment, the size of the support structure can also be reduced, giving a major cost reduction of maybe 30%, says Jan Tore Elverhaug, Kvaerner Oil & Gas Norway's vice president of business development. Kvaerner has analyzed undeveloped finds, and looked at development possibilities in the light of whether or not infrastructure is available for development, Elverhaug says. As well as further refining existing technology, new ideas should also be developed for marginal fields, he says. An example in the field of subsea production is the separation of water from oil and gas at the wellhead, thus reducing the volume of fluids to be transported, with a corresponding decrease in the size and cost of the pipeline, and of the process facilities.
The company is now developing an underwater separation system, using the knowhow acquired in the development of the Kvaerner Booster Station, which separates the liquids from the gas. The requisite cyclones and pump have already been developed, but the power supply needs further development, Elverhaug says. The next step will be downhole separation - he sees this technology becoming available in a few years.
Standardization is another source of cost reduction, and among other products the company has developed a standardized unmanned wellhead platform. The design is optimized for installation, with the result that unnecessary steel is left out, thus substantially reducing the weight and the cost. Kvaerner's standardized wellhead platform is optimized for installation.
Copyright 1996 Offshore. All Rights Reserved.