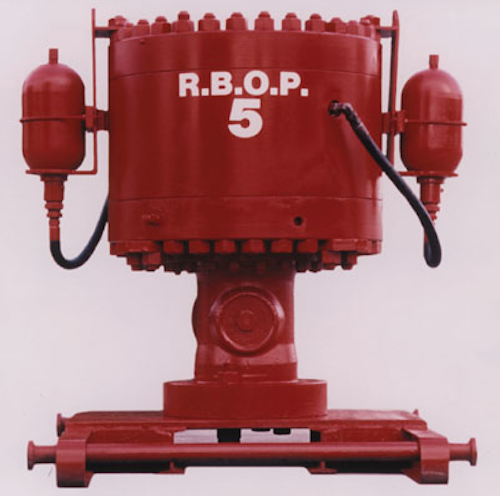 Rick Von Flanern
Houston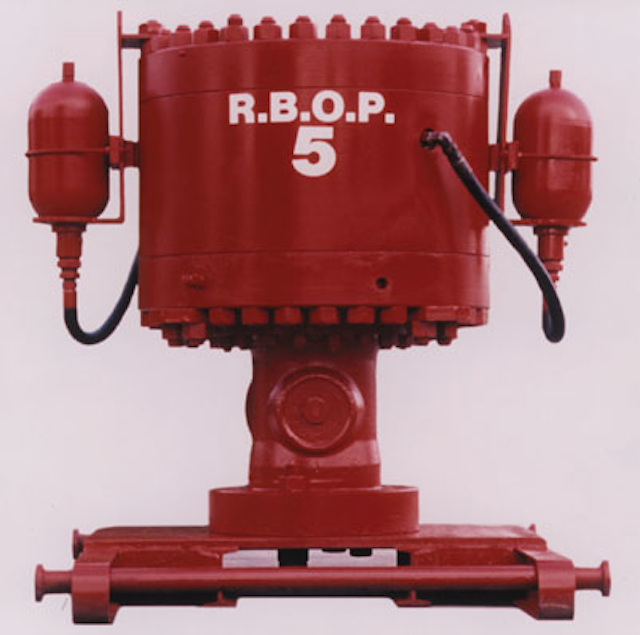 The rotating blowout preventor, perfected by US horizontal well drillers, is especially designed to facilitate well flow while drilling underbalanced.
Underbalanced drilling prepares to go offshore
Not long ago, any well flow during a drilling operation made for more than a little concern around the drill floor. But after drilling thousands of feet of horizontal hole underbalanced, the industry has learned to routinely drill wells with lowered mud densities at the bit to protect target formations.
Still, because of a lingering image as a possible source of well control problems, underbalanced drilling (UBD) has been essentially ignored offshore. Smedvig Offshore and Intertech Drilling Solutions have formed an alliance to change that thinking and oil companies, large and small, are watching. Offshore operator interest in UBD is two-fold:
1. As improving MWD and drilling technologies continue to chase development drilling costs downward, companies see opportunities in returning to mature fields to drill and develop pressure-depleted reservoirs. UBD, as developed in North America land operations over the past five years, has proved an effective and safe deterrent to fluid invasion while drilling low pore pressure formations.

2. Just as attractive to deepwater operators is the possibility UBD could permit replacement of heavy drilling risers with a single light-weight return line. Weight saved by jettisoned riser handling and tensioning equipment and excessive standby mud volumes and pits, could be sufficient to enable second generation units to work in water depths otherwise restricted to fourth generation units.
The alliance is planning to drill their first offshore well underbalanced around March 1997 in the UK North Sea. Well control, especially critical offshore where the slightest bit of environmental damage is grist for the mill of anti-oil forces of Europe, will be provided by modified testing equipment that permits flow of the well while drilling. The diverter will incorporate a separating system to remove gas and hydrocarbons before the mud is reconditioned in the closed loop system. A conventional BOP stack will be topped with a rotating BOP.
A distinct challenge to UBD offshore may derive, ironically, from the nature of the areas where it is most attractive - old fields with old facilities. But interfacing new UBD equipment with dated infrastructures in confined spaces typical of older platforms, while problematic, is certainly surmountable. On the other hand, the fact that these fields are old, means they have low, well documented pressure profiles and well control should therefore be predictable and dependable.
Quality soon to be public record in the North Sea
Contractors and service companies are free to discuss each others' failings with abandon and operators are often happy to list the shortcomings of both. But the contractor or supplier openly critical of operator performance, no matter how well intentioned, risks business opportunities from sometimes thin-skinned oil companies. And even major oil companies do themselves little good if they are perceived as too critical of contractors or service companies. The petroleum industry is, after all, a tightly knit one and no remark goes unrepeated.
However, a UK-based group is trying to make constructive criticism possible in both directions. Done properly, say founders of a project whose lineage reaches back to the quality and cost reduction initiatives, ISO 9000 and CRINE (cost reduction in the new era), such an exchange of employer and employee information can serve as a quality control system. The project, to be known only as QII until it becomes fully operational in January 1997, is headed by Amerada Hess corporate assurance manager, David Owen.
The aim of QII is to create a database of quality qualified products and services. Operators will be able to review what others have said about suppliers and add their own experiences, while contractors will have a place to input their experiences with operators with assured anonymity. QII does not render judgments but acts only as a source of objective information from which buyers can draw their own conclusions.
There are no restrictions as to who can register, but a pre-qualifying system based on EU procurement directives, will be used for critical products. For those who fail to pre-qualify full explanations as to why and an appeal process are available.
Owen said that 20 operators, 10 major contractors, and more than 2,000 supply companies responded to an earlier call for development assistance. That represents about 60% of UK North Sea operations and capital spenders. Owen and his colleagues are confident the figure will climb to 80% participation following the group's November kick-off seminar.
The database with supplier information is already available to participants and prequalifying data will be entered beginning January 1997. Performance data, which includes feedback about such things as product durability, will be entered as available over the next few years.
Know thy programmer
On the other side of the Atlantic, Pemex engineers are also trying to qualify quality by awarding a single numeric value to overall drilling contractor performance. Their methods, particularly their major assumptions, should serve as a caveat to those seeking simple answers to complex questions.
The program attempts to describe contractor job quality by tallying points scored in each of seven phases of the drilling operation to arrive at single score. A perfect job is worth 1,000 points. Pemex's first assumption is that the more accurately the final product reflects the original well design the better, and awards points on a plan-to-result comparison. The plan seems to be to discover not which contractor drills a better well but which one best follows orders.
Engineers added more of their own biases to the program when they assigned a weighted value to each phase based on their belief as to the phase's addition to overall well quality. The Pemex model deems perfect cement jobs and perfect record keeping both worth the same 200 points while the best casing outcome gains the contractor only 30 points.
All that is not to say the program is useless, only that forewarned is forearmed, and knowing the program writer's intent and prejudices is essential to useful results. A high score in the Pemex example, after all, does not necessarily mean the well was drilled quickly, cheaply, or in a manner to enhance completion, but only in accordance with the pre-spud decisions of Pemex engineers.
Perhaps, as the world embraces computerization of every sector of our professional existences, programs claiming to make inherently complex matters simple should come with a warning. Something like, "Under no circumstances should this program be run without an open and frank conversation with its creators." It could be worth the phone call.
Copyright 1996 Offshore. All Rights Reserved.