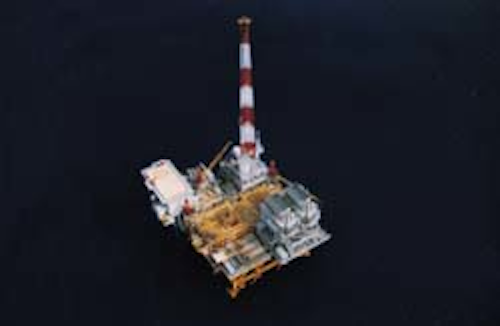 Tony Parjus
Petro-Marine Engineering
Eric C. Champagne
Shell Offshore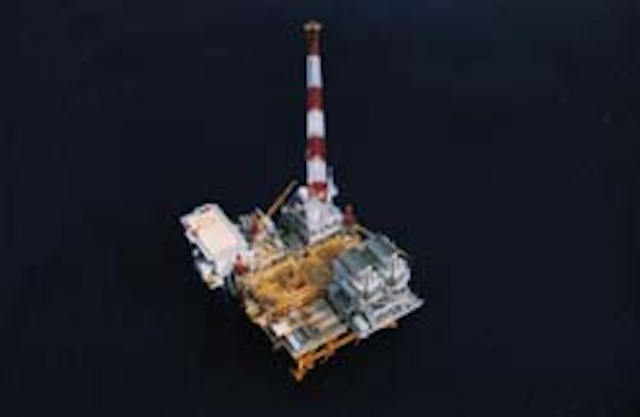 The Bullwinkle production and processing platform.
Located in 1,353 ft of water, Shell Offshore's Bullwinkle production platform stands 1,736 ft from the seabed of the Gulf of Mexico to the tip of its flare boom, qualifying it as one of the world's tallest free-standing structures, second only to the 1,815-ft Canadian National Tower in Toronto.
Earlier this year partners, BP Exploration, Shell Offshore. (SOI), and Marathon Oil Co., agreed to commercial development of the Troika field, 15 miles southeast of Green Canyon Block 65 in nearly 2,700-ft waters. Initial production from the field, expected in late-1997, is anticipated to be about 80,000 b/d of oil and 40 MMcf/d of natural gas. Production will be delivered to SOI's Bullwinkle platform via subsea completions and flowlines for processing and delivery to the partners' export pipelines. The expanded facility will allow for additional subsea prospects, some with 40,000 b/d of oil production potential.
Bullwinkle expansion
Bullwinkle's increased production handling capacity is linked to SOI's recent formation of Shell Midstream Enterprises to provide Gulf of Mexico operators access to SOI's extensive network of platforms, pipelines, gas plants, and other assets. With more than 120 platforms in the Gulf, SOI expects significant growth in the use of its facilities for the handling of production from other operators' nearby developments. Bullwinkle also will be tied into the Midstream Enterprises expansion of the Green Canyon and Ewing Banks area Manta Ray gas gathering system. Manta Ray will be connected at Ship Shoal Block 207 to a new 30-in. line, Nautilus, which will extend 87 miles to gas plants in southern Louisiana.
Strategically located in an area of growing deepwater activity in the central Gulf, the Bullwinkle platform plays a key role in the development of Shell Midstream's infrastructure. To accommodate Bullwinkle's future production handling capacity, SOI awarded a contract earlier this year to Petro-Marine Engineering for a major facility expansion design.
Shell Offshore drilled the Bullwinkle Field discovery well in October 1983. Fabrication of the one-piece, 50,000-ton Bullwinkle jacket and corresponding substructure was completed in early 1988, followed by platform jacket installation in May of that year. Development drilling started soon thereafter from two Shell-owned drilling rigs. Initial oil production while drilling began in July 1989 with production exported to SOI's Boxer platform for processing.
Shell Offshore awarded Petro-Marine Engineering the contract for design of the original Bullwinkle production modules in late 1988. Their construction and installation was completed in 1989 and initial oil and gas processing commenced in early 1990. In January 1996 the Bullwinkle platform began processing oil and gas from SOI's subsea completion at Green Canyon 110, about four miles from the platform in 1,785 ft of water.
The planned Bullwinkle facility expansion will require addition of more than 4,000 tons of equipment and piping and more than 30,000 sq ft of area. About 2,500 tons added by the expansion will be on the structure's southeast quadrant. Northeast module upper level equipment will be removed and a module placed atop the existing one. The resulting two-level module will contain such equipment as production separators, inlet heaters, and 18,800 hp of gas compression.
Additional equipment housed in the southeast module includes launcher receivers, a control building, additional separators, subsea well hydraulic power units, bulk oil treater, flash gas compression, electrical generation equipment, and a 20-ton crane. Chemical storage and pumps for hydrate formation prevention, corrosion inhibition and paraffin dispersion will also be on the southeast module. New 60,000 b/d-capacity pipeline pumps will be installed on the existing southwest module.
Pigging equipment, capable of providing each development flowline bi-directional pigging and of supporting the use of "smart" pigs, will be added. The existing intermediate pressure separator will be changed from two-phase to three-phase and meters will be added to provide fluid quality metering equal to the new developments. All produced fluids for the new developments, as well as existing Bullwinkle production, will be commingled downstream of the intermediate pressure separators.
Expansion will require an additional field gas compressor, booster gas compressor, vapor recovery unit, flash gas compressor, two main generators, a standby generator, and three shipping pumps.
Sales gas metering will be replaced with meters installed to meter the gas after the total gas streams are commingled downstream of existing and new glycol towers. Gas metering capacity will increase to about 306 MMcf/d. Other areas which will require modifications and additions for gas filtering and dehydration, produced water treating, vent and relief system, instrumentation, and power generation.
Facilities expansion will increase Bullwinkle's processing capacity from 59,000 b/d of oil and 100 MMcf/d of gas to a nominal 200,000 b/d of oil and 306 MMcf/d of gas, and rank it as the largest offshore production platform in the Gulf of Mexico and one of the largest offshore production facilities in the world.
Copyright 1996 Offshore. All Rights Reserved.