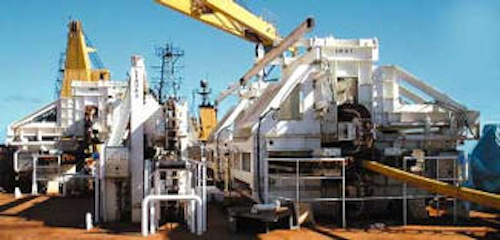 Demand for new pipelay barges across the globe is generating record order levels for SAS Gouda in the offshore sector. The company is producing pipe handling or tensioning equipment for five newbuild-ings and two vessels undergoing an upgrade. These have upcoming assignments in locations ranging from China, Japan and the Middle East to West Africa and the Gulf of Mexico.
SAS, which recently underwent a management buyout, has been serving the offshore industry for over 30 years as a designer and manufacturer of specialist systems. In 1981, it became the first company in its field to offer portable, containerized tensioners. A decade later, it introduced pipe handling equipment for J-lay with 200-ton tensioning capacity. Shortly afterwards, it developed pipe tensioners for operations in up to 3,000 meters water depth.
Also in the 1990s, it began building tensioners with digital AC electric drive systems as an alternative to traditional hydraulic drives. According to Managing Director Raymond Kerkvliet, nearly all the company's current offshore deliveries now incorporate AC electric drives. "They are easier to install, more compact, more reliable and 'cleaner' in terms of their impact on the marine environment."
SAS is strong in providing an integrated package for pipelay vessels comprising tensioners, pipe handling, A&R (abandonment and recovery) winches, power units, and controls. "Not many others do this," claims Kerkvliet. "We proposed this solution recently to Stolt Offshore for the Seaway Condor (working off Brazil). They had been looking to tender the tensioners and A&R winches separately, but our integrated package turned out to be cheaper for them, as there is a lot of savings in installed power.
"The system is also more reliable, as the system has automatic controlled tension transfer between the tensioners and the A&R Winches," he said. The integrated package philosophy applied also to Heerema, when it ordered SAS for the multi-joint pipe handling system including pipe tracking system for the Balder conversion.
Other orders
Another integrated package has been ordered this year by Offshore Contractors for its new derrick/lay barge Jascon-V, under construction in Zha Bei yard, China for shallow water operations offshore West-Africa and the North Sea. SAS will provide two horizontal 60-ton pipe tensioners (with an option for a third), capable of handling concrete coated pipe in diameters from 4-60-in. The order also comprises a 180-ton capacity A&R winch driven by AC electric motors, and a complete pipe handling system. The latter will be delivered with a skid-mounted hydraulic power unit. On this occasion, welding equipment and coating equipment was not specified, but SAS would have been able in association with a welding supplier and coating system supplier to offer the complete system.
A few years ago, SAS branched into reel lay and modular J-lay systems for flexible pipes, umbilicals, and coiled tubing. The firm's first contract came from Torch for the new multipurpose construction vessel Midnight Eagle, currently working successfully in the Gulf of Mexico. The SAS flexlay system for this vessel includes:
Hydraulically adjustable, 250-ton reel drive system
200-ton capacity storage reel
Hydraulically adjustable pipelay ramp (accommodating products from Coflexip, Precision Tube, or Wellstream)
Pipe straightener, a hang-off clamp, and a 10-ton capacity horizontal two-track AC electric tensioner.
Another new, dynamically positioned vessel is Saibos Field Development Ship (FDS), which will shortly start work on Canyon Express, the world's deepest water pipelay installation. In May, SAS delivered a spooling winch for this vessel, designed to handle various 350-ton reels for flexible pipes, umbilicals, and wire rope. Hydraulic drives control the machine's various horizontal and vertical movements. AC drives driven by two electric motors provide a line pull of 20 tons, 92 tons of torque, and a reel operating speed of 4 rpm.
In the Middle East, NPCC in Abu Dhabi recently commissioned a third pipe tensioner from SAS for the upgrade of its derrick/laybarge DLB-1000. This will increase pipelay capacity to 150 tons (for 3-60-in. OD pipes). Equipment is due to be delivered, fully tested, this month.
Also in the Persian Gulf, the converted former Hyundai barge HD-1200, now owned by IOEC from Iran and called Abouzar-1200, has been fitted with pipehandling equipment and five SAS, dual-line, fixed base pipe handling davits. These offer 40-ton capacity at a lift speed of 3 meters/min, or 12 meters/min using a two-speed motor. Design and manufacturing (including AC electric drive equipment) was managed by SAS in Gouda.