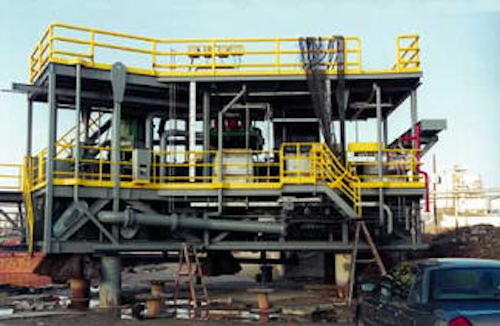 Drilling contractors are sinking millions of dollars into life enhancement for mobile offshore drilling units, principally to make them competitive in the future. In fact, rigs are being pulled out of service for upgrades even though day rates are high and there is a demand for the rigs.
The average age of the worldwide jackup fleet is 20 years, and the age of the semisubmersible fleet now stands at 18 years. As drilling fleets get older, the need for refurbishing and enhancement becomes critical. Structural and piping corrosion, wear and tear on equipment, and simple obsolescence create higher equipment maintenance costs and result in more downtime, not to mention the difficulty of sourcing spare parts. Extending the life of offshore rigs makes good financial sense.
Deeper wells
As exploration and development drilling moves into deeper water and wells become more difficult to drill, the kinds of rig enhancements being done are changing, and they are also increasing in cost. A recent trend has been the addition of borehole hydraulic horsepower, provided by increasing the number of mud pumps on a rig and outfitting rigs with more efficient and higher volume solids control systems.
These kinds of enhancements are not confined to jackups, but are being applied to semisubmersibles and land rigs as well. According to Bill Kent, Sr. Vice President of Global Sales at National Oilwell, a lot of drillers are investing in enhancements. Several operators have reportedly approached National Oilwell about upgrading all of their jackups to three mud pumps.
But, mud pumps are only the tip of the iceberg. Tab Tettleton, National Oilwell Product and Sales Manager, explains: "The smart contractors are over-horse powering their mud pumps." This dramatically increases the rate of penetration and provides them with a competitive advantage.
Global Marine's Chris Corcoran, Manager of Construction and Marine Projects, said his company established a "rig enhancement task force to take a hard look at the hardware they have now, and compare it to where the market is going."
With operators drilling deeper and more sophisticated wells that require better and more capable equipment, the firm's task force determined several rigs would need to be upgraded. As a result, the Glomar Baltic I is undergoing improvements, which will give it three mud pumps (7,500 psi), additional power, and an upgraded power distribution system to handle the additional load with three pumps online. The Glomar Labrador I, which will be upgraded in Trinidad, will get a third mud pump with upgraded power and distribution. Also, the rig will have power in reserve for future upgrades.
Riser booster pump
What does an additional mud pump actually buy an operator? For one thing, it provides the certainty of a spare pump. With more drilling operations requiring the use of a second mud pump, rigs carrying only two pumps no longer have a spare. The need for redundancy is a compelling impetus for upgrading.
Historically, most rigs had to have two pumps, but motor technology has changed. Now, there are bigger and longer risers, so where drillers used to run two pumps on the surface hole at a time, now might run three mud pumps nearly all the way to total depth.
The larger the diameter of the riser, the greater the volume of mud that has to be pumped through it to bring the cuttings to the surface. In some cases, the additional mud pump is designated as a riser booster pump and is used in the annulus to help bring cuttings to the surface instead of being used for extra horsepower on the hole. The riser booster pump sends fresh mud into the riser to dilute cuttings, which is especially helpful when drilling in deepwater.
For other types of rigs in ultra-deepwater operations, drillers have shifted to four pumps in order to have a spare when they are using three to drill. Where the third mud pump used to be a backup, now the fourth is.
The evolution of 3D seismic in mature areas has drillers going deeper. New drill bits allow the drill to work faster, but this requires the need for more pump volume to maintain or increase mud velocity on the hole. With only two mud pumps, a rig simply can't perform at great depth.
Well difficulty
With the more difficult wells being drilled today, increased horsepower determines the range of a rig's capabilities. In deeper holes, for example, a rig outfitted with two 1,600 hp mud pumps might not be able to generate enough volume and velocity to keep a well clean, which could easily prevent the driller from reaching total depth.
Another selling point of an added mud pump is flexibility. When drilling deeper wells or wells with extended reach, the mud pump offers a whole new level of flexibility for contractors. Greater power improves hydraulics and meets the additional power requirements of the top drive, solids control equipment, and the additional mud pump.
Domino effect
When the mud pump upgrade is complete, the rig enhancement is generally far from over. Often, the total life enhancement investment for a jackup reaches $30-50 million because the increased horsepower of the pumps necessitates upgrading piping. "Everything that fluid runs through has to be upgraded," Bill Kent explained.
When a mud pump is added, a larger control housing is needed. When there is more volume to handle, there is a need for enhanced solids control equipment.
This extensive upgrading translates into more time in the shipyard. When a rig is being upgraded from a 5,000 psi system to a 7,500 psi system (2,200 hp), the resulting scope of work takes a significant amount of time to complete. This means more downtime for a rig. However, the number of upgrades indicates that drillers are seeing that the tradeoff - downtime now for drilling time later - is a profitable one.
Solids control systems
Derrick Equipment Company is seeing growth in solids control system installations, which represent another facet of life enhancement, particularly for jackup rigs. The company has a modular degassing, desanding, and desilting system designed to be placed in the starboard stern corner of specific rig designs.
The rigs Ensco 88 and Ensco 89 were upgraded to the new system in the last quarter of 2000. The Ensco 64 is being prepared for the installation of custom-built equipment and will also be outfitted with a third mud pump, which will upgrade the system to 7,500 psi. More Ensco rigs are already in the lineup for life enhancement. There is no shortage of other drilling companies interested in following the same path.
More horsepower
An increase in horsepower and the subsequent increase in pressure dramatically increases drilling capability, which to many drilling companies means a good investment. Santa Fe International has kept records that show the increased capabilities of a number of the company's rigs. Mike Simpson, Director of Operations Technology at Santa Fe cited records that show one form of payback offered by increasing the mud pump pressure system from 5,000 psi to 7,500 psi on Santa Fe's Galaxy I.
The jackup was outfitted with three 7,500 psi mud pumps, and performance records were kept on Phillips' Judy development on the UK continental shelf. In November of 1993, the rig drilled 6,290 ft in 24 hours. In March, it drilled 7,255 ft in 24 hours. And in May, it drilled 8,263 ft in 24 hours.
According to Simpson, significant rate of penetration (ROP) improvements using mud pumps have been experienced on other Santa Fe rigs outfitted with 7,500-psi systems.
However, as Simpson points out, the performance improvements did not happen just because of bigger pump capacity. As with any process, once one component/system is upgraded, others have to follow out of necessity in order to debottleneck the overall process to get maximum benefit. That is what the Judy well construction team did to achieve the performance improvements.
The drillers, well designers, directional drillers, mud engineers, and other well specialists all worked together to debottleneck both hardware (shakers, pipe handling, etc.) and software (well design, operational procedures, etc.), retaining and building on the lessons learned as they went, and improving performance as a result. Bigger mud pumps brought greater mechanical ability, while people brought greater operational ability. Performance records attest to their success.