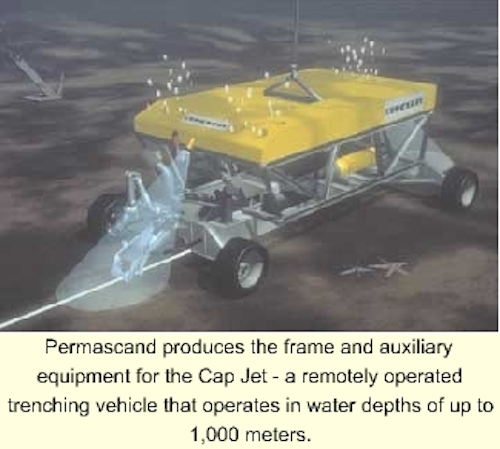 Permascand is continuing to develop its range of titanium-based products for the offshore market. Working in collaboration with its customers to find the most effec-tive solutions, Permascand has a proven record of providing solutions that reduce overall costs in two ways:
Titanium is corrosion-resistant which saves on high maintenance costs.
It has a higher strength-to-weight ratio than any other metal that can be formed, welded, or machined.
According to Permascand, using titanium results in only a 5% increase in the total price for a high quality product compared to a standard variant made of duplex steel. However, this difference in price is compensated for by the increase in reliability, lower energy consumption and less maintenance costs which titanium offers.
Grane exhaust system
Permascand recently designed a new exhaust system, in cooperation with Mecmar, which is similar to several exhaust systems already produced for the Swedish Navy. The company is currently producing six systems in Grade 2 titanium for Norsk Hydro's Grane platform in the North Sea that will be delivered this spring.
The new design uses seawater to cool exhaust gases by injecting the seawater downstream of a primary silencer, enabling the gas to be cooled to around 60° C. Compared to dry exhaust gas systems, emissions are cut by around a third, which in turn reduces emission taxes. The low surface temperature also minimizes the risk of fire or explosion as a result of oil or fuel leakage and ignition.
Maintenance costs are also lowered since the use of the corrosion-resistant titanium means that insulation, lagging, and compensators are not required. Compensators are frequently replaced in conventional systems and represent a substantial expense to operators both in replacement costs and downtime.
Using titanium has also enabled the exhaust system to be made smaller and lighter. "As a rule of thumb," says Permascand Business Manager Kenneth Dahlqvist, "every pound in weight saved for a system results in a topside saving of around $5. More specifically, 40% less in volume and 70% less in weight."
Trenching vehicle
Another offshore application is Cap Jet - a seabed vehicle designed for trenching - which Permascand has developed with Nexans (formerly Alcatel Kabel Norge). Based on an initial sketch from the customer, Permascand designed the vehicle's framework and auxiliary equipment in high strength titanium alloy (again Grade 5) to meet Nexans' requirements for weight, strength, and corrosion resistance. The vehicle performs trenching operations two metres beneath the seabed to carry communications, power cables and oil and gas pipelines, and is controlled by an umbilical from the mother ship.
The Cap Jet frame is a closed pipe system which enables it to act like a buoy thereby reducing the need for buoyancy modules. Permascand has also developed a welding procedure to create joint characteristics equivalent to the parent metal. The company's own nitriding method for hardening the titanium surface means that titanium can be used for parts subject to extreme wear such as nozzles and hydraulic shafts.
Christmas tree connectors
Nitride hardened titanium Grade 5 has also been used for a nine-hole connector developed for Kvaerner Oilfield Products. The connector is used to link christmas tree hydraulic systems via housers to the installation ship and is capable of testing equipment at pressures up to 1,000 bar. The Permascand connector has two purposes - to test the hydraulic systems and valves, and to plug them after testing.
Extended operability
As Christmas trees must be tested on site to ensure the integrity of the shutdown valves, speed, and reliability play an essential role in the design of any new equipment. Use of lightweight titanium means that, at under 50 kilos, the connector can be installed and removed by most work ROVs. This in turn reduces operating costs.
"We have seen an increased use of titanium for offshore applications as exploration goes deeper and minimal downtime becomes even more important," says Dahlqvist. "We have many projects where the subsea tools are made of titanium because of its light weight and corrosion resistance, which extends full operability up to 30 years."
For more information contact Kenneth Dahlqvist, Permascand: tel +46 691 35535, fax +46 691 33040, E-mail: kenneth.dahlqvist@permascand.se.