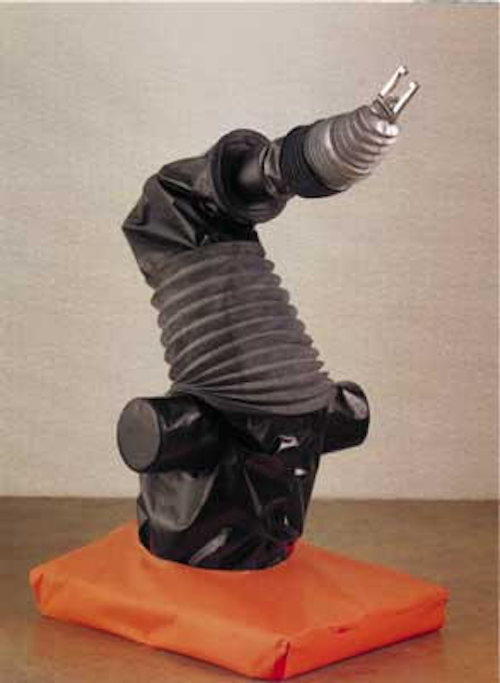 Throughout decades of development of artificial materials, leather has remained one of mankind's most versatile materials and has been used effectively for centuries to protect and shield moving parts from dust, liquids, and other environmental hazards.
Even in the present high technology age, for something seemingly as simple as a protective bellows, there are no better choices than leather for protecting moving parts. Protite has a full spectrum of leather-based sealing products to meet any number of industrial needs.
The wonder of leather is its fibrous texture. Because cowhide must be able to move and stretch with the animal's movements, the leather retains multidirectional flexibility. Thus, for machinery prone to vibrations (pistons, flexible joints, etc.) leather is an excellent solution. The material has many fine qualities:
Flexibility, can stretch in any direction
Easily formed into any shape
Durability, self-healing from small abrasions and cuts.
Resists cycles of wetting and drying.
Leather also has the capacity to absorb grit and other particles, thereby protecting itself and limiting the movement of abrasive particles into the machinery it is protecting.
Harsh environments
Seals and washers made of leather are generally impregnated with mixtures of stearin, paraffin, and waxes. This allows the products to operate in environments up to 80°C. For temperatures above that or for environments that require protection from oils or solvents, Protosil-Thiokol products are the best solution.
These are made from Protosil, a combination-tanned leather, and Thiokol, a polysulfide rubber polymer. Protosil can be coated with a solid lubricant such as molybdenum disulfide or graphite and used for routine seals. The leather can also be impregnated with Thiokol, which is then polymerized in the leather. By sealing the leather with a tough resistant rubber polymer, the final product will be able to survive and protect equipment in very harsh environments. Protite makes six main types of seals from leather:
Cup seals are the most common seal used with piston rods in cylinders and pumps. Sealing is at the outer edge by pressure from the medium and at the base by compression.
Hat-shaped or flanged seals are used on rotating shafts. Sealing is by compression at the inner edge and around the flange.
U-seals are normally used for slow-moving pistons or static gaskets. Sealing is at both the inner and outer edges.
V-seals are used in sets to seal pistons or shafts in stuffing boxes with a supporting ring of brass. These provide a dynamic seal at both inner and outer edges.
Flat static seals include all washers, gaskets, and other shapes to seal between relatively stationary parts under compression.
The company also will design and make special diaphragms, valve gaskets, and other types not covered above. Good results have been gained with combination packing sets of leather seals and O-rings. For movable machinery arms, bellows are the answer. Protite makes bellows in any shape or size required: cylindrical, rectangular, conical, or combinations.
For the marine environment, impregnated leather is a good choice for rotating or reciprocating machinery. Impregnated leather is humidity tolerant and can shield equipment that can be damaged by salt or spray. Its durability often exceeds synthetic materials in competing seals and bellows.
For more information, contact Tom Johansson, Protite. Tel: +46 431 136 20, Fax: +46 431 190 34, E-mail: tom@protite.se.