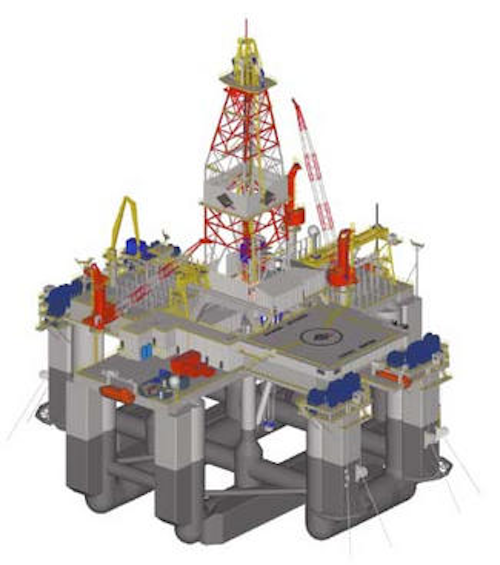 Diamond Offshore upgrades semisubmersible
Diamond Offshore Drilling Inc. awarded Hydralift a contract for delivery of drilling equipment related to upgrading the semisubmersibleOcean Rover. The Ocean Rover is the sister rig of the Ocean Baroness, which is presently being upgraded at a yard in Singapore. Deliveries to the two rigs are identical. Modifications are scheduled to be concluded next summer.
Smedvig gets new rig
Keppel Hitachi Zosen has delivered a semisubmersible self-erecting tender rig (SSETR) to Smedvig Asia Ltd. The SSETR, named theWest Alliance, has a one plus one optional year drilling contract with Esso Malaysia. It was scheduled to begin work earlier this month.
Cancoil cuts CT rigs
Cancoil Integrated Services Inc. cancelled the construction of two of four new generation coil tubing (CT) rigs planned for delivery in the second half of next year. Planned construction was announced in July. Cancoil will take delivery of the remaining two rigs on their originally planned delivery dates in April and May of next year, bringing the company's total rig count to 14. According to company representatives, this new rig design is the next generation for Cancoil and will enable the company to deliver coil-tubing services to greater depths with larger diameter tubing than any other coil-tubing rig available at this time.
Cosco confirms next generation heavylift
Cosco has approved the construction of the largest semisubmer-sible heavy-lift vessel, which the firm says will set standards for the next generation semisubmersible transport vessels. The vessel will provide the ability to deliver completed floating production units from their fabrication yards to the offshore field. The new vessel will join Cosco's mid-size newbuild vessels, which are currently under construction at Guangzhou Shipyard in China.
NMA Maritime & Offshore Contractors has completed the conceptual design for the new vessel, which has a deadweight capacity of 83,000 tons, a length of 274 meters, a width of 57 meters, a hull depth of 15 meters, and a service speed of 14 knots. The new vessel will be able to transport SPAR hulls in one piece and complete floating production units weighing up to 70,000 tons. Cosco/NMA has awarded the next design phase to Deltamarin in Raisio, Finland.
Global Marine upgrades
Houston Ship Repair, Inc. (HSR) recently completed two major rig upgrades for Global Marine Drilling Co. The Marathon LeTourneau Super 300 jackup rigGlomar Baltic I was re-powered with five Caterpillar type 3516 TA V, 1,305 kW diesel generator sets, and the two existing National 12-P-160 mud pumps were replaced with three National 14-P-220 mud pumps. Some of the associated system piping and auxiliaries associated with the generators and mud pumps were also modified. The work was carried out at the Rowan Facility in Sabine Pass, Texas .
HSR also performed upgrades on the jackupGlomar Labrador I. The five existing Caterpillar D-399TA diesel generator sets were replaced with five Caterpillar type 3516 TA V, 1,305 kW diesel generator sets. HSR also performed modifications on the existing piping. This upgrade took place in Port of Spain, Trinidad.
Ocean Energy
Ocean Rig'sLeiv Eiriksson experienced delays in concluding acceptance testing, but has now begun the final customer defined acceptance program. The remaining portion of the acceptance test program includes deepwater testing of the blowout preventer (BOP) in 6,500 ft water depth in the Gulf of Mexico, further testing of the dynamic positioning systems and other system tests. When testing is complete, the rig will be mobilized to West Africa, where drilling operations on the first well are to begin early in December.
Ensco rig upgraded
Ensco's jackup rigEnsco 94 is currently undergoing an upgrade that will result in increased drilling depth capacity. The rig will also see drill floor modifications that will allow for the installation of a new derrick.
Cal Dive gets deepwater vessel
In mid-October, Cal Dive International, Inc. (CDI) announced it acquired a dynamically positioned (DP) marine construction vessel, theEclipse (formerly the C.S. Seaspread). The 370 ft by 67 ft vessel is a sister ship to Coflexip Stena Offshore's Constructor. Following delivery in the beginning of next year, CDI plans to restore her original marine construction features by installing a saturation diving system, restoring the ballast system, and upgrading the DP system to DP-2 standards. The addition of the Eclipse to the CDI fleet gives the company a large monohull with significant deck load capacity for subsea construction work.