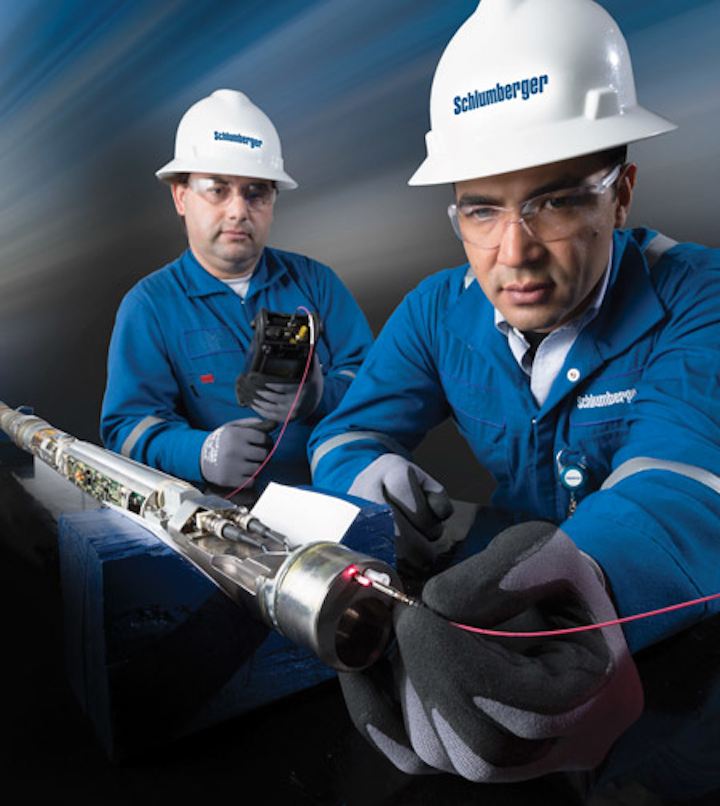 Schlumberger highlights new well intervention technologies
Schlumberger has introduced the ACTive OptiFIRE coiled tubing selective perforating system, which permits real-time selective perforating and activation using fiber-optic telemetry. The company says the selective perforation process is repeatable at different precise depths with positive indication of each firing and hydrostatic pressure control in a single run.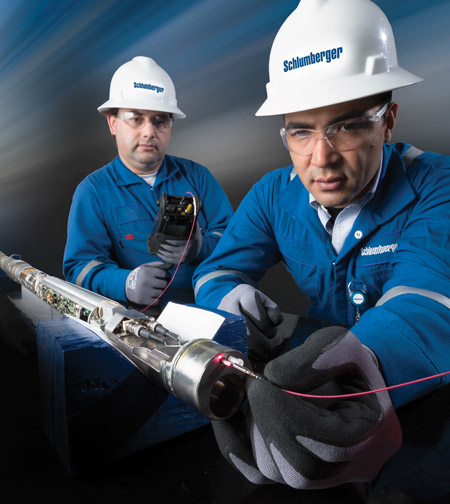 The ACTive OptiFIRE system does not require a ball drop, pressure pulse system, or fluids to detonate.
The ACTive OptiFIRE system can arm the perforating guns on demand, and fire each gun individually from the bottom up and is repeatable up to 10 times.
During lab testing, the new system successfully actuated more than 40 simulated detonators at the full temperature rating of 347°F (175°C) and has been field tested in more than 10 interventions in challenging onshore and offshore conditions, including Mexico and Malaysia.
In Mexico, a customer needed to increase production by reperforating a single zone historically inaccessible by conventional means of intervention without having to kill the well or delay production. The new system was used to access the zone at 13,327 ft (4,062 m) MD, accurately place the perforating guns, and confirm downhole detonation in a single run. The company says the system enhanced intervention safety, reduced perforating time by 75%, and allowed the operator to clean and kick off the well without needing additional equipment in the same run for increased efficiency.
"Operators currently have no method for perforating multiple non-contiguous zones when deploying guns on coiled tubing without requiring multiple runs or using a CT logging reel," said Sameh Hanna, president, Well Intervention, Schlumberger. "The ACTive OptiFIRE system facilitates efficient operations with fiber-optic real-time telemetry for depth correlation and selective activation and confirmation. Eliminating the need to pump fluid to detonate reduces the overall perforating costs and improves hydrocarbon-to-market time for our customers."
•••
The company also has unveiled its ACTive Straddle real-time coiled-tubing multi-set inflatable packer.
According to Schlumberger, the packer can isolate and treat multiple zones on a single run without coming out of the well, reducing intervention time and optimizing production.
The inflatable packer is conveyed with coiled tubing (CT) into vertical, deviated, or horizontal wellbores, eliminating mobilizations and potential completion removals by enabling multiple treatments in a single intervention. The company said the CT fiber-optic real-time telemetry provides downhole measurements to optimize fluid placement, ensure accurate depth control, monitor packer pressure during setting and unsetting, and enable precise flow control and setting tool manipulations.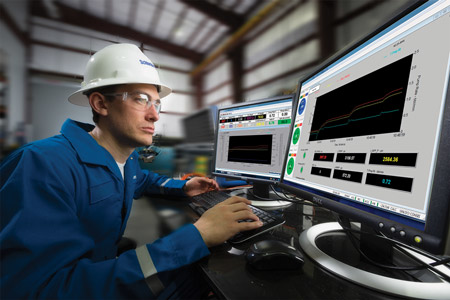 The ACTive Straddle packer enables multiple treatments in a single intervention.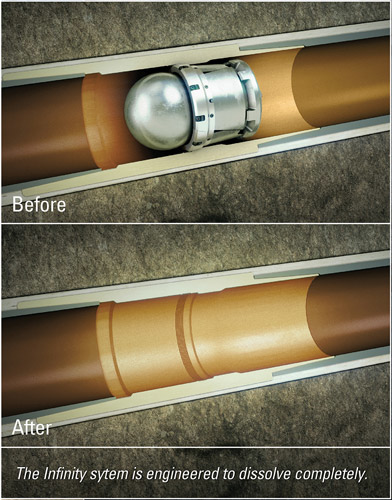 The Infinity dissolvable plug-and-perf system reduces intervention-related risks and costs.
During field testing, more than 147 inflation and deflation multi-setting procedures were performed. The new inflatable packer was also field tested in more than six interventions in challenging onshore and offshore intervention conditions.
•••
It also released the Infinity dissolvable plug-and-perf system that uses fully degradable fracture balls and fully degradable seats instead of plugs to isolate zones during well stimulation.
This first-ever fullbore interventionless plug-and-perf system eliminates the need for milling operations and leaves nothing behind in the wellbore, says Schlumberger. The technique eliminates lateral length restrictions, which maximizes reservoir contact and estimated ultimate recovery.
"Operators are continuously looking to streamline plug-and-perf operations without compromising productivity," said Olivier Le Peuch, president, Completions, Schlumberger. "With the new Infinity system, the ball and the seat assemblies both fully dissolve on contact with common completion fluids. As a result, the well is left with fullbore access and enables customers to bring production online faster, more efficiently, and more cost effectively." •
Librestream showcases new virtual presence technology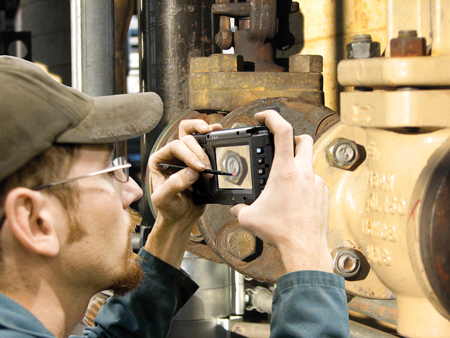 Video collaboration now allows troubleshooting of assets and inspections of safety and maintenance incidents right on the platform, rig, or facility.
In offshore exploration and production, the distance that separates specialized experts from field problems can be immense. With the newest virtual presence technology, remote experts collaborate with field staff around the globe immediately and no one leaves their desk, let alone the country, thereby dramatically reducing costs, production downtime, and travel expenses.
Librestream's Onsight system brings the problem to the expert, rather than the other way around.
The primary components to the virtual presence system include:
• Hazardous location approved wireless video devices (camera)
• Collaboration software that runs on the computer, smartphone, or tablet of subject matter experts
• Central management software and infrastructure to provide scale and control deployments.
Oil and gas enterprises are already experiencing the benefits for safety inspections and audits, maintenance and repair, staff training and many other applications. Now, engaging in a full video collaboration session has become as simple as making a phone call. •
---
OZ Optics unveils new sensor technologies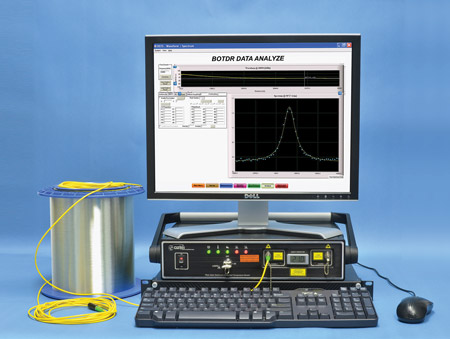 OZ Optics has released its ForeSight family of fiber-optic Brillouin distributed strain and temperature sensors.
Distributed sensing provides a direct method of measuring the changes in strain and temperature along the entire length of an optical fiber. The company has unveiled a new Brillouin optical time domain reflectometer (BOTDR) module based on spontaneous Brillouin scattering. This module complements its existing Brillouin optical time domain analysis (BOTDA) line of products.
The company says that if there is a break somewhere on the fiber, this unit can still measure strain/temperature up to the point of the break. The BOTDR system is available either as a stand-alone unit, or combined in a dual BOTDA/BOTDR measurement system.
The sensor uses standard optical telecommunications fiber, thereby leveraging the enormous economies of scale from fiber-optic communication networks. The new system is ideal for temperature and strain monitoring of oil and gas pipelines. Brillouin sensors detect corrosion, buckling, and micro cracks in large structures.•
Trelleborg launches SealWelding technology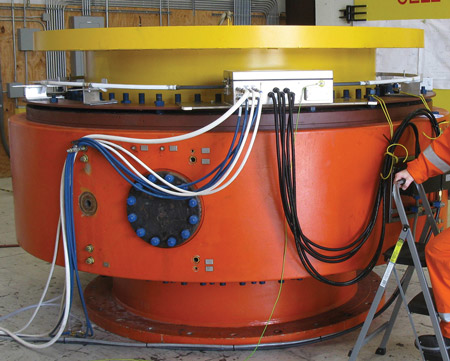 Trelleborg Sealing Solutions has launched a new SealWelding technology, which allows seals to be welded insitu on an FPSO platform.
Manufactured from Trelleborg's already-established seal material, this technology aims to reduce the downtime and associated costs that come from maintaining an FPSO swivel stack. Currently, swivel stack maintenance requires a vessel to travel back to shore so that components can be completely disassembled and seals replaced.
Through billet welding, Trelleborg's technology is able to weld the original seal material insitu. In a controlled manufacturing area, Trelleborg starts the process by producing a seal which has been cut in one place using a specially designed tool. The product is then packed so that it is well protected and avoids any damage in transit.
Offshore, onboard the FPSO, the seal is unpacked and installed onto the swivel by personnel from Trelleborg's service team; the engineer installs it in the weld head enclosure (part of the welding machine) which, certified to ATEX zone 1, is then pressurized so that the welding can take place. Fully enclosed, production on other swivel stacks can continue without risk.
A control cabinet, which is purged and will also be certified to ATEX zone 1, ensures the smooth running of the process, as well as monitoring and logging all data.
After the process is finished, the seal is safely removed from the weld head enclosure before being polished and checked.
If the values from the recorded data are satisfactory, the seal will be released for installation. •
Trelleborg introduces flexible pipe system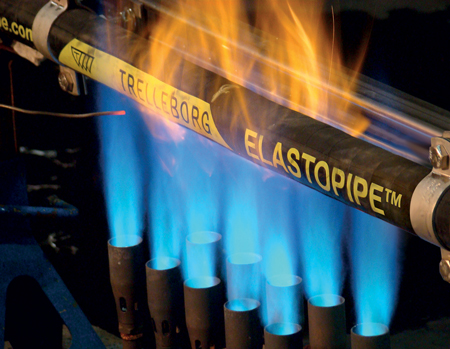 Trelleborg now offers a corrosion-free, explosion, impact, and jet-fire resistant flexible piping system. Elastopipe is a patented flexible piping system developed for transporting a variety of fluids and is available in two versions: fire resistant for fresh and seawater, and fire and oil resistant for hydrocarbons, solvents, additives, acids, and hydrogen sulphide.
This system uses synthetic rubber instead of traditional materials and the company says it is the only piping material approved for offshore deluge systems that has survived sequential explosion, impact, and jet fire testing.
Manufactured from reinforced synthetic rubber, Elastopipe is non-corroding and can withstand jet fire with a heat flux of 390kW/m2 and temperatures above 1,400°C (2,552°F) for one hour.
If replacing a deluge system, Trelleborg offers a temporary deluge system that provides complete firewater coverage during demolition or installation activities.
Elastopipe is approved for use in 150-lb systems and is rated up to 20 bar (290 psi), and has been independently tested and certified by DNV GL, as well as approved by Lloyds, RMRS, ABS, and the US Coast Guard.•
Hoffer Flow Controls unveils LCD rate indicator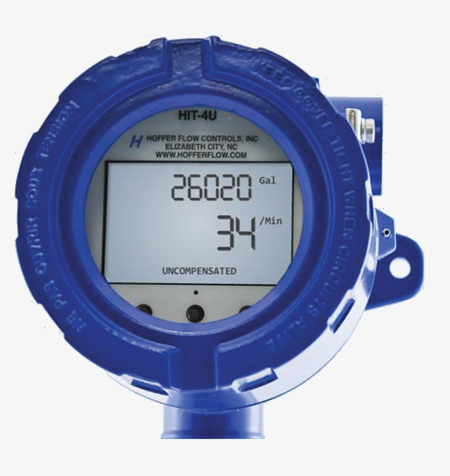 Hoffer Flow Controls Inc. introduces the LCD HIT-4U Rate Indicator with dual totalizers, modbus, and data logging. Featuring a six-digit rate display and separate eight-digit resettable and non-resettable flow totalizers; the HIT-4U is configurable for 4-20 mA loop powered or battery-powered service.
The multi-drop modbus serial port allows for two-way communication and configuration with remote devices via hard-wired or wireless interfaces. The standard explosion-proof enclosure includes powder-coated aluminum and stainless steel options for maximum flexibility to meet the harshest of installation conditions.
Full front panel operation, without the need to open the explosion-proof enclosure, is accessed via the magnetic pointer included with the unit. Data logs are part of the unit menu and are also accessible without opening the enclosure, with 100 of the latest data logs can be accessed and read from the front panel with the rest accessible via the modbus port. The HIT-4U also includes12-point linearization, dual set point alarm output configurable for rate or total and a wide range of engineering unit display icons. •
Streicher offers modular drilling rig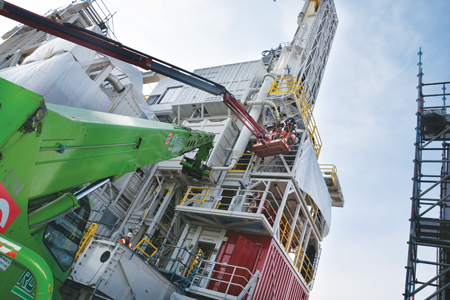 With its VDD 400.2 deep drilling rig, Deggendorf, Germany-based Max Streicher GmbH & Co. KG. provides an offshore drilling rig with a modular structure. The rig, comprised of more than 100 individual modules, can be assembled and disassembled using the cranes available on the respective drilling platform. Streicher says it has a maximum depth of around 7,000 m (4.3 mi).
Floating cranes are not required to work on the VDD 400.2, which the company says is suitable for use on all types of platforms. Modules in need of repair can be replaced when necessary. Furthermore, instead of performing a technical upgrade on an older rig, the VDD 400.2 can be positioned on the old platform. After P&A, the VDD 400.2 can be relocated to the next platform or new drilling locations.
Recently commissioned by Archer, the VDD 400.2 will enter service on the Statoil-operated Heimdal gas platform. Heimdal is a hub for the processing and distribution of gas in the Norwegian sector of the North Sea. Statoil says the total maximum rate of processed gas on Heimdal is comparable to some 15-20 % of Norway's total gas export.•
GE Oil & Gas expands artificial lift portfolio
GE Oil & Gas introduced its Vector Plus variable speed drive (VSD) surface control system for electric submersible pumps (ESP). A form of artificial lift, ESPs use centrifugal force to pump hydrocarbons to the surface.
GE provides two ways to control the ESP motor from the surface-by using either a switchboard or a VSD system such as the company's new Vector Plus VSD and its predecessor, the Vector VII VSD. While switchboards allow the operator to turn the motor on and off, GE's new Vector Plus VSD allows the operator to gradually increase ESP motor speed and remotely adjust ESP speed from the surface.
The new system is compatible with other GE artificial lift products, and incorporates other existing control technologies. It can be used with ESP applications ranging from 100 to 1,000 hp and is designed to work on all worldwide power systems rated 380-480 volts in both 50 and 60 Hz markets. The system has an outdoor NEMA 4 rating, meaning that the enclosure is completely sealed against the outdoor environment, to prevent the entrance of dust, dirt, and moisture. •
Weatherford introduces composite frac plug
Weatherford has revealed its new composite frac plug TruFrac, which is optimized for plug and perforation operations.
TruFrac is an evolution of the company's FracGuard product. It is constructed of 97% composite materials for easier milling and has a smooth OD to facilitate run-in at as much as 500 ft/min (152 m/min). The seal is proven to 10,000 psi (698.9 MPa) and 300°F (148°C).
"The upper slip is designed fit-for-purpose," said Matthew Crump, global product line manager - Composites, at Weatherford, "and has powdered metal buttons. The lower slip is the 'linchpin' of TruFrac, consisting of high-strength composites and small, hardened inserts for superior anchoring force."
TruFrac also is shorter in length which allows more of the plugs to be used in higher deviation wells.
To date, the company has successfully deployed more than 12,000 plugs with 99.98% reliability.
"The TruFrac composite plug has been optimized to provide one of the shortest, smoothest plugs. This results in faster run in-times and reduced mill-out times due to the plug's limited metal content and reduced cutting size which allows a cleaner well," said Mark Hopmann, vice president of Completions at Weatherford. "In addition, the technology offers improved anchoring and sealing compared to traditional plugs, increasing reliability and mitigating risk in plug-and-perf operations." •

TruFrac can be used in single- and multiple-zone stimulation operations in vertical, deviated, horizontal, or multi-lateral wells.