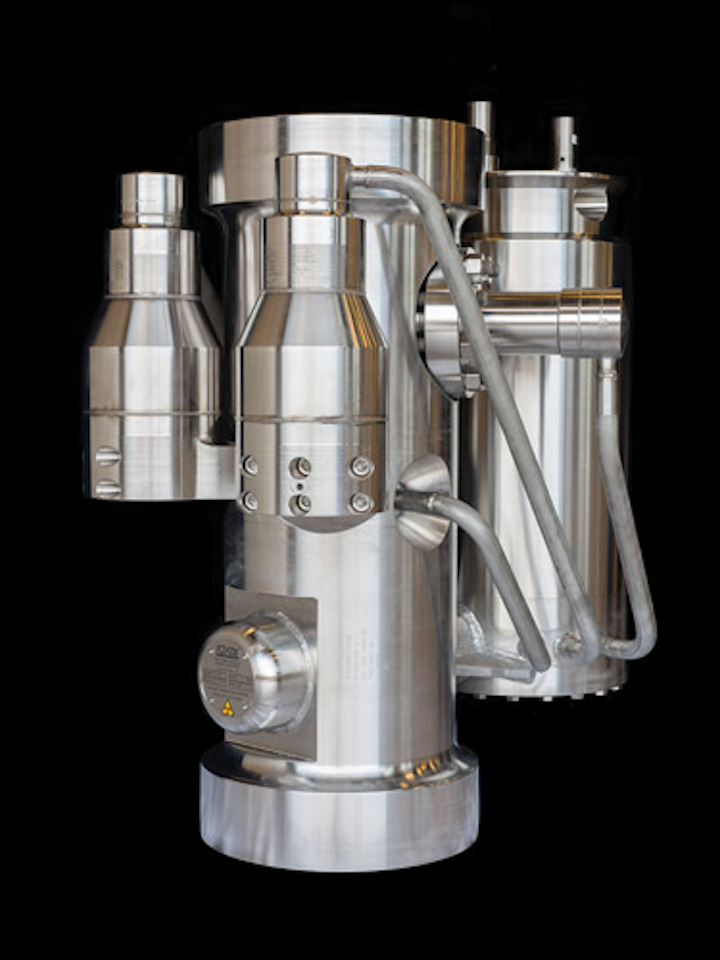 Industry showcases latest products and technologies at OTC 2015
Jessica Tippee
Assistant Editor
The low oil price and down market did not deter more than 94,700 people from attending the 2015 Offshore Technology Conference at NRG Park in Houston. This year's event featured 11 panel sessions, 29 executive keynote presentations at breakfasts and luncheons, and nearly 300 technical paper presentations. The sold-out exhibition was the largest in the show's 47-year history at 695,005 sq ft (64,568 sq m), including outdoor exhibits, and featured 2,682 companies from 37 countries.
Subsea
Many new products and technologies were featured for the subsea market.
Nexans launched its next-generation SUTA-FLEX subsea umbilical termination assembly. The company says the SUTA-FLEX concept has a modular design, based on standardized features that fit easily within the perimeters of the reel. It is compact and allows a range of tensioners to be used for installation. It is developed to withstand high pressure and ultra-deepwaters (up to 15,000 psi and 10,000 ft/1,034 bar and 3,028 m). SUTA-FLEX is supplied with the field-proven Nexans electrical field installable termination assembly and fiber optic termination unit.
Emerson Process Management introduced the Roxar subsea wet gas meter for production measurement, reduced risk, and improved flow assurance in gas and gas condensate fields. The company says the meter allows the earliest possible detection of water from gas wells. It comes with water sensitivity, accuracy, and rapid response together with the industry's first built-in salinity measurement system. This system alerts the reservoir engineer if formation water is entering the flow.
The next-generation Roxar subsea wet gas meter generates an uncertainty specification of ±0.02% abs water volume fraction at gas void fraction (GVF) 99-100%. The wet gas meter provides real-time, accurate hydrocarbon measurement due to its multi-variate analysis functionality and true three-phase measurement based on a microwave and gamma densitomer. The multi-variate analysis functionality also provides pressure, volume, and temperature independence on water fractions - especially in high GVF flows. The meter's measurement speed rates at 20 times per second.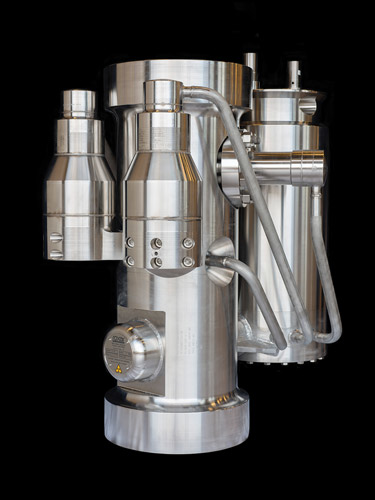 The Roxar subsea wet gas meter features the industry's first built-in salinity measurement system. (Photo courtesy Emerson Process Management)
Baker Hughes featured the first technology released as a part of its Subsea Production Alliance with Aker Solutions, the POWERJump flowline booster system. Based on Baker Hughes' electrical submersible pumping systems, the new systems are designed for one- or two-well applications with flow rates up to 30,000 b/d.
Drilling and production
New products and technologies also made their debut for the offshore drilling market.
Weatherford International unveiled the SecureView wireline cased-hole evaluation suite. The company says the suite provides single-trip, high-resolution diagnostics in cased-hole wells and offers operators faster and conclusive data to address potential well threats that may lead to production loss and liabilities.
SecureView combines four diagnostic technologies to inspect, identify, and determine root causes of well integrity issues. The suite, which includes UltraView, an ultrasonic measurement tool; FluxView, a magnetic flux leakage tool; CalView, a high-resolution multi-sensory-caliper tool; and BondView, a cement-bond tool, provides comprehensive and complementary data without information gaps.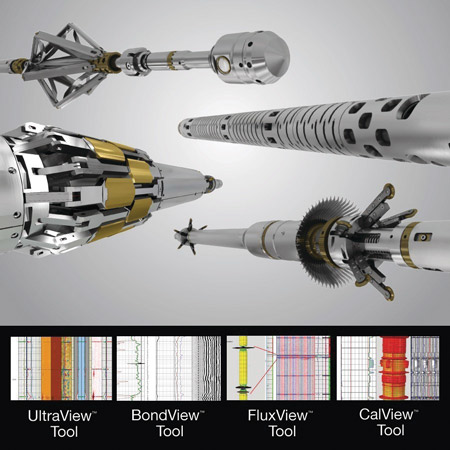 SecureView combines four diagnostic technologies to inspect, identify, and determine root causes of well integrity issues. (Photo courtesy Weatherford)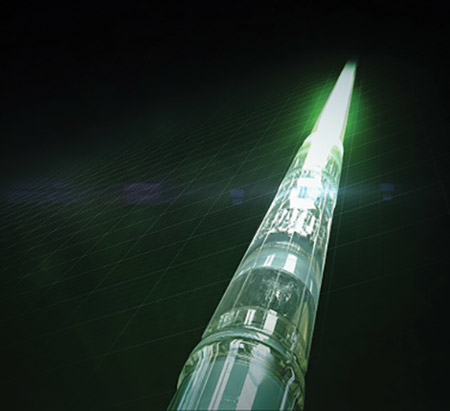 The Hammerhead system is designed for extreme conditions such as the Lower Tertiary play in the Gulf of Mexico. (Image courtesy Baker Hughes)
Baker Hughes introduced the Hammerhead system - the industry's first fully integrated wellhead-to-reservoir ultra-deepwater completion and production system. The company says the system is designed for extreme conditions such as those found in the Lower Tertiary play in the Gulf of Mexico.
The system includes an upper completion, a lower completion, an isolation assembly, and intelligent production capabilities. In addition, it is fully compatible with subsea boosting. Designed and tested for conditions in well depths up to 33,000 ft (10,060 m) and water depths up to 10,000 ft (3,050 m), including temperatures to 300°F (150°C) and pressures to 25,000 psi (1,700 bar).
GE introduced a new water treatment technology for the upstream oil and gas market. The company says its new seawater sulfate removal (SWSR) nanofiltration membrane eliminates almost all sulfate from injection water in offshore oil production.
The new SWSR series advances GE's DK series nanofiltration membrane and provides a high transmission of sodium chloride into the permeate water to minimize operating pressures. According to the company, it offers a physical barrier for any suspended particles including bacteria, pyrogens, and colloids. Additionally, the new membrane will help prevent strontium and barium sulfate scale in injection wells and will better mitigate well souring by reducing sulfate. The new SWSR membrane also can be used in conjunction with its existing reverse osmosis membranes to provide water for low salinity flooding, polymer flooding, and other forms of enhanced oil recovery.
Digital technologies
Companies also introduced new software technologies for the offshore oil and gas market.
GE Oil & Gas unveiled InspectionWorks Connect, a remote collaboration software platform for nondestructive testing (NDT) and inspection. The software provides real-time access to live inspection video and data from anywhere in the world. This enables smarter, faster decision-making, improves inspector productivity, and reduces training costs.
InspectionWorks Connect is a secure, encrypted solution that is embedded on NDT devices. It is also zero-install, which means that users only need a web browser to log in remotely. The new software is currently available for use with visual inspections on the GE XLG3 and GE Mentor Visual iQ Videoprobes, as well as the Mentor EM eddy current portable.
GE Marine launched SeaStream Insight. Powered by GE's Predix platform, the system is designed to process data in a way that provides marine operators decision-making support. Critical data relating to the condition of individual components is collected from multiple existing networks across the vessel. This data is processed and translated into information to give the drilling contractor situational awareness that enables fast, data-driven decision-making, and to give confidence in the readiness for continued operation.
The new technology draws upon GE's SmartSignal analytics capability, which can identify impending equipment failures well before they happen. With this added lead time, operators can avoid surprise equipment failure. The company says this predictive view of asset performance shifts the prescriptive (time-based) maintenance to predictive (plan-based) maintenance, further reducing downtime and helping to maximize customers' revenues.
Houston Mayor Annise D. Parker proclaimed Tuesday, May 5, as "Pink Petro Day" to celebrate the global launch of the social media channel, Pink Petro. Katie Mehnert launched the social media channel publicly in March to help women connect and advance in the energy industry and close the gender gap. The social media channel received seed money from Halliburton, Shell, and Jive Software.
Spotlight on New Technology Awards
Service and supply companies, contractors, and vendors introduced many products and technologies, but 17 new, innovative, and proven technologies received a Spotlight on New Technology Award. Oceaneering, Schlumberger, and Weatherford were each recognized for two technologies.
Oceaneering's first award-winning technology was the Deepwater Pile Dredge. This is an electrically-driven system with pumps that provide water jetting and suction to excavate piles at any depth. The jetting provides a 360° pattern to fluidize the soil inside the pile, and then suction pumps remove the soil from the pile.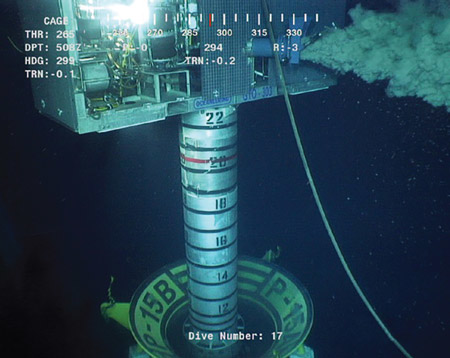 The Deepwater Pile Dredge can excavate piles at any depth. (Photo courtesy Oceaneering)
Its second award was for the Magna subsea inspection system. The versatile screening inspection tool assesses the mechanical integrity of assets at a high rate of speed without disrupting production. The advanced system is ROV-deployable, inspects 360° around the pipe, and provides real-time data of the wall condition with a single deployment.
Schlumberger won for the GeoSphere reservoir mapping-while-drilling service. This technology reveals subsurface-bedding and fluid-contact details more than 100 ft (30 m) from the wellbore. This reservoir-scale view provides an unprecedented depth of investigation, enabling operators to optimize landing, maximize reservoir exposure, and refine field development plans using deep-directional measurements enabled by real-time interpretation solutions.
The company also received the award for the Quanta Geo photorealistic reservoir geology service. This service redefines imaging in oil-base mud to provide highly detailed, core-like microresistivity images that visually represent formation geology. These images enable confident visual identification of facies and determination of directional trends, thus reducing uncertainty in reservoir models, making better field development plans, and quantifying project economics.
Weatherford won for the Red Eye subsea water-cut meter. This technology uses near-infrared absorption to provide water-onset detection, water-cut measurement, and water-to-hydrate inhibitor-ratio measurement. The meter can operate in full three-phase flow streams at any gas-volume fraction and is not affected by changes in salinity, eliminating the need for corrections related to these factors.
The company also was recognized for the total vibration monitor with angular rate gyro (TVM+). This downhole sensor provides critical drilling dynamics data in real-time and recorded formats and uses the industry's first micro-electromechanical system-based angular rate gyro. The device enables downhole-sensor measurements of angular rotation in never-before-seen detail, yielding new insights into drillstring dynamics and drilling management.
Versabar won for the Versacutter. This technology provides a new way of cutting through offshore platform piles and well conductors at a depth of up to 20 ft (6 m) below the mudline. The system delivers a long reciprocating cutting wire below the mudline by jetting, with the wire continuously cutting through the piles and conductors.
Cameron earned the award for the Mark IV high-availability BOP control system, which features an industry-first three-point of distribution (POD) design option for subsea BOPs. The company says the third POD provides added redundancy for improved operational availability of the drilling system to as much as 98%. Each POD's simplified design improves reliability.
Tracerco was recognized for the Discovery subsea pipeline inspection tool. This technology allows operators to externally inspect coated lines for flow assurance and pipeline integrity issues without removing any coatings. Discovery provides data without production interruption, identifies hydrate, wax, asphaltene or scale, and delivers results in real time.
Baker Hughes received the award for the MultiNode all-electric intelligent well system. This is the industry's first advanced completion system that provides remote-controlled monitoring and precise control of production zones to manage water and gas breakthrough, and improve ultimate recovery. The system adjusts to changing reservoir conditions by choking back high-water and high-gas producing zones, balancing production along the lateral.
Halliburton earned the award for the RezConnect well testing system. The company says this is the industry's first system to offer full acoustic control of drillstem testing tools. Downhole samplers, valves, and gauges are controlled in real-time and their status is communicated to the surface for confidence in the ability to control, measure, and analyze a well.
FMC Technologies won for the annulus monitoring system. This system provides independent condition monitoring within the subsea wellhead from the onset of drilling. The communication system delivers actionable information to the operator during critical phases of well installation and commissioning from multiple analog or digital sensors within annular locations.
Welltec was recognized for the Welltec Annular Barrier. This is an expandable, metal annular barrier engineered and qualified to replace cement in well construction. Its rugged design, qualified to ISO V0 meeting regulatory standards, has been used as a cementless, primary well barrier to prevent surface annular pressure over the life of the well.
OneSubsea received the award for the multiphase compressor. This is the world's first and only true subsea wet gas compressor. Developed with Statoil and Shell, it represents a break-through in technology, enabling compression of the well stream without any need for pre-processing. The technology was primarily developed to increase recovery rates and to cost-effectively increase the tieback distances of subsea gas fields.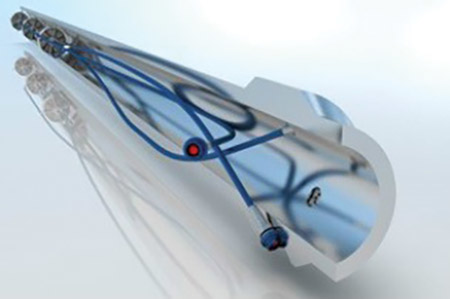 The Dreamliner multilateral stimulation system was developed in a joint industry project. (Image courtesy Fishbones)
SBM Offshore won for the ARCA Chain Connector. The company created a new chain connector design to attach mooring lines to floating units. Placing the chain articulation in the mooring line allows them to be recovered for inspection and maintenance. The ARCA also enables for diverless connection/disconnection and cost reduction for turret mooring systems.
WiSub earned the award for the Maelstrom pinless subsea wet-mate connector. The subsea connector system eliminates the pins from subsea wet-mate connectors with a solution based on solid-state electronics, providing increased mating cycles, reduced operational cost, and increased reliability of subsea connections. It applies inductive coupling for power transfer and patented microwave communication methods for 100 Mbps data rates.
Fishbones received the award for the Dreamliner multilateral stimulation system. This technology increases productivity by creating an array of targeted small diameter laterals into formations. Numerous laterals are individually but simultaneously drilled by harnessing fluid flow through turbines using standard rig pumping equipment and existing wellbore fluid. It was developed in a joint industry project with Statoil, Lundin, ENI, Innovation Norway, and was supported by the Research Council of Norway.
WiSub and Fishbones were also the first recipients of the Small Business Award. OTC created the award to support and recognize innovative technologies being developed by business with less than 300 employees.
The annual conference is scheduled to return to NRG Park in Houston on May 2-5, 2016. •