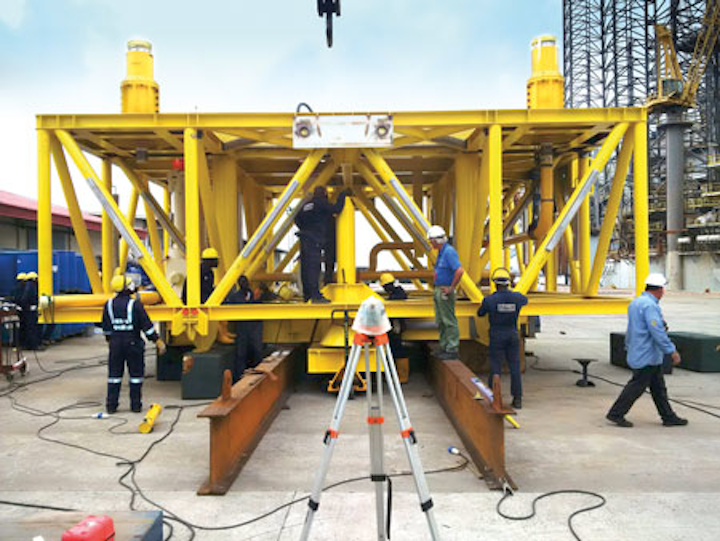 Jeremy Beckman
Editor, Europe
Nigeria's first purpose-built deepwater logistics base and offshore fabrication yard is preparing for the country's next wave of developments involving giant FPSOs. Under a joint venture with Samsung Heavy Industries, LADOL has started building topsides modules for Total's Egina FPSO, with the completed hull due to arrive from South Korea for integration works at LADOL late in 2016. This will be the first-ever floater part-built and integrated onshore in Nigeria.
The JV, known as SHI-MCI Free Zone Enterprise, is operating from the LADOL Free Zone at Apapa Port on a peninsula at the point of entry to Lagos Harbor. Work on the LADOL complex started in 2001: during the first phase, newly formed and privately owned Lile began the $100-million development of Nigeria's first privately financed logistics and engineering base, designed to provide deep offshore operations support for drilling and production and construction projects to the major oil companies, as well as round-the-clock services such as rig and offshore vessel repairs.
As Dr. Amy Jadesimi, managing director of LADOL pointed out, the country's established offshore engineering/logistics centers at Warri and Port Harcourt are more geared up to serve shallow-water projects in the Delta region, whereas Lagos is much closer to Nigeria's deepwater blocks. "Deep offshore requires a totally different business model," she said. "It also helps that we are 100% privately funded and 100% Nigerian, which means we don't have any other focus other than on delivering our business and growing the size of the market."
Under the older business models, oil companies were obliged to favor contractors on good terms with the government, Jadesimi noted. "Previously, if they tried to integrate an FPSO while working with a Nigerian company that was not a fabrication specialist, they ended up having to complete the work outside the country. It's better to have a qualified indigenous company to do this work - but we first had to prove to all the stakeholders that we could do it in-country, and that our operation would add value to the oil industry."
In 2007, LADOL's founders decided the Phase 2 development would be a fabrication/integration facility. "That was when Shell attempted to launch the Bonga Southwest project for the first time," Jadesimi added. "Heerema was going to be our technical partner: they felt we had the optimal location. Bringing an FPSO onshore anywhere in Africa is risky, because if the hull ends up damaged, it has to go back to the construction yard in the Far East. However, the location we have here is geographically ideal, having wide, deep access and being close to the shipping lane."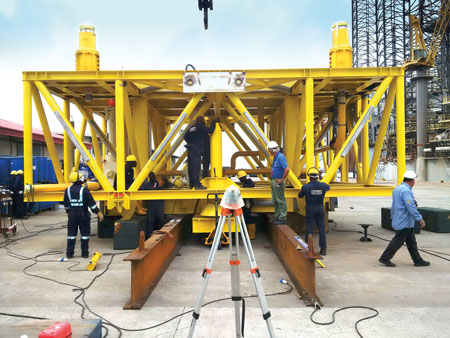 Buoy under construction at LADOL. (Image courtesy LiLE)
Impetus for the new $300-million FPSO facility re-started in 2011 when Total launched tenders for its Egina development in Oil Mining Lease 130, around 130 km (81 mi) offshore, calling for a 200,000 b/d production vessel with 2.3 MMbbl of crude storage capacity. A year earlier, the government had passed new legislation that mandated the development of FPSO integration capability in-country in order to boost local content in oil and gas projects. Hyundai Heavy Industries and Samsung both bid for the Egina FPSO contract on the basis of providing an onshore integration solution, but Jadesimi said that Samsung's strategy with LADOL came across as the most realistic plan.
For this project Samsung is in charge of all fabrication and integration, also supplying the managing director of the joint venture, with the second person in command from LADOL. The Free Zone, which covers 100 ha, has set aside a 20-ha (20,000-sq m) area for integration works. Fabrication started at the yard last month. The design and operation of the yard matches that of the facilities and production processes at Samsung's offshore construction complex on Geoje Island, South Korea, right down to the planned new 500-m (1,640-ft) long, quay wall, designed to provide 25 tons/sq m load-bearing capacity (in addition to the existing 200-m/656-ft long quay wall already at LADOL).
The original target was to fabricate 14,000 tons of modules for the Egina topsides in Nigeria (some at LADOL and the balance at other yards across Nigeria), with integration continuing at the site for a year after the FPSO hull arrives. Aside from this project, the investment is intended to ensure that the facility (and Nigeria) is capable of building more new FPSOs, as well as refurbishing old ones, for the next 30 years, Jadesimi added.
The country's next major deepwater project, Bonga Southwest, has an in-country fabrication target of around 20,000 tons, and this could be followed by ExxonMobil's Bosi, based on a new or refurbished FPSO. However, as things stand, Jadesimi noted, Nigeria does not have this fabrication capacity.
"Nigeria's local content for projects has been stuck at around 10% for decades," she observed. "But we are now realistically targeting 70%, since the FPSO will be integrated in-country. The demand exists, which means quadrupling fabrication and engineering facilities across the country. For this to happen, there needs to be more discussion of what our education system is producing, and the government needs to work with industry on developing more targeted training at out technical colleges and higher education schools."
Aside from fabrication/integration, the current Phase 2 program is designed to double LADOL's logistics capability so that it can accommodate several drilling rigs (for repairs) and supply vessels at the same time.