Multi-fuel diesel engines well suited to FPSOs on the move
The flat efficiency curve of the entire generating rates makes the Wärtsilä gas-diesel engine an ideal prime mover for floating production vessels. [6,408 bytes] The Berge Hugin FPSO operating in the Pierce field had four Vasa 6L46A engines which were converted for gas-diesel operation in 1998 and will be running on fuel taken directly from the wells. [31,613 bytes]
Apr 1st, 1999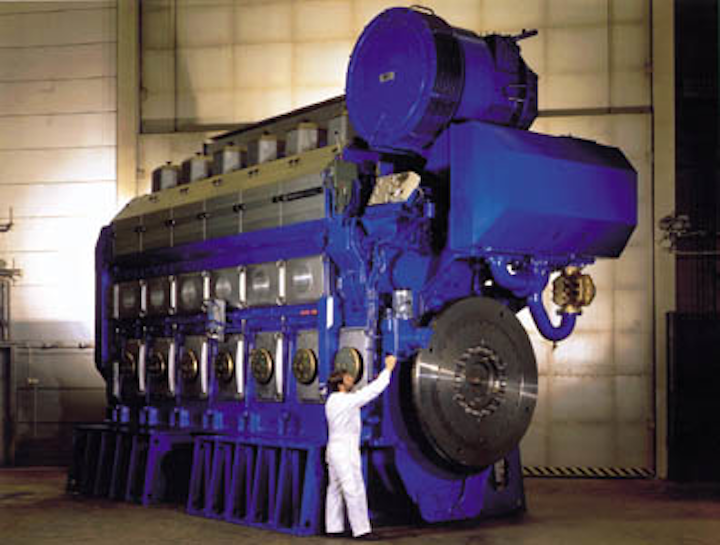 Gas quality is immaterial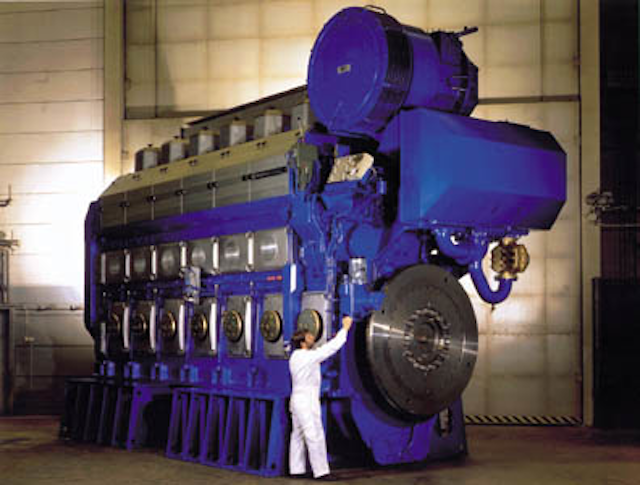 A six-cylinder in-line Wärtsilä Vasa 46GD engine.
With about half its turnover coming from offshore and marine sectors for the last two years, Wärtsilä NSD in Vaasa has been concentrating its efforts on promoting its gas-diesel (GD) engines for offshore production units. First developed in the mid 1980s, the concept uses high pressure injection and has a multi-fuel capability, which allows the engines to run on a wide variety of fuels such as crude oil, natural gas, and heavy fuel oil. So far, Wärtsilä has developed the Vasa 32GD (up to 6.5 MW) and the Vasa 46GD (up to 16 MW) diesel engines.
For the GD engines, natural gas from the oil production process stream is compressed to 350 bar. The quality of the gas is immaterial and complete combustion is achieved with an optimized combustion process - and other innovative features such as the unique Twin Injection system - which allows combustion of fuels with low ignition qualities.
Multi-fuel engines
As the combustion process works in the same way as engines burning diesel oil, gas-diesel engines do not have the combustion knock problems which affect spark-ignition engines and dual-fuel engines running on low pressure.
Since the GD engines will run on such a variety of fuels, it is an attractive option for FPSOs as the engines do not have to be adapted when the vessel is moved to a new field. In addition, the engines can switch from one fuel source to another without power loss and without having to shut down operations. The engines give the same level of efficiency as a normal diesel engine (the Vasa 46GD approaches 50% efficiency without waste heat recovery) and can maintain high efficiency even in large load variations.
Conversion of older diesel engines to the gas-diesel operation can also be accomplished easily. For example, Wärtsilä completed the conversion of two Vasa 12V32 diesel gensets running on diesel oil to natural gas for the Statoil Veslefrikk B semisubmersible in three months without halting oil production. The gensets were two of the platform's eight installed engines which had been in operation for ten years.
Complete power modules
More recently, Wärtsilä has been supplying complete engine room packages, which the company says are becoming more common for fast track conversion projects. "These complete packages are particularly convenient for FPSO conversion projects where we are given the available space, the module is tailored to fit the space, and installation is achieved in a single lift", says marine application technology manager, Mika Laurilehto.
These power production modules have been developed as a standard concept to reduce lead times and costs. Normally in FPSOs, as much of the ship's volume as possible is used for storage of processed oil. As a result, the engine room is often located on the main deck level or even on the topsides and an enclosure is required to house the engines.
Separate enclosures
Wärtsilä's diesel modular solution consists of a separate enclosure for each generating set with an additional utility enclosure containing auxiliary equipment. The enclosures also have their own electrical heating, ventilation, lighting, maintenance platforms and fire extinguishing system and are delivered ready painted and insulated.
All internal piping and wiring is pre-assembled and drawn to the edge of the module for easy installation and if two or more generating sets are fitted together, the adjoining module walls are either left out in order to increase space or left intact to provide separate cells for each engine. Combustion air is drawn from outside in a separate duct to the turbochargers. The air duct is equipped with filters and a silencer with the exhaust gas silencer fitted either vertically or horizontally on top of the module. If a waste heat recovery (WHR) unit is installed a third WHR module is fitted on top of the enclosure.
Wärtsilä has already supplied a number of these complete power modules. For the Texaco Captain FPSO in the North Sea, for example, Wärtsilä provided a complete power plant and fuel handling system which consisted of five 18V32 gas diesel engines generating 33.3 MW to support a production capacity of 60,000 b/d of crude. The package also included a Wärtsilä Vasa 12V22 power pack to drive the bow thruster.
Power generation
Wärtsilä experienced a particular boom last year in the provision of light fuel diesel engines for the drilling sector. Close to 90% of all new build gensets for the offshore sector in 1998 were for drilling rigs, most of which will operate in the Gulf of Mexico. Wärtsilä diesel engines are certified up to 25.5° inclination tests and can operate on heavy load cycles, especially in deepwater areas where the heavy drilling equipment requires a lot of power.
"We have done a great deal of work to find the optimum power generation package for deepwater drilling operations," says Laurilehto. "For example, we have just supplied five generating sets for Transocean's Discoverer Deep Seas, in addition to identical equipment for the Discoverer Enterprise, which is currently being fitted with topside equipment in the US. The rigs also needed power for their dynamic positioning systems and the Wärtsilä engines were able to provide the highest level of availability."
Currently Wärtsilä is working on an order to provide six 18V32 light fuel diesel engines for the Saipem 10000 drill ship being built by Samsung.
Copyright 1999 Oil & Gas Journal. All Rights Reserved.