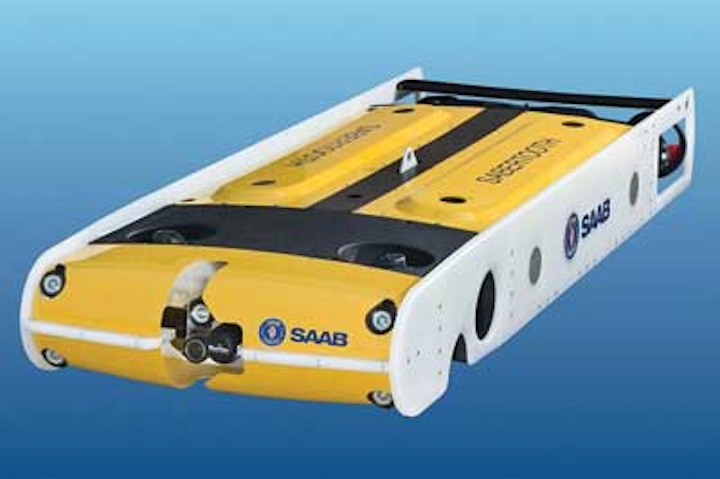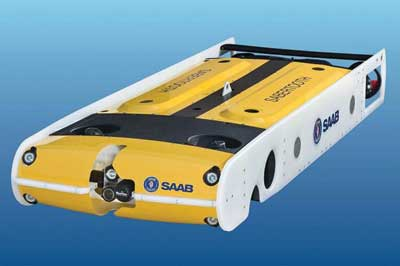 The Sabertooth double-hull can roam free for up to 40 mi, is depth-rated to 3,000 m and has 360° orientation.
A project developed by Eni Norge and Tecnomare called Clean Sea (continuous long-term environmental and asset integrity monitoring at sea) aims to benefit asset integrity and environmental monitoring of oil and gas installations.
As a result of this collaboration, Clean Sea has developed the Sabertooth hybrid AUV/ROV from Saab Seaeye for the purpose. The resulting autonomous vehicle can accept interchangeable modules, has 360° maneuverability, and hovering characteristics necessary to operate around structures during inspection and monitoring tasks.
Fitting the concept of interchangeable modules, called E-PODs, is made possible through the open interface architecture of the Sabertooth. Each E-POD module is dedicated to a particular task that can include automatic water sampling, hydrocarbon leakage detection, chemical analysis, visual inspection and acoustic surveying.
In developing their concept, the Clean Sea team has taken advantage of the Sabertooth's technology architecture. For example, the vehicle's system of "reactive control" will modify a preprogramed mission in real time so that if a leak is detected the vehicle can autonomously locate the leak by subsequent analysis of gas measurements and move towards the leak source and film it.
Standard environmental sensors can be fitted to include temperature, conductivity, dissolved oxygen, fluorescence for chlorophyll and organic matter, turbidity, dissolved methane, PAH, pH, and ORP.
The hovering characteristic of the Sabertooth makes it possible to operate from docking stations, where data can be exchanged, either on wireless flyby or direct docking, and where batteries can also be recharged and interchangeable instrument modules attached remotely for various missions.
Having successfully demonstrated the potential of Clean Sea technology during field tests on environmental monitoring, the team plans a second phase of field tests to demonstrate the more complex functions of asset integrity tasks.