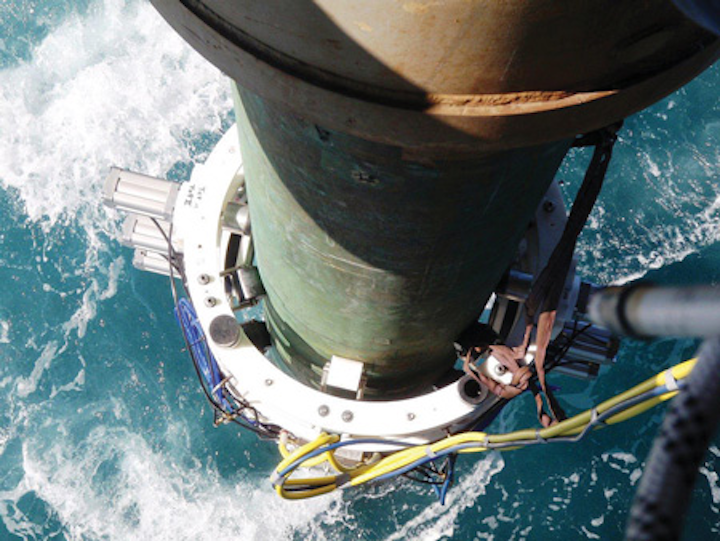 Pulsed eddy current surveys ferrous pipes through coatings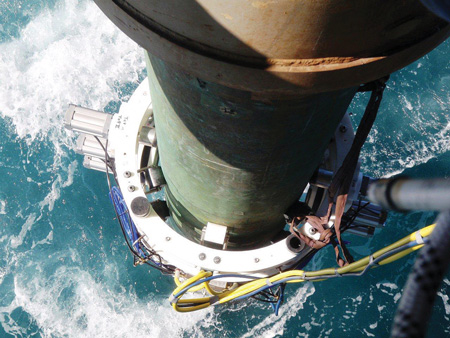 T
he RTD INCOTEST surveying a platform leg.
A new tool for ROVdeepwater inspection of non-piggable pipelines uses pulsed eddy current testing to detect surface and subsurface corrosion in thin and thick-walled pipelines and vessels.
The system is being developed by a partnership between Applus RTD and Delta SubSea. It is an alternative inspection approach for both above and below water.
The RTD INCOTEST (INsulated COmponent TESTing) is based on the pulsed eddy current principle to survey ferrous pipes and vessels through thermal insulation and protective coatings. Measurements are done at a range of frequencies through different coil sizing for component evaluation. The tool can operate on batteries or mains power, and uses no consumable chemicals.
Pulsed eddy current testing can screen for localized corrosion through the insulation, coating and/or fireproofing, and in general through any electric non-conducive and non-magnetic material. The object under examination needs to be made of low-alloyed carbon steel.
The systej deploys a multi-sensor array to increase the inspection coverage to detect surface and subsurface corrosion and to measure average remaining wall thickness within the interrogated area. It does not need to be in contact with the pipe to function, and can measure through marine growth, fouling and concrete in depths to 3,000 m (9,840 ft).
The low frequency pulsed magnetic field generates an eddy current at the surface of the material.
Every time the magnetic field changes, eddy currents are generated in opposition to those changes. As they diffuse, they generate a magnetic field that is detected by the receiver coil in the probe. The average remaining wall thickness within the enclosed magnetic field can be calculated.
Characteristics of system performance include:
Nominal wall thickness to 6-65 mm (0.236-2.559 in.)
Insulation/coating thickness up to 200 mm (7.874 in.)
Diameter down to 50 mm up to flat plates (1.968 in.)
Temperatures: -150°C to 500°C (-238°F to 932°F)
Accuracy +/ - 5%
Duration of one measurement four to 10 seconds depending on wall thickness.
The system has been used successfully for oil and gas offshore clients inSoutheast Asia, Australia, and the North Sea in water depths of 160-200 m (525-656 ft). The maximum depth that the system has been used is in Angola at 1,600 m (5,249 ft).
---
Enventure unveils solid steel casing patch
| | |
| --- | --- |
| | |
| | The ESeal Patch has high collapse and burst pressure ratings. |
Enventure Global Technology LLC has introduced what it says is a breakthrough in casing patch technology. The ESeal Patch is a single-joint, solid steel liner that seals short sections of damaged casing and perforations.
The new technology uses elastomer seals deployed top and bottom on stick or coiled tubing. Once expanded, the elastomer seals anchor the system to the base pipe. The company says the simple and effective design provides a quick, inexpensive, and permanent seal while reinforcing short casing sections, thus restoring well integrity and prolonging the life of the well.
John Callais, vice president Western Hemisphere, said: "This newly engineered expandable casing patch with high pressure ratings is a permanent and cost-effective alternative to cement squeezes and legacy remediation methods for restoring casing integrity."