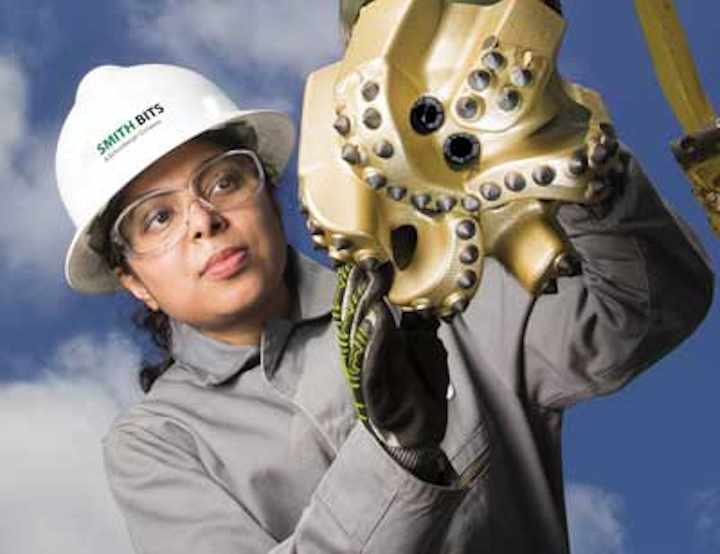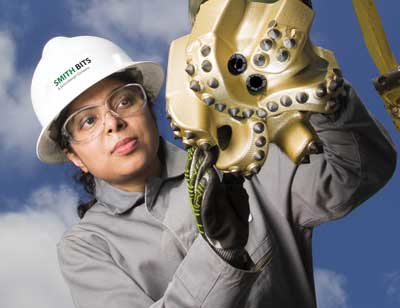 Smith Bits' new StingBlade bit has conical diamond elements designed for longer life and higher ROP. (Photo courtesy Schlumberger)
Smith Bits, a Schlumberger company, has introduced the StingBlade conical diamond element bit designed to drill longer and at a higher rate of penetration (ROP) while giving improved steering response in directional applications.
"In the continuous drive for increasing efficiency and lowering costs while drilling, our customers expect that each section is drilled from shoe to total depth with one drill bit at a high rate of penetration," said Malcolm Theobald, president, Bits & Advanced Technologies, Schlumberger. "StingBlade bits have greater durability in hard and inter-bedded formations when compared to conventional PDC bits, enabling an increase in the frequency of drilling an entire section with one drill bit."
StingBlade bits use Stinger conical diamond elements across the bit face. The conical shape of Stinger elements induce high point loading on the formation, enabling increased run lengths and higher sustained ROP. In directional applications, the new bits cut with lower torque than conventional cylindrical cutters and achieve higher build rates with less toolface variation, said Smith.
StingBlade bits have been successfully tested in more than 300 wells worldwide, both onshore and offshore, in conventional and unconventional applications. To date, more than 686,000 ft (209,093 m) have been drilled worldwide.
In a field trial in the offshore Browse basin in Australia, a StingBlade bit drilled a 12 ¼-in. vertical section through a formation known to cause premature impact damage to conventional PDC bits. The drill bit exceeded the planned footage interval, increasing interval length by 97% and ROP by 57%, saving more than five days of drilling time.