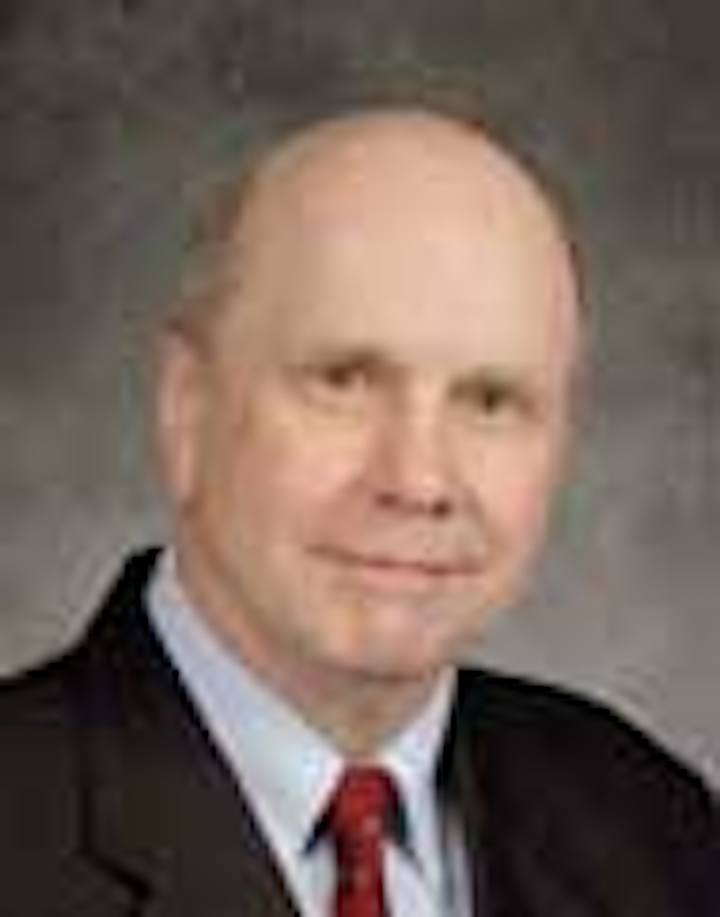 | | | |
| --- | --- | --- |
| | | Gene Kliewer • Houston |
Searcher Seismic, the Philippines Department of Energy, and SeaBird Exploration should be in the fasttrack data interpretation phase of the Mialara 2D seismic survey taken east of Palawan in the Philippines. The ~5,000 km (3,107 mi) survey over a 10 x 10 km (6.2 x 6.2 mi) grid in the Mialara subbasin includes coverage over the PECR5 bid round blocks 4, 5, and 6. The 2D survey follows and infills Searcher's Pala-Sulu regional multi-client 2D.
•••
CGG has signed an exclusive multi-client data agreement with the Ministère du Pétrole et des Hydrocarbures of the Republic of Gabon for a new multi-client survey program to acquire 35,000 sq km (13,514 sq mi) of BroadSeis 3D data over the latest available and awarded deepwater Gabon blocks and 9,900 km (6,152 mi) of 2D data over the country's ultra-deepwater. The first program phase covers almost 24,000 sq km (9,266 sq mi) and will start in 4Q 2014. The depth imaging of the seismic data will be performed in CGG's Crawley center in the UK.
•••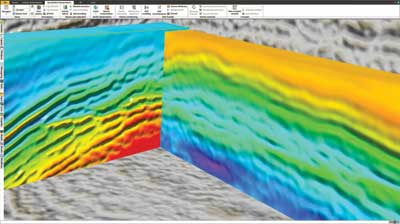 Schlumberger has released the 2014 versions of its software platforms. The programs include Petrel E&P software, Techlog wellbore software, Studio E&P knowledge environment, and Ocean software development framework.
Petrel 2014 features a new ribbon-based interface design configured in a workflow-driven layout to boost productivity. Key tools are presented in context, enabling a more focused user environment, said Schlumberger.
In addition, new "perspectives" help geoscientists or engineers select a display that prioritizes relevant domain technologies and tools. The new interface enables an average of 30% more time to be focused on data and workflows, the company said.
Techlog 2014 introduces new modules for rock physics, cement pipe integrity, distributed temperature sensor (DTS) plotting, and shale reservoir evaluation, while bringing disciplines together in a shared wellbore approach. Users can standardize workflows across the hydrocarbon pathway.
Studio 2014 is delivered with the Petrel platform and drives multi-disciplinary collaboration. Users can find data in context, and share and manage this information. New content display tools allow the preview of search results, and indexed Petrel windows are now available.
The 2014 Ocean software development framework release introduces Ocean for Studio. Leveraging the development framework with the Studio platform, data workflows can be created and customers can design their own knowledge management systems. (Image courtesy Schlumberger)
•••
Electromagnetic Geoservices has received a letter of intent valued at $6.8 million from an international oil company for 3D EM data acquisition in Malaysia. The survey will be done using the vessel BOA Thalassa. The vessel is currently on its way to Asia and is expected to arrive in Singapore for inspection mid-October and thereafter commence the acquisition as soon as possible.
•••
TGS is expanding its Constitution group of WAZ 3D projects in the Gulf of Mexico with the start of the Declaration survey. Declaration will cover 6,061 sq km (2,340 sq mi or 260 outer continental shelf blocks) in the Mississippi Canyon and Viosca Knoll protraction areas and will be acquired orthogonal to TGS' underlying Justice WAZ 3D survey. With offsets to 16 km, this data will be acquired by CGGwith a single pass vessel configuration derived from its StagSeis technology with the aim of better imaging deep structural elements and to improve subsalt and salt flank illumination. Data will be processed using Clari-Fi and orthorhombic migrations. Preliminary data will be available to the industry at the beginning of 2015 ahead of OCS Lease Sale 235.
•••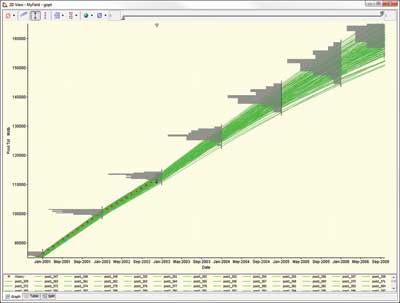 Roxar Tempest uncertainty representation. Emerson Process Management has launched Roxar Tempest 7.1 reservoir engineering software suite. Emerson says the software has enhancements to its uncertainty management and reservoir prediction features. The Tempest ENABLE module, allowing users to create ensemble-based prediction workflows and better quantify uncertainty in production forecasts, is the first commercial result of the three-year Total Uncertainty Management program collaboration among Emerson, Statoil, and the Department of Mathematical Sciences at the UK's Durham University on the development of statistical algorithms.
There also are changes in the Tempest MORE reservoir simulator and Tempest VIEW the pre and post-processing interface.
Tempest ENABLE incorporates the latest research from Statoil and Durham University to enhance its "proxy" based assisted history matching and prediction workflows, improving accuracy and efficiency. Now it is possible to sample the response surface to generate an ensemble of runs to give a direct statistical estimate of production uncertainty. Emerson says this gives a clearer overview of prediction variations, can identify specific runs for further economic evaluation, and generates more accurate and realistic production scenarios for risk management.
Tempest ENABLE also comes with a new option for multiple realization studies when used in tandem with the Tempest MORE reservoir simulator.
Roxar Tempest 7.1 consists of five modules: Tempest VIEW; Tempest MORE; Tempest ENABLE; Tempest PVTx, a PVT analysis tool; and Tempest VENTURE, an economic evaluation tool. The modules can work as an integrated unit with a common interface or individually.