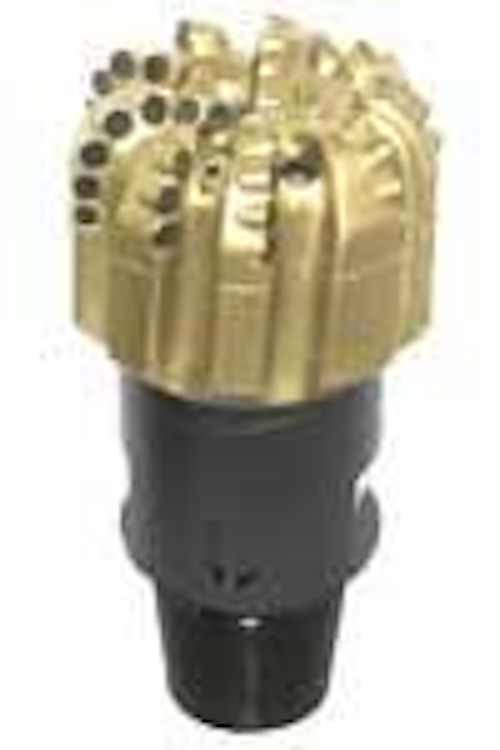 Jaime Kammerzell • Gulf of Mexico Editor
Drilling Technology
Hughes Christensen (HCC) has introduced Genesis XT, an extension of its Genesis product line that expands the application envelope of PDC drilling into harder and more abrasive formations. Building on the Genesis multi-functional team approach, HCC engineers incorporated a new generation of cutters and patented depth-of-cut control technology to increase bit stability and durability in demanding applications. Engineers optimized the interface between the tungsten carbide substrate and the synthetic diamond table to improve the Odyssey series cutter toughness. In addition, the company has adapted SmoothCut EZSteer depth-of-cut control technology for general-purpose applications to provide smoother, more stable drilling, especially through interbedded formations. This improves bit longevity and overall drilling efficiency, the company says. Genesis XT technology provides longer, faster runs through formations previously drillable only with roller cone bits.
Power sections for down-hole displacement motors
R&M Energy Systems, a unit of Robbins & Myers Inc., offers Moyno power sections – rotor-stator hydraulic motor elements for use with down-hole positive displacement motors. Moyno power sections include slim-hole, performance-extended, air-drill, and short-radius models, including many with oversize stators for hot-hole applications. Moyno Power Sections offer the broadest range of flow rates, speeds, torques, lobe configurations, stages, and materials in the industry, the company says.
High-pressure filters
The hydraulic filter division of Parker Hannifin Corp. has introduced its 12S series line of lightweight high-pressure filters to provide high capacity with high efficiency for applications found in the petroleum and gas industry. The 12S series uses Microglass III elements with multi-layer media and wire reinforced pleats, providing a 2,000 psid collapse strength for high capacity, while preventing performance loss from pleat bunching. The high-pressure filters exceed multi-pass test ANSI/NFPA T3.10.88 R1-1990 to meet stringent performance requirements, the company says. The 12S series features a flexible porting system to reduce piping and the use of adapters. Its drain port allows all oil to drain from the assembly prior to servicing to eliminate cross contamination. In addition, its optional visual and electrical indicators alert maintenance personnel when to service the filter's elements to keep the system clean.
LYNX 20-decanter centrifuge
The launch of the Alfa Laval LYNX 20 provides the drilling mud treatment market with a cost-effective, reliable decanter centrifuge, the company says. The LYNX 20 increases capacity and improves wear protection for the solids discharge. According to the company, the unit reduces mud bills and increases the penetration rate. Specially designed to work with all kinds of drilling muds, the LYNX 20 is optimized for use with water/synthetics-based mud types, in addition to conventional oil-based drilling fluids. A number of optional modules make the LYNX 20 drilling mud decanter centrifuge ideal for use on drilling rigs. These include both fully automated modules and manually operated modules that provide efficient solutions to all solids control separation requirements.
Instrumentation tubing
Swagelok Co. offers two lines of instrumentation tubing. Swagelok insulated tubing, an alternative to field-installed insulation of small diameter process lines, reduces heat loss and protects personnel from hot process and steam lines. Surrounded by a fibrous glass, absorption-resistant insulation and a thermoplastic jacket, this tubing has uses in steam supply, condensate return, gas and liquid transport lines, or other applications in which weatherproofing and energy conservation are important. Swagelok jacketed tubing offers corrosion protection and mechanical protection in pneumatic, hydraulic, and other applications where insulation is not required. Both Swagelok insulated tubing and jacketed tubing have a thermoplastic, UV-resistant jacket that provides increased protection against galvanic and atmospheric corrosion. This durable coating also helps protect the tube against wear and abrasion. Insulated tubing and jacketed tubing are available in sizes from 1/4 - 1/2-in. and 6 - 12 mm in 316/316L stainless steel and copper.
High-strength super-austenitic stainless steel
UK steel founder Noel Village has developed Vistar, a high-strength stainless steel for operating temperatures of -196° to +150° C. Immune to intergranular-corrosion, hydrogen-embrittlement, and sulphide-stress-corrosion-cracking, this steel is resistant to sour chloride environments, high-temperature chloride-stress-corrosion-cracking, and pitting/crevice corrosion while being weldable, the company says. In cast form proof-stress is 430 N/ sq mm.
Moyno 2000 G3 pump launched
Moyno Inc. has redesigned its Moyno 2000 G3 pump, incorporating proprietary Moyno Ultra-Technologies. The new pump design provides maximum pumping performance for medium- to high-viscosity, high solids content applications where bridging is a concern. The new design minimizes maintenance and extends service life, the company says. The 2000 G3 pump features a new bridge breaker anti-bridging mechanism, which operates at speeds that are independent of the pump's rotational speed to optimize fluid feed control for increased pumping efficiency. A low-cost, single auger feed mechanism moves the product through an extension tube to the pump element, ensuring the product is fed directly into the cavity instead of recirculating in the hopper.
Coiled tubing
Superior Energy Services has developed a system that combines its bundled services with a coiled tubing thruster to provide cleanout and flow enhancement services to the pipeline industry. CoilTac (coil thrust and carry) extends the reach of coiled tubing for the remediation of plugged pipelines exceeding 10 mi. The CoilTac thruster allows for chemicals and fluids to be pumped down the pipeline while cleaning – in forward or reverse – increasing cleaning efficiency and providing significant improvements to other methods of flow assurance remediation, the company says.