Ten more years of drilling will cap revitalization
Nick Terdre
Contributing Editor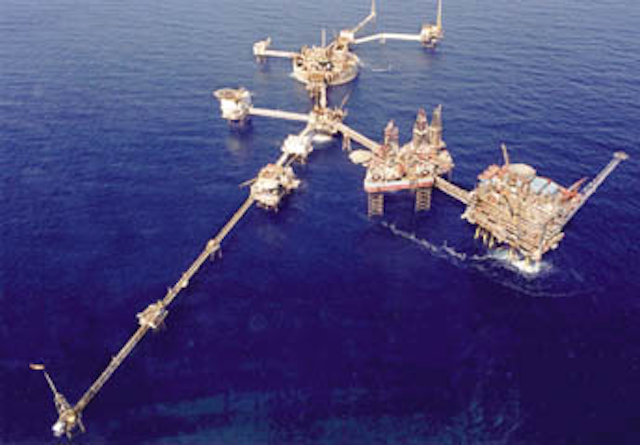 The new Ekofisk drilling and process platforms which are due to start operations in August could help extend field-life for another 50 years.
First oil from the massive redevelopment of Phillips' Ekofisk Field is due to flow in late August. The project, under which the original installations are being replaced by new facilities, positions the field for a further 50 years' production.
The Ekofisk II start-up will be preceded by two weeks' of intensive work offshore in mid-August when production operations will be shut down and the final preparations put in place. In July, the project was on schedule and below budget - having trimmed costs along the way, it was heading for a final outlay of NKr 17-18 billion, compared with the budget of NKr 20 billion at sanction, according to Phillips.
Norway's first ever producing field when it came on stream in 1971, Ekofisk is an important symbol for Norwegians. Following the redevelopment, it has now gained a further substantial lease of life. The term of the PL 018 licence has been extended to 2028, though the new facilities have a design life which reflects the licensees' expectation that the field can be profitably produced through to 2050.
With oil reserves of 2.54 billion bbl of oil and 153.4 bcm of gas, not to mention 116 million bbl of natural gas liquids. About 42% of the oil reserves remain, and 30% of the gas. In recent months the field has been producing an average of around 320,000 b/d of oil and just under 18 MMcm/d of gas. The new facilities have production capacities of 306,000 b/d and 20.4 MMcm/d.
Facilities transition
The original and the new production facilities provide an interesting insight into how offshore technology has developed over the last 30 years. Thanks to advances in drilling technology, a single wellhead platform, 2/4-X, will replace the three wellhead platforms installed in the early years.
A new processing/transport platform, 2/4-J, takes over from the famous Ekofisk Tank. This installation was Norway's first platform with a concrete gravity base, which in the late 1980s was given a concrete wall to protect it from the waves as subsidence became a problem. Several other platforms had to be jacked up to keep their topsides clear of the waves. To allow for the effects of future subsidence, the two new platform decks stand well above the sea surface.
The fabrication contracts for the new platforms also reflected the different contracting mores. The 2/4-X platform was built under an alliance between Phillips and the relevant contractors: Aker Engineering (design), Aker Verdal (jacket), Umoe Haugesund (deck and mud module, hook-up) and Hitec (drilling equipment). The 6,000-ton jacket and 6,500-ton topsides were installed by Heeremac's DB 102 crane-barge in August 1996, and drilling started later that year.
Drilling will continue for around 10 years, during which time Phillips expects to use up the available 50 slots. Drilling is currently being performed by both the platform rig and Maersk Drilling's Maersk Gallant jackup, with its rig cantilevered onto the platform.
The 2/4-J platform also was built under a cooperative arrangement involving risk and reward elements. In Phillips' assessment, the arrangement was not wholly successful as some of the fabricators failed to achieve the planned degree of onshore completion.
The yards which built the platform were Aker Verdal (10,900-ton jacket and 4,300-ton utility module), the UK's Amec (8,500-tonne module support frame and 6,500-tonne process module), Heerema Toensberg (350-ton gas injection module, flare-boom and bridge), and Umoe Haugesund (4,800-ton separation module).
The platform was installed last year by Saipem crane-barge S7000, and hook-up and commissioning is being performed by a joint venture between Kv?rner and Amec. Accommodation support has been provided by the Safe Britannia semisubmersible.
A mammoth subsea task is also involved, as the project entails the installation of new oil and gas export pipelines, as well as new lines to tie satellite fields such as Phillips' Eldfisk and BP's Ula and Gyda back to the new processing platform. Most of the lines were laid by EMC lay-barge Castoro 6 in summer 1996. Some 400 days of subsea tie-ins were performed by a triple alliance between Coflexip Stena, Rockwater and Stolt Comex Seaway.
The final subsea task - the tie-in of the export lines into the two Norpipe trunklines was due to be performed this month (August).
A key factor in prolonging field life has been the implementation of improved recovery through water injection. The tight chalk reservoir has responded well to water flooding at a rate of over 800,000 b/d, allowing the recovery rate to be more than doubled to 44%.
The implementation of Ekofisk II will mean redundancy for 10 Ekofisk platforms and another four on the Albuskjell, Cod and Edda satellite fields. An abandonment plan for these installations will be submitted next year.
Copyright 1998 Oil & Gas Journal. All Rights Reserved.