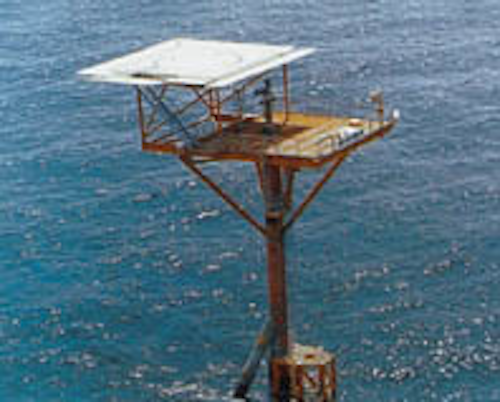 CBS' Moss II platform for shallow water developments.
Unlike other European engineering groups with designs on the US deepwater sector, Technip-Geoproduction (TPG) went in at the shallow end last year when it bought 80% of CBS Engineering.
Houston-based CBS is known primarily for its MOSS series of minimal facilities platforms, targeted at waters no deeper than 750 ft. TPG's own expertise is at the other end of the scale, in heavy duty jackup platforms and semisubmersibles for harsh or deepwater environments.
However, the timing of the acquisition should benefit both parties. TPG can offer CBS EPIC capability for offshore projects in the Americas and elsewhere, as well as creating more openings for the Moss platforms in the Middle East, where TPG has strong historical links. CBS provides contacts for TPG among Gulf of Mexico deepwater operators, who are now broadening their horizons beyond TLPs and Spars.
The Moss platform comes in five configurations. The simplest is the Moss II braced caisson structure, which has slots for five wells in water depths down to 140 ft, producing a combined 30 MMcf/d or 1,500 b/d. At around 300 ft water depths, the options are a skirt-supported tripod or a vertical jacket leg with skirt support. And, for 750 ft operations, there is the Moss V four-six pile configuration with skirt support. This version, which can accommodate a drilling rig alongside, provides 24 well slots and potential production of 20,000 b/d or 100 MMcf/d.
According to CBS, each structure is designed to maximize weight space capacity. But TPG and CBS are considering improvements in terms of automating fabrication of the jacket legs, using the forged nodes technology fully developed for the TPG 500.
CBS also has a strong track record in topsides process design. This experience may be adapted for the TPG 500 self-installing platform and the TPG 3300 deep draft semisubmersible, which TPG is eager to promote in the Gulf of Mexico, as well as Brazil and the North Atlantic.
What makes the acquisition even more convenient is the recent uncertainty over the future of the TMB Consortium responsible for these platforms. Major partner McDermott Marine Construction recently closed its UK greenfield engineering business. Its work with TPG on Elf UK's Elgin-Franklin production platform will continue through to first gas, but thereafter, TPG will be seeking another partner. It may decide to work with various partners, depending on the local content of the project.
Elgin and Franklin are high pressure, high temperature gas condensate reserves located beneath 92 meters of water in the Central North Sea. The TPG 500 production, utilities and living quarters platform is being built by Barmac in Scotland. The construction contract was awarded in March 1997, but even at this stage, there is still room for major alterations, due to the way the 500 is pre-designed.
It can accommodate significant late weight changes, says Pierre Armand-Thomas, vice-president engineering and projects at TPG, "provided there are provisions in terms of pinions and lifting capacity incorporated early on. This particular platform is designed with a 5,000-ton margin for lifting and the tow-out to the field - equivalent to an extra module." By adding 18 pinions to the jacking system, an additional 6,000 tons extra lifting capacity could theoretically be offered.
One of the attractions for Elf was the reduced cost of installation and hookup. Mating of the deck and legs is undertaken at the fabrication yard drydock, with the completed platform then towed to its offshore location by tugs, without the need for a heavy-lift crane vessel. Assuming benevolent weather, installation of a TPG 500 should then take a day.
Following jacking down of the legs to reach the foundation support or seabed, the hull is elevated to the final air gap and the locking system is then secured. The same jacking system will be used for the TPG 3300, but not to lift the deck. This is just a tool to control the descent of the legs and base during installation.
The TPG 3300 is a deep draft semi submersible, configured either as a drilling, production and quarters platform, or as a drilling wellhead platform with first-stage separation. This concept was first broadcast at OTC in 1996. At that time, it was designed for up to 1 million bbl of onboard storage - a realistic figure today, TPG believes, in view of the growing availability of shuttle tankers in all commercial deepwater regions.
Basic development is now complete, says Armand-Thomas, including extensive drilling riser analysis. Its key advantage over competing deepwater production concepts is the construction method, he claims. "You don't need a dedicated deep draft site for the construction - this can be done using any drydock. All connections between the platform hull and legs can then be performed at that same site.
"Special mating offshore is not required for the deck. Topsides equipment can be arranged easily - the deck is not confined in its dimensions. Another advantage is that this platform - like the TPG 500 - can be moved for duty elsewhere following depletion of the field. Also, the installation uses proven technology, the same locking system that is deployed on the TPG 500."
The concept is best suited to a combination of surface wellheads (up to 32) and subsea satellite wells. A case study has been undertaken for an operator west of Shetland, and there has also been interest from the Gulf of Mexico.
Armand-Thomas believes both concepts would be ideal for the landlocked, logistics-squeezed Caspian, owing to the fact that they can be pre-fabricated in blocks, are self-installing and don't require a heavy barge or marine fleet for the installation. The TPG 500 could also be used for marginal or sequential developments. When configured with a concrete storage tank, as is the case with BP's Harding Field, that tank could also be retrieved and relocated for use elsewhere.
Recently, TPG filed for a patent regarding a new system designed to install integrated decks at a high air gap (up to 20 meters). It employs the technology of the TPG 500 jacking system to reduce ballasted sequences and provide a modular system. According to TPG, it should facilitate the use of an installation barge and cut overall installation times.
Copyright 1998 Oil & Gas Journal. All Rights Reserved.