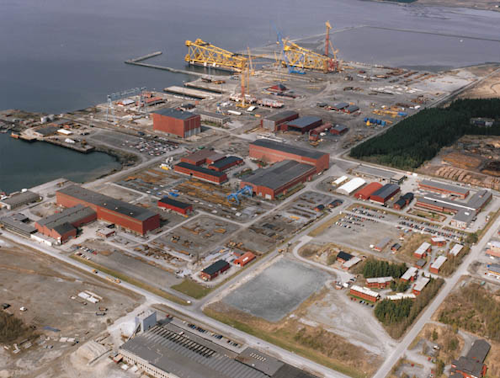 Nick Terdre
Contributing Editor - Norway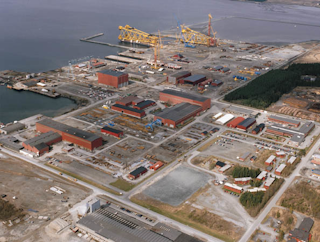 The Aker Verdal yard, showing the Oseberg East jacket on a barge ready for sailaway, and the Jotun wellhead jacket, due for delivery in August. Behind the drydocks, two decks of the Oseberg Gas topsides are under construction.
Aker Verdal, one of Aker Maritime's two major fabrication yards in Norway, is positioning itself for the 21st century. The yard has a diverse portfolio of products and some unique fabrication technology, which can also be delivered as part of a turnkey package involving other Aker Maritime companies.
Located at the northern end of the Trondheim Fjord, Aker Verdal is situated to participate in projects in the Norwegian Sea off mid-Norway. Here, the development of massive gas resources through the Åsgard and Haltenbank South projects has prompted proposals for using some of the gas locally for industrial development.
If the "age of gas deliveries" in the Trondheim region comes about, Aker Verdal intends to be in on the act, according to marketing director Kjell Eggen. The yard recently applied for permission to expand into an adjacent area of 175,000 sq meters, on which work related to such developments could be undertaken.
Deepwater: The site may also be used to supply equipment for upcoming deepwater developments off mid-Norway. The yard is well equipped to supply tethers for tension-leg platforms, rigid pipe risers, and hybrid risers, using high-performance materials such as duplex steel and titanium when necessary.
Floating production: As well as deepwater technology, floating production solutions constitute another focus area both for Aker Maritime and the EPC Norway business area to which Aker Verdal belongs. Here, too, the yard has an important contribution to make, Eggen says. Last year it delivered the hull for Norsk Hydro's Njord floater. This was its first floating production platform, though semisubmersible drilling rigs were part of its staple diet in the early days - from 1973 to 1982, it built 10 to Aker designs. The yard has two parallel drydocks, each measuring 125 meters by 32 meters and nine meters deep, for this purpose.
Jacket fabrication
Over the years, the firm also has acquired a reputation as a leading jacket builder. So far, it has delivered 19, the last being the 7,000-ton jacket for Hydro's Oseberg East platform in May.
The current orderbook is also filled with jackets. In August, the yard is due to deliver the 6,500-ton jacket for Esso Norge's Jotun wellhead platform.
In spring 1999, it will be the turn of the 6,000-ton jacket for Phillips' Eldfisk water injection platform, and the 6,000-ton jacket for Hydro's Oseberg Gas platform - the latter contract also includes the 8,000-ton topsides. In spring 2000, it is due to deliver the 7,000-ton jacket for Hydro's Oseberg South platform.
Verdal has kept at the forefront of the jacket market by reducing construction costs by around 40% in the last 10 years or so, Eggen says. The effort should continue to pay dividends, as the short-term outlook for jackets in Norway is better than ever. The company is targeting a number of upcoming projects, such as the jacket for Statoil's Huldra platform and Hydro's Heimdal riser platform, the latter a turnkey delivery of jacket and topsides. This is no problem for the Verdal yard, which includes small-to-medium modules and decks, as well as small wellhead platforms, among its core products.
Another recent delivery was the small wellhead platform for Saga's Varg project. This is the first platform on the Norwegian continental shelf involving a monotower substructure, a concept which is likely to become more common in coming years. The yard also built the only two jackets in the Norwegian sector with suction buckets instead of skirt piles. Another important reference is the Sleipner riser platform, which was built in a mere 10 months after the original Sleipner A concrete gravity base sank during submersion tests.
Aker Verdal has developed its own unique cold bending technology for pipes and is currently the only yard in Norway with cold bending procedures approved both by classification society Det Norske Veritas and the oil companies. Heavy investments have been made recently to expand the yard's piping facilities and enable it to make the most of its competitive edge. Last year, a new pipe fabrication shop for duplex materials was built alongside the existing pipe fabrication shop, and a storage area constructed for piping materials.
The yard has two cold bending machines on site, plus another two off site, which can bend up to 8-in. pipe of any thickness and any type of material. It is, therefore, well placed to perform piping prefabrication both for its own projects and for Aker Stord, the group's other Norwegian fabrication yard, which specializes in topsides fabrication and floater outfitting.
Verdal's services are also called upon by other main contractors such as Umoe Haugesund. It is currently fabricating 96 sets of flowloops in 6-in. and 2-in. duplex steel for Kongsberg Offshore, which will form part of the HOST subsea templates used by Statoil in its Gullfaks Satellites, Åsgard, Statfjord Northern Flank and Heidrun North subsea developments.
For the 2-in. flowloops the cold bending technology enables the number of butt welds to be reduced from 25 to just three. Aker Verdal has made a significant contribution to solving the problems of welding heavy wall duplex pipe, according to Eggen.
Other recent investments have been made to expand the yard's facilities, including the construction last autumn of two new fabrication shops.
Copyright 1998 Oil & Gas Journal. All Rights Reserved.