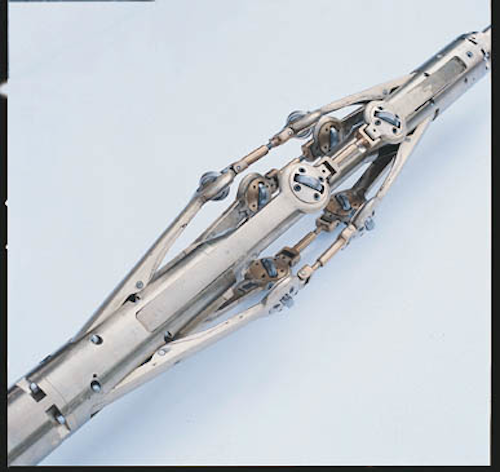 Flow loop development to test traction devices
Jeremy Beckman
Editor, Europe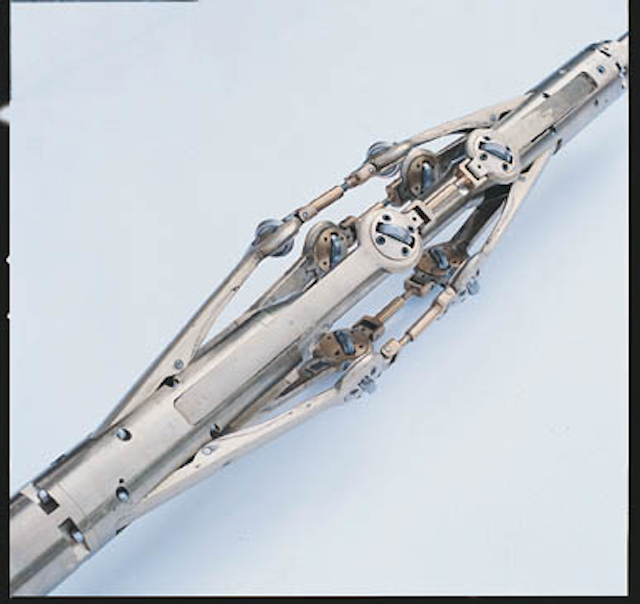 READ/Norsk Hydro's Translog wellbore tractor.
Prototype E-line and coiled tubing-deployed traction devices can now be tested on a simulated horizontal well, following the opening of the new Well Intervention Centre in Aberdeen last month.
"Tractors," as they are popularly known, push or tow logging tools and drilling assemblies through high angle/horizontal hole sections. They are viewed as a solution to extending lateral reach into remote pockets of hydrocarbons, but doubts remain over their reliability and versatility in very long hole sections.
In terms of practical experience, Maritime Well Services is probably the front runner, having supplied tractors for over 30 operations in the North Sea alone. But there are at least four other companies or combines developing their own versions, a couple of which have already signed up for trials in the Well Intervention Centre. One of these is Aberdeen-based Astec Developments, which also performed engineering design for the new facility. The aim of the prototype testing is to determine the viability of different concepts, then develop the best for commercial application.
Shell and BP were the initial driving forces behind this project, offering #150,000 each in joint funding. At one point, the location appeared to be a toss between the Rogalands Research Institute in Stavanger or AEA's Europa building in the Aberdeen Offshore Techology Park. Europa had facilities such as limestone cores for calibrating nuclear logging tools, but AEA's continuing tenancy proved to be a stumbling block.
In any event, a site for a new building was found within the Technology Park, with construction getting underway last May. BP also donated drill cuttings flow loop equipment valued at #1.9 million from its test site in Sunbury, West London. Equipment worth several hundred thousand pounds was also provided by BJ-Nowsco, Drilex, Halliburton, PSL, Precision Tubing, and Wellserv, with Scottish Enterprise contributing an additional #200,000.
Within the main building are a control room, office/conference center, canteen, tank farm and a workshop with roller shutter doors on both sides providing direct access to the test rig. Two Halliburton HT400 pumps are contained in a separate acoustic enclosure outside.
An 80-meter long test track runs alongside the main building to the lifting tower, which can introduce a catenary or incline into the tubulars. Tools can be run into the test loop using either a constant tension winch or a Bowen 30, 1-in. injector head. On-site separators allow the use of oil-based muds, and cuttings can also be injected, producing low-side cuttings beds.
Originally, the intervention center was to be dedicated to coiled tubing-deployed tools, but that was considered too restrictive, in view of the alternate wireline or slickline versions making headway. As yet, these have not been signed up for site-testing, which costs #1,000/day, although READ, which developed a wireline-traction tool, has since set up its reservoir technology headquarters in Aberdeen, which may provide backup engineering for this tool, currently undergoing a live offshore well test. Manufacturing may also be performed in the UK at a later date.
According to one of the prime movers for the new test center, Bruce Robinson of Parktech in Aberdeen, there are a couple of facilities elsewhere with a similar capability, including a test loop, but the rationale is more limited. "This one is more about quantifying, changing conditions against a standard set of conditions." Also, it offers a 40 degree simulation incline, which is not available at the other sites. Currently, the intervention center is configured to simulate cased or open hole conditions. HP/HT limit testing has not been tackled, but this could be achieved by adding insulation and heating coils, Robinson claims, plus other modifications.
Robust performance
Western Well Tool in Aberdeen, which is developing a traction system for Shell, has committed to testing at the center. But the first major exercise is a joint industry project sponsored by Agip, Amerada Hess, BP, Grampian Enterprise, and Shell. Astec Developments is testing three prototype tractors, for use in 4 ?-in and 5 1/2-in. diameter tubing, under varying simulated downhole conditions. The prototypes are currently being designed and built, with tests due to be completed by June.
"In time," says Astec's Neil Williams, "we will look at E-line tractors. But currently, rotary drilling and coiled tubing tractors are our priority. We're looking at open hole sections as our main operating area, so our tools will need to be more robust than current tools, which means either hydraulic motor-driven or electric or mud-motor driven."
Astec will be assessing the performance of its three basic tractor concepts, namely brush types, big roll and roller traction stabilizer. Patents have been filed and secured for all three.
When testing is completed, the best performer will be selected to be further developed as a prototype for a live well test early next year. "That's assuming we can get further support and funding as we go along," Williams adds. "High rates of speed are not particularly significant, but for the record, we can achieve 0-30 ft/min downhole with 1-3,000 lb pulling force, using a Drilex motor."
Norwegian alliances
Maritime Well Services is another new tenant of the Aberdeen Offshore Technology Park. The firm's own well tractor, manufactured by Denmark's Welltec, allows wireline services to be run in high angle and horizontal wells without coiled tubing. The system has traveled 1,700 meters horizontally on one run down to a TD of 4,760 meters on Statoil's Statfjord Field. Last year, the tool performed eight sequential runs for Shell on the Brent Field. The tool is designed for normal cased-hole services.
READ and Norsk Hydro have so far spent at least $1.6 million developing the Translog wellbore tractor. The alliance between the two on R&D is long standing, particularly in seismic technology.
In this case, Norsk Hydro needed a traction device that could provide cost-effective entry to a new wave of horizontal wells it was planning in the Norwegian North Sea. Together, they have also developed appropriate design specifications with regard to size, power, and functionality. As stated, a first live well test was due to commence this month. In time, the Well Intervention Centre might be booked for tests, depending on the outcome of the current program offshore.
According to Chris Nussbaum of READ Well Services in Aberdeen, "A number of companies have expressed interest, both in Norway and the UK. The ability of the READ tractor to transmit data to the surface while actually being driven in or out of the well make it an ideal device for conveying production logging tools, but perforating and plugging are the applications most frequently cited by clients."
Translog is a dual motor, dual traction system first introduced in December. It can be run on a 5/16-in. mono conductor or standard 7-in. logging cable. The tractor is controlled from the surface via a DC power supply and a PC-based, two-way communication system for:
Real-time production logging (surface read-out)
Memory production logging
Multilevel VSP logging in cased hole
Setting of bridge plugs
Perforation.
The current version is 4.5 meters long with a 4.2-in. OD, and a tubing casing range of 4.25 to 8.25-in. ID. The weight in air is 150 kg, with a maximum pulling force of 5,000 N, and a horizontal travel capability of up to 2,000 meters. Wider casing services, or versions with reduced overall diameter, are currently under development.
Key next-phase developments, according to Nussbaum, include application in new generation multilateral and smart wells. Also included are increasing the power output to extend the tractor's range and adapting the technology for use in open hole environments.
READ has been approached about applying the tractor to manipulate downhole devices such as sliding sleeves and multilateral branch tools. "Also of major interest is the conveyance of multi-level seismic tools into extended reach well sections. READ expects to perform several tractor-conveyed well seismic operations this year."
Test parameters
The Well Intervention Test Centre test rig is designed to provide relative performance measurement of tractor systems under a variety of simulated downhole conditions. It will specifically measure the following parameters:
Tensile and compressive loads, torsional loading and delivery pressure applied to the coiled tubing
Annulus pressure at a number of points along the test section
Traverse speed of tractor system in both on and off load conditions
Tractor efficiency (power into the system compared to traction pulling force under speed and load conditions)
Noise and vibration
It can also be used for testing new drilling motors, multi-lateral branch systems, mills pushers, specialist logging tools, 3D steering tools, and expandable tubular systems.
Copyright 1998 Oil & Gas Journal. All Rights Reserved.