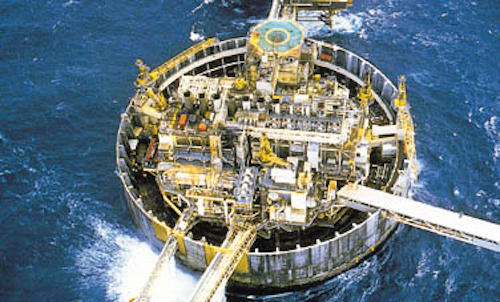 Deballasting shuttle offers inexpensive option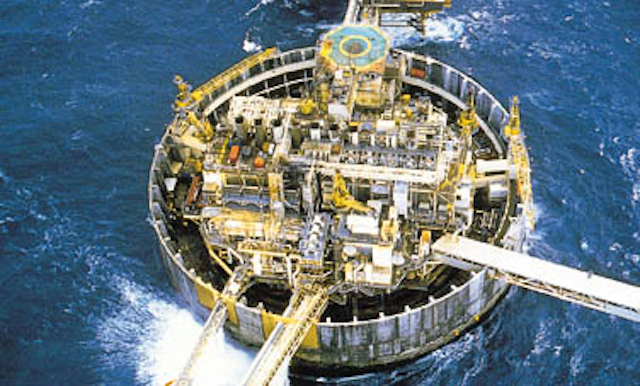 The 1.2-million-ton Ekofisk tank and its protective concrete wall present the stiffest engineering challenge in the decommisioning program.
Redevelopment of the Ekofisk complex in the Norwegian North Sea has allowed drilling, production, and processing to be centralized through two new platforms. Now that first oil is out, there remains the small matter of what to do with 14 redundant platforms.
Operator Phillips and the Ekofisk partners are responsible for 12 of these installations (the other two belong to the Statpipe and Valhall groups).
Nineteen studies are under way to examine salvage or re-use potential, prior to submission of the decommissioning plan to the authorities next July. With 60,000 tons of topsides and one giant concrete tank facing removal, the final bill could hit $1 billion - nearly half the cost of the field's redevelopment.
Following new Ospar European disposal regulations this summer, all platforms with a substructure weighing less than 10,000 tons must now be removed following the end of their working life. All Ekofisk jackets fall within that category, so partial removal is no longer an option for the Ekosfisk partners. And due to the seabed subsidence which partly spurred the redevelopment, five of the platforms will have to be dealt with earlier than the rest.
These are Albuskjell A and F, Cod, Edda, and Ekofisk Vest. Cod's wells were plugged this past summer by a mobile rig shipped out to the platform in May. Production from three of the wells was kept open until the transition to Ekofisk II production in August.
In addition, reservoir zones lower down in the Cod wells were isolated to prevent outflow of hydrocarbons between the various pressure zones in the reservoir. One of the wells has been set aside for reinjection of liquid waste, chemicals, and drilling fluids in order to avoid discharges into the sea. External conductors have also been retained for removal at a later date, without the need for additional work downhole.
Shutting down Cod also brought an end to Statoil's Tommeliten Gamma Field, which had been producing liquids and gas for the past decade via a subsea tieback to the Cod platform.
Cost recovery
Phillips hopes to claw back some of its decommissioning outlay through auctioning off platform equipment or even entire platforms. No takers have been found so far for Phillips' Maureen platform in the UK, on offer for the past two years, but Phillips insists there is growing interest in re-use of Ekofisk-size installations from the Gulf of Mexico, Far East, Latin America and West Africa.
Cod, being first off its blocks, is seen as a test case. If no buyers are found for the entirety, piecemeal sales will be considered. In markets such as the North Sea, Canada, and possibly the Middle East, there should be strong interest in the process modules, compressors, generators and vessels, Phillips hopes.
The Ekofisk concrete tank and its protective wall will present the biggest engineering challenge. Analysis has still to confirm whether it is possible to move the tank (which weighs 1.2 million tons) and if so, what to do with it. One study has been evaluating whether the tank and the wall can be moved as a single unit, but this pre-supposes that the structural integrity of both concrete structures is intact. If they can be moved, deep sea disposal may have to be considered. But cleaning will also present problems, particularly of sediment in the tank's storage cells.
Another option currently under review by D&M and Rogaland Research - known as Ekoreef - is to leave certain installations in situ as artificial reefs. While this approach has worked in the Gulf of Mexico, environmental conditions, and reef shapes are different in the North Sea, so that favorable experience may not be applicable. Local fishery groups trawling for sand eel are generally opposed to dumping, but other types of fishing are not obstructed by jackets.
To determine whether a "cold" jacket will attract more or fewer fish than a "live" one, Norway's Maritime Research Institute has conducted a seven-month program this year analyzing fish movements around the redundant Albuskjell F platform and the Albuskjell A installation (while still manned). Results of this and marine biology studies by the Ocean Research Laboratory in Bergen should be issued shortly.
Jacket lift-out
Heerema and Brown and Root have been examining the costs of the various decommissioning scenarios. One option mentioned by Phillips during its presentation at the Offshore Northern Seas conference in Stavanger, Norway was the Offshore Shuttle, a new vessel from Marine Shuttle Operations in Norway designed for lower-cost removal and transportation of jackets and topsides.
The vessel can be raised, lowered, or rotated by filling or emptying its ballast tanks. It is capable of removing 25,000 tons of topsides in one single lift. A feasibility study has already been mounted for the Ekofisk 2/4 J platform, and Elf Norge is also thought to be interested in using it for a jacket on the Frigg Field.
For jacket operations, the shuttle deballasts down to a depth of 160 meters alongside the jacket, tilts it, and then brings it to the surface in one piece (unlike conventional methods which require divers or ROVs to cut the jacket into manageable segments). On its way back up to the surface, it rotates from the vertical to the horizontal axis.
Although still a concept at this stage, the vessel is scheduled to be available by summer 2000. The construction comprises six longitudinal tubulars tied together by transverse tubulars. Although the cradle for a jacket would have to be tailored specific to the installation, a typical Offshore Shuttle would measure 150 meters long, 80 meters wide, and 60 meters high, with an overall weight of 12,000 tons. The concept has a statement of approval from DNV.
Operations are feasible in wave heights up to 2-3 meters, but the main advantage is a reported 34% cost decrease, compared with heavy lift crane barges. This is achieved, apparently, through the speed of operations and reduced manpower offshore (around 20 workers), as well as the limited preparation work required onshore, compared with current methods. Provided that the jacket and topsides are in reasonable shape, the platform could be removed within 24 hours, said a spokesman.
Copyright 1998 Oil & Gas Journal. All Rights Reserved.