Vicky Wilson
Contributing Editor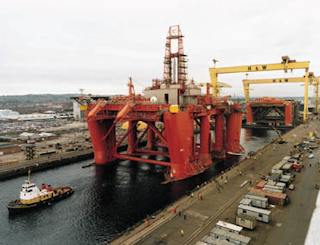 Emtunga has fabricated identical accommodation and helideck modules for the Borgland Dolphin and Bideford Dolphin rigs during their refurbishment at the Harland and Wolff yard.
With the continuing demand for lightweight materials to be used on offshore structures, modular living and service modules specialist, Emtunga, has launched a development program to research the use of composite materials in the construction of offshore modules. Now in the first of three phases, the program has been initiated in response to customer demand to not only reduce weight but also to develop virtually maintenance free materials which could be used for service as well as accommodation modules.
According to president Tommy Åhman, there are a number of possibilities available. "As yet we have not determined the best solution," says Åhman. "We will have to complete all three phases of the program before we have a design that would be ready for construction but we hope to be in a position to make proposals next year."
Emtunga already believes that it will be possible to find a suitable composite that will weigh less than aluminium and will need no maintenance other than external painting. With none of its competitors as yet looking into this area, Emtunga hopes to attract support from the major offshore players during the third stage of development. The problem with aluminium is that it has to be treated in a different way to steel in order to make it fire proof whilst still retaining good insulation properties. The benefit of a composite material is that it could have fire proofing and insulation built in.
High fire rating
"The tough part will be achieving all the required weight and maintenance properties while still keeping the fire class rating high," says Åhman. "Nevertheless, we want to be front runners in developing new materials as we are increasingly seeing this requirement coming through in qualification documentation from oil companies."
Emtunga is also enhancing its international profile by stepping up its marketing efforts away from its home market to include new areas for the company such as the Gulf of Mexico, Asia and South America. "Although we have had enquiries from overseas in the past, we previously didn't have the capacity to cover these markets," says marketing and sales manager Klas Wallin. "Now that we have sufficient facilities, we plan to employ more people so that we will be able to support business from further afield."
Emtunga has perfected its modular design concept which enables it to start construction even before the final designs have been completed. Each module is built in pre-fabricated parts so that, for example level one could be completed before work starts on level four and finishing work such as painting can be carried out throughout the construction schedule. A main frame is fabricated at the company's Gothenburg yard which is designed to be compatible with all the pipework and electrics. The large modular sections built at Emtunga's Vara site are then assembled on top of the main frame.
With a 120-man double-cabin accommodation unit and helideck completed earlier this year for the Borgland Dolphin rig at Harland and Wolff, construction is already underway for identical outfitting of the Bideford Dolphin rig at the same yard. Emtunga has also recently completed a 90-man double-cabin accommodation unit weighing 900 tons for the Esso Jotun platform.
Other current work includes a 60-man single cabin quarters and helideck weighing 700 tons for the Amerada Hess South Arne platform in the Danish sector which is due to be completed in November and a 120-man single cabin quarters and helideck for the Statoil Åsgard platform which will be delivered in May 1999.
For further information contact: Klas Wallin, Emtunga: telephone +46 512 16400, fax +46 512 12962 or emailklas.wallin@emtunga.se
Copyright 1998 Oil & Gas Journal. All Rights Reserved.