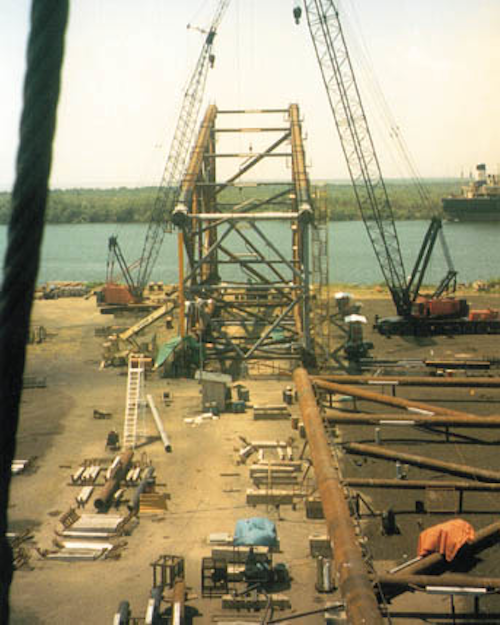 Operations commence in Mexican theater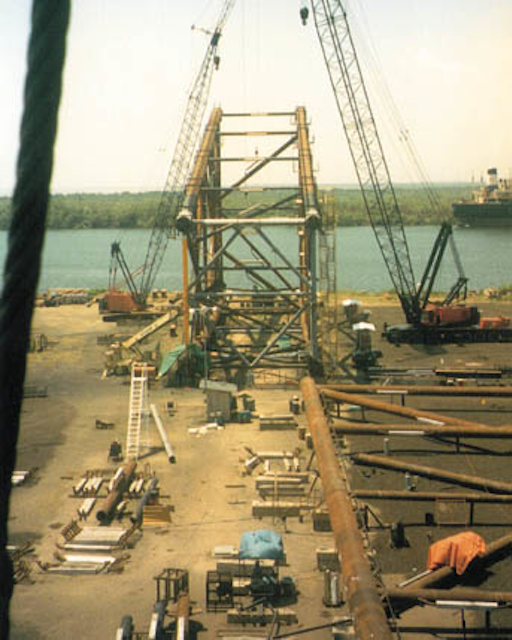 Cigsa, Enron's partner in Mexico, fabricates a jacket destined for the Bay of Campeche. Cigsa's fabrication yard is located in Tampico on Mexico's East Coast.
A subsidiary of Enron Corporation - Enron Engineering & Construction Company (EE&CC) - has taken its integrated services and risk management expertise into the oil and gas marine industry. The group estimates that global market has a projected value of $56 billion through the year 2000.
Since forming Enron Offshore Services and Technology on April 1, the company, together with local and international partners, has won four contracts in Mexico valued at more than $225 million.
Larry Izzo, President of EE&CC, said the division, under the leadership of Jamie Dunlap, is pursuing offshore business opportunities worldwide. In addition to Mexico, Enron is looking at West Africa, the Pacific Rim, South America, the Middle East, and the North Sea.
The opportunity for third-party construction in these regions is significant, said Dunlap who estimates a $1 billion requirement in the Middle East and a $3 billion requirement in the Pacific Rim. Specifically, significant opportunities exist in Angola, the Congo, Nigeria, Philippines, Brazil, and Venezuela.
"Emerging countries need low-cost energy solutions. We're taking our strength in that area to this market," said Dunlap. He pointed out that Enron is comfortable in emerging countries worldwide and can assess the risks associated with a project, structure partnerships, and provide financial assistance necessary to help growing oil and gas markets go forward with construction projects that otherwise might not be possible.
Third party construction
EE&CC builds power plants, pipelines, compressor stations, gas processing and storage facilities worldwide. According to Dunlap, Enron Offshore Services is filling a market niche for independent offshore contractors. Over the past 15 years, mergers and industry attrition have removed from the marketplace the in-house capability for turnkey services among major marine contractors. "These developments make us a competitive player as we bring our risk management expertise to this market," said Dunlap.
Since Enron's early success in the development of the company's Teesside power and gas processing plant in the UK in the early 1990s, EE&CC has quadrupled its business. Izzo pointed out that the genesis for moving into the offshore business came with the successful construction of a gas compression platform for the Bachaquero 3 development on Lake Maracaibo in Venezuela. EE&CC provided turnkey engineering, procurement, and construction of the facility, which started operations early this year. "If we could build a facility on Lake Maracaibo, we could certainly be an offshore competitor," said Izzo.
Today, the gas re-injection/compression market, valued at $13 billion worldwide, represents a target area where Enron has extensive experience. Dunlap reports that Enron is willing to consider an equity ownership in the devel opment of jackup compression barges and fixed platforms for gas compression/re-injection to support continued production from mature fields, including small oil and gas fields. Taking a life-of-field approach to its offshore entree, Enron also expects to handle field abandonment construction projects.
Strategic alliances
Through strategic alliances, Enron provides a full-service turnkey capability, which includes engineering, fabrication, transport, installation, offshore hookup and commissioning. Target areas include platforms and pipelines, floating production systems, gas re-injection/compression facilities and deepwater solutions.
"Enron evaluates and selects contractors best suited to bring the greatest value to a project," said Dunlap. The company then forms an alliance where Enron is either the prime contractor or participates as a consortium partner, focusing on its areas of expertise. Enron's capabilities include project and construction management, international procurement, financial management, and in-country affiliation and support.
Worldwide, Enron develops strategic alliances with local partners that have in-country facilities and good relationships with national oil companies. Dunlap said the company is equipped to support projects of any size in shallow or deep waters worldwide. "We believe our third-party consortiums will yield an attractive return, while helping to spur new developments in countries with growing economies," said Dunlap.
Mexico projects
Projects currently underway in Mexico include the delivery of a drilling platform, three accommodation platforms, and the refurbishment of a drilling rig. Enron's Mexican partner on these projects is Cigsa. Cigsa will fabricate the jacket, piling, and deck for each structure at its yard in Tampico. For delivery of the accommodation platforms, Enron counts on the expertise of its partner Odebrecht-SLP of the UK to fabricate the topsides. All of the facilities are scheduled for delivery in the year 2000.
Included in these projects are activities for Pemex's Cantarell Upgrade project in the Bay of Campeche. Dunlap, who participated in the development of the original Cantarell Field in the late 1970s and early 1980s, said he is pleased Enron is taking part in Pemex's continued activities in the Bay of Campeche.
In the mid-1970s, Pemex set, and reached, high goals for Bay of Campeche production, installing some 30 platforms and 1,000 km of offshore pipeline within four years. Pemex's Bay of Campeche oil production soared to more than 1 million b/d by 1980, which allowed Mexico to reach a nationwide goal of 2.23 million b/d two years sooner than anticipated. "Pemex is a longtime, innovative player in offshore oil and gas developments," said Dunlap.
Enron and Cigsa will tender for additional Pemex service work using the Titan 2 800-ton catamaran crane vessel currently in refurbishment at Cigsa's yard. Cigsa has a five-year charter to operate the Ukrainian vessel, which has 5,000 meters of open deck space and is suitable for a wide variety of offshore construction duties.
To pursue Mexico's offshore construction work, Enron and Cigsa formed a consortium with Horizon Offshore of Houston. Mike Ballard, Operations Manager for Horizon, said that the consortium is positioned to provide turnkey engineering, procurement and construction services to Pemex. Project activities also would include offshore installation of platforms, pipelines, terminals, and associated pipeline burial work.
Horizon provides a range of marine construction services. The company's fleet includes three derrick barges, three pipelay barges, two pipeline bury barges, and two subsea tie-in/hook-up vessels.
Dunlap says that Enron's ability to identify and create worldwide energy opportunities, combined with risk management capability, makes it a leader in bringing integrated energy projects to a successful completion.
Copyright 1998 Oil & Gas Journal. All Rights Reserved.