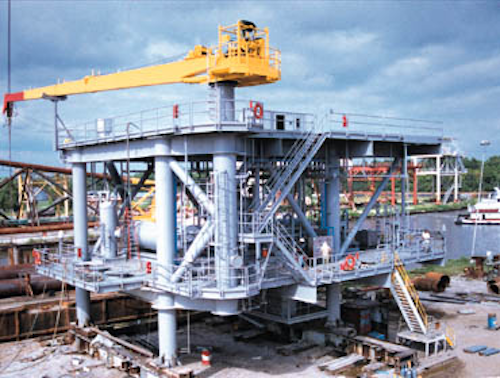 Targeting delivery dates, price stability
Jay Henderson
Offshore Specialty Fabricators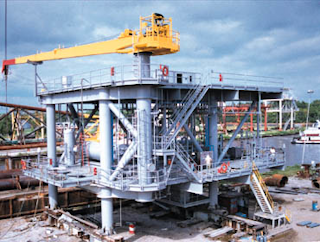 Shown is a typical deck and crane after refurbishment.
While turnkey contracting may not have been a new innovation earlier in this decade, it has proven to be a successful one for Offshore Specialty Fabricators (OFSI) on the US Gulf of Mexico continental shelf. The firm began turnkey operations with a Mobil offshore production job in the summer of 1996.
Turnkey operations depend upon a major factor - controlled accountability. "If we can control the project from design through installation, we can offer a better delivery date and price stability," explains OSFI's president Rocky Henderson.
The firm took responsibility for design and engineering, then installation capabilities, allowing coordination of process equipment deliveries, fabrication, and derrick barge schedules. OSFI, when required, agrees on penalty clauses to guarantee delivery dates.
The fabricator now has engineering input, and is in control of procurement of rolled materials and long lead specialty items that usually become delivery date "killers."
The fabrication division and installation division cooperate on load-out schedules, assuring cargo barge delivery and tie-down design, timing and accuracy. Unnecessary installation sequences and offshore time that are difficult to avoid on piecemeal projects can be eliminated.
With the fabricator controlling delivery of long lead items, operations and contracting personnel in the field don't have to wait on outside sources to produce something, nor are they required to leave work gaps that require later fill-in. Fabrication crews become mindful of delivery dates.
Two other factors have helped the success of turnkey contracting for OFSI:
An inventory of platform components
Derrick barges that remain offshore.
Platform inventory
OSFI has maintained an inventory of salvaged decks, jackets, production equipment, and platform cranes for some time, but the process scaled up with the acquistion of the derrick barge DB-1 in 1995. On occasion, structures were removed at OFSI's cost to take ownership "on the hook."
Salvaged decks and jackets are taken to the firm's Houma, Louisiana facility where non-generic items are removed. The structures are then blasted and primed. Non-destructive testing is performed for recertification. Steel is prepped or repaired where necessary. The deck is then stocked for customer selection.
Jackets are scrapped if they are not cost effective enough to refurbish in the same manner as decks. In most cases, jackets are built to match the decks being sold. The process is timely because 2-H rolled materials are stocked at the fabrication yard.
Production vessels are shipped to OSFI's Ingleside, Texas facility for refurbishment. The yard has an ASME Section VIII "U" and "R" stamp. After the heads are removed on vessels with no manways, they are blasted, primed, then reworked. All high pressure separators are equipped with new vane mist extractors, and controllers are replaced new or refurbished. In all cases, piping and fittings are new.
Platform cranes are shipped to qualified crane manufacturers where they can be refurbished and recertified to API specifications, then stored at the OSFI Houma facility.
The speculative buildup of all the traditional long lead items and the major components salvaged and stock by OSFI has been a major investment, however, that procedure is beginning to pay off. The firm has delivered several structures in 1997 and 1998, which were fabricated and installed in half the time as traditional US Gulf of Mexico platform installations.
For example, a 4-pile, 4-slot structure in 55 ft of water with a 50 MMcf/d facility was delivered in 12 weeks. A tripod 2-slot in 166 ft of water with a 120 MMcf/d was delivered in 12 weeks. Another tripod in 158 ft of water with a 30 MMcf/d was delivered in 13 weeks.
In all turnkey situations, the purchaser did not have to absorb derrick barge inclement weather cost, regardless of the time of year it was installed. OSFI is not trying to absorb punishment with weather cost, but considers it the "luck of the draw" when bidding turnkey work, and accepts it as the cost of doing business in the present US Gulf of Mexico climate.
Active derrick barges
OSFI's DB-1 derrick barge averaged a new project about every five days in 1998. The vessel has been in port once this year, and that was to perform lifts for OSFI's fabrication division. This back-to-back schedule is key to turnkey operations. Also, the crew is accustomed to installing 4-piles, tripods, and single well caisson structures.
This creates timing advantages in turnkey projects. Scheduling and taking new projects is much easier when a tripod can be installed in about 4 days (barring weather delays) or under.
OSFI's website (www.offshorespecialtyfab.com) uses a "fly by" page which features mobilization and demobilization of the firm's lifting equipment (DB-1 and DB-Raeford). This allows operators and contractors to perform work based upon the schedule of the DB-1 and the DB Raeford, when in the area.
OSFI recently acquired the derrick barge DB Raeford. The vessel was named after a longtime fabrication yard superintendent. The DB Raeford is scheduled to begin operating in December 1998 at it's current 700-ton capacity. OSFI is planning to upgrade the crane's capacity to 800 tons at 82 ft and increasing the boom length by 40 ft. By the mid-1999 at the earliest, OSFI expects this vessel will quarter about 100 workers. The new hull size will be 400 ft by 100 ft by 30 ft, to accommodate the new capacity and work load.
Author
Jay Henderson is Vice President and General Manager - Offshore Division of Offshore Specialty Fabricators, Inc.
Copyright 1998 Oil & Gas Journal. All Rights Reserved.