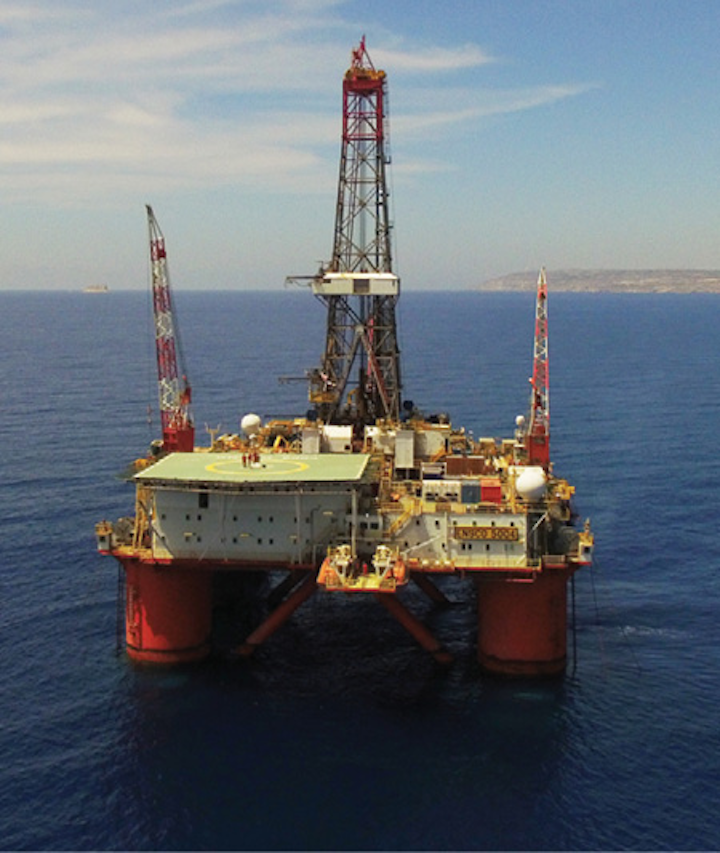 While the semisubmersible drilling rigENSCO 5004 was on hire and operating offshore Malta, a five-year periodic underwater inspection in lieu of drydocking (UWILD) survey and essential valve inspection, repair work, and additional structural inspections needed to be conducted. Ensco contracted EM&I and its ODIN technology to avoid off-hire time, reduce costs, and enhance safety by eliminating diving operations.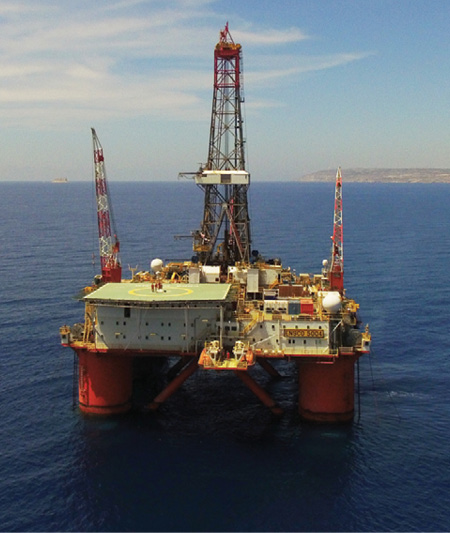 Ensco awarded the company a 10/10 FPAL rating for the UWILD survey of theENSCO 5004 semisubmersible drilling rig. (Courtesy EM&I)
ODIN was developed by EM&I, and was encouraged by the HITS (Hull Inspection Techniques and Strategy) joint industry project whose membership includes the major class societies (ABS, Lloyd's Register, Bureau Veritas, and DNV GL) and many of the world's major operators and leasing organizations. The technology generates major cost and safety benefits for operators because the work can be carried out while the assets are on station and in operation. A POB (persons on board) reduction of around 70% leaves bed spaces available for other essential workers, and because the technology is not weather sensitive, it delivers high budget certainty.
The workscope on the Bureau Veritas-classed ENSCO 5004 was made up of four phases:
1. In-water cleaning and inspection of the pontoons, columns, and structures.
2. General visual and close visual inspection with UT gaugings of the internal structure of the columns, pontoons, topsides, and external structures.
3. Internal inspection and function test of critical valves while in operation.
4. Replacement of a 10-in. sea chest gate valve, with no downtime or divers.
Areas inspected included the internal and in-service inspection of isolation valves using miniature cameras inserted into the isolation valves through specialized ports. Other areas include using specialized ROVs equipped with cavitation blasters for cleaning sea chest inlet grids, digital callipers for cleaning and inspection of mooring line thickness, wear and angles, as well as moonpool critical welds. In rougher sea states the moonpool welds are inspected with the NoMan. Inspection of confined spaces was achieved with minimal man entry, again using a combination of remotely operated cameras and advanced NDT methods. All the work was carried out while the asset was on station and in normal operation, with no downtime or loss of earnings. Ensco awarded EM&I a 10/10 FPAL (the established client assessment system) rating for this project.
The company says that the ODIN diverless UWILD technology has been proven on more than 20 projects on drillships, semisubmersibles, jackups, and FPSOs throughout the world. Its developed methods are said to be thoroughly tested and validated to demonstrate their compliance with class requirements.
Chairman and CEO Danny Constantinis said that the cost saving target for the company's solutions is more than 50%.