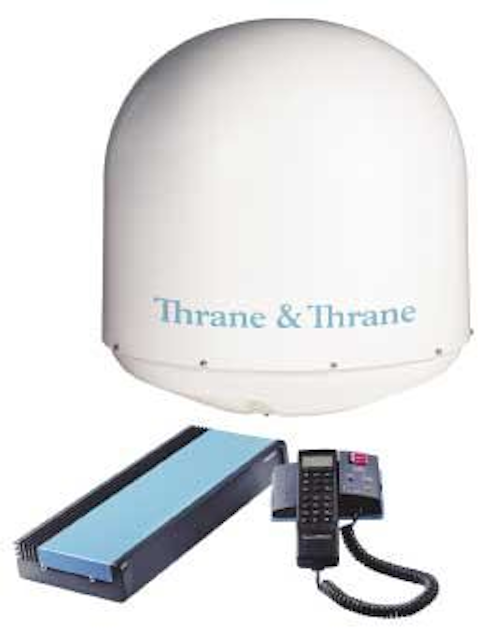 Ghani Behloul
France Telecom Mobile
Satellite Communications
Pascal Romieu
Saipem S.A.
Communications services crucial to the success of offshore companies include connecting exploration vessels and off-shore production sites to telecommuni-cations networks; real time transmission of geoseismic information, drilling graphs, and barrel rate updates.
However, with more than nine-tenths of the world's seas and oceans inaccessible by global system for mobile communications (GSM) networks and unlikely to be covered by "traditional" infrastructure, satellite communications remain the only solution for the tens of thousands of people working in the offshore industry.
null
To engineers and scientists, transmitting operations reports is vital for managers on land to be able to analyze the data. For members of the crew, who can be away from home for several months at a time, satellite telecommunications is a means for them to remain in touch with their family – a vital component maintaining crew morale.
France Telecom Mobile Satellite Communications' (Ftmsc) services are designed for use in locations devoid of fixed-line and GSM infrastructure and are used both as a primary communications tool as well as a back-up. Ftmsc works closely with major satellite network operators such as Inmarsat, Iridium, and Thuraya to provide voice and data transmission products adapted to the needs of offshore and maritime professionals.
A prime example of this is Saipem S.A., the French subsidiary of Italian company Saipem, which is a major player in offshore and onshore construction, drilling, leased FPSOs, liquefied gas technology, and maintenance modifications. The group also provides a complete range of offshore engineering solutions. With more than 6,500 employees worldwide and sites located thousands of kilometers from the main IT processing centers, the need for reliable, secure communications solutions is paramount to smooth running of the group's business.
Thanks to Ftmsc's land earth station in Aussaguel near Toulouse, Saipem S.A.'s remote sites are connected via satellite to its main IT centers, allowing its employees to communicate via fax and phone as well as ensure database updates between local and central servers.
More specifically, Ftmsc provides these employees the possibility to transmit data between the company's barges and head office at up to 64 Kbps, using the Inmarsat-B service. Saipem S.A. has also chosen Inmarsat-Fleet 77 for two of its barges, enabling simple connection to the company's local area network. In addition, Fleet 77's Integrated Services Digital Network function allows the high-speed exchange of large volumes of data (up to 128 Kbps) and eliminates the need for network configuration. The terminal itself has a salt- and humidity-resistant radome antenna adapted to offshore use.
Ten of the company's remote construction sites have also been equipped with Ftmsc's Inmarsat Mini-M service, enabling crew to make telephone calls and send faxes to headquarters. For personal use, Ftmsc's scratch and phone cards offer the crew a pre-paid solution for contacting friends and family.
The Thuraya mobile satellite telephone, which has a footprint covering 99 countries including the Middle East, North Africa, and Europe, has been provided to engineers on Saipem S.A.'s remote construction sites as it enables high quality voice transmission at economical prices. Another voice telephony solution offered by France Telecom is Iridium, whose global footprint allows the user to make phone calls via portable handsets anywhere in the world including the poles and all oceans.
null
Ftmsc has also developed a range of value-added services to provide the "on-board office" for offshore professionals. SkyFile is a free software package which helps reduce costs by compressing e-mails by up to 80%. The Traffic Information System offers secured Internet access 24/7 for viewing and downloading Inmarsat terminal traffic and the Navimail free weather forecast software allows the user to request made-to-measure weather reports by e-mail in order to aid navigation.
These satellite services have a number of advantages for offshore professionals. For example, the intervention of a telecommunications engineer is unnecessary as equipment is very easy to install, and a 24-hour hot line is also at the crew's disposal in the event of a problem. The Inmarsat services proposed by Ftmsc are also free from licensing constraints. In countries such as Nigeria, where Saipem S.A. operates, Inmarsat equipment does not need approval by local authorities, considerably reducing set-up time as well as costs (amounting to tens of thousands of dollars per month). Ftmsc's satellite equipment is also affordable and its invoicing system (per minute or packet) enables contractors to avoid paying for fixed line communications when a vessel is not in use.
Today, the improvement of productivity in oil and gas operations relies heavily upon seamless telecommunications links between land and sea: an offshore barge is a veritable floating company which must remain in contact with headquarters, suppliers, and customers. When it comes to improving performance, telecommunications must serve as an important asset rather than a constraint, especially in the more remote and isolated locations.
For more information, contact Telecom Mobile Satellite Communications SA at http://www.francetelecom-mobilesat.com, or Saipem S.A. at http://www.saipem.eni.it.