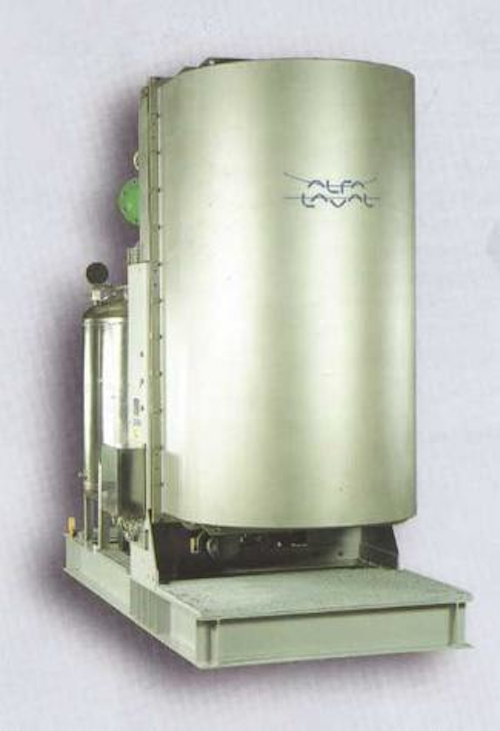 Following internal re-organization at Alfa Laval, the oil and gas technology group is now centered in Soborg, Denmark, and Lund, Sweden. Globally, the group continues to offer a wide range of equipment for drilling rigs, fixed and floating platforms, and storage vessels. This includes fresh water distillers, fuel/lube oil treatment systems, decanter, and disc stack centrifuges.
Fresh water technology
Alfa Laval makes two main ranges of fresh water makers: the Orca series of vacuum vapor compression units, introduced four years ago, and the longer-established Dolphin range of waste heat water makers (used on 80% of offshore drilling rigs, the company says). Both are constructed using titanium and other seawater-resistant materials. Versions from both ranges were recently supplied for Mærsk Contractors' semisubmersible and jackup newbuildings.
The Orca series employs a vacuum distillation process to convert seawater into fresh water with salinity levels below 2 ppm, with minimal power consumption. Its heat exchanger serves as a combination evaporator/condenser. Other components include a stainless steel distiller shell, air ejector, freshwater pump, anti-scale chemical dosing unit, compressor, and a control panel incorporating a water quality monitoring system.
null
Dolphin systems also employ a vacuum distillation process for seawater-freshwater conversion, but powered by waste heat from diesel engine cooling water. Apart from separate evaporators and condenser sections, the basic components are similar to those of the Orca series, although with different sizes and specifications. Again, salinity levels in water are reduced to below 2 ppm. Both series come in six different versions, with water handling capacity varying from 20-70 metric tons/day.
According to Hans van der Voort, marketing and sales manager for the oil and gas technology division in Soborg, not much heat is required in either process.
"Our fresh water distillers operate under vacuum, thereby lowering the boiling temperature of the water. Less energy is therefore required than on comparable products. The Orca series tends to be used more on production platforms – Statoil's Kvitebjørn being a recent example – as drilling rigs typically have more waste heat available.
"However, we have supplied one freshwater maker from each series (four units in total) for both of Mærsk's new heavy-duty jackups (XL-1 and XL-2), the first of which already has assignments in the North Sea. The Orca systems in this case are configured to handle 60 tons/day, likewise the Dolphins. This is more than enough for the 100 crew onboard both jackups. Mærsk's deepwater semi for the Caspian, however, is equipped with two Dolphin units, also operating at 60 tons/day. The choice of water maker really depends on whether waste heat is available from the rig's engines."
For these new rigs, Alfa Laval also supplied fuel centrifuges and lube oil centrifuges from its SU series. The former is designed in this case to remove water and sludge from diesel engine fuel at a rate of 7 cu m/hr, with the latter removing lube oil contaminants at rates of 2-5 cu m/hr. All water maker/ centrifuges for the semi were delivered last spring, for installation at Keppel Fels' final assembly site in Baku (the hull was shipped across from Singapore). None of this equipment will be commissioned until later this year.
"In none of these cases was system weight a critical issue," claims van der Voort. "Rather, Mærsk's satisfaction with Alfa Laval from previous collaborations was what led to us being chosen for these contracts."
Additionally, Alfa Laval supplied zero discharge systems to these rigs, comprising disc stack centrifuges and decanters configured to process deck drain water and bilge water. The complete system reduces oil in water to less than 15 ppm. This water can then be discharged overboard.
Drill solids clean-up
Just before last year's Offshore Technology Conference in Houston, Alfa Laval introduced Lynx 40, a large bowl decanter centrifuge for mud room tasks such as drill solids clean-up, lowering mud weight, high-speed separation, and barite recovery. According to van der Voort, "it provides two to three times the capacity of our established DMNX 418 decanter. The latter can process up to 200 gpm of drilling mud, whereas the Lynx 40 operates at up to 440 gpm. It will be applicable mainly to higher capacity, deepwater rigs."
null
The Lynx 40's bowl has a slender cylindrical/conical shape with an ample length/diameter ratio (80/ 19-in.). A screw conveyor inside the bowl permits continuous removal of solids, at speeds typically up to 3,650 rpm, generating G force up to 3,574 G. Upon entering the cylindrical section, process liquid settles as a layer around the wall. The thickness of this layer is determined through discharge weirs stationed at the end of the cylindrical section. Above these weirs, the clarified liquid is decanted by means of centrifugal force.
Solids are simultaneously plastered against the bowl's wall, then removed by the screw conveyor and directed up to the conical section. They then exit the discharge ports at the narrow end of the decanter. Discharged sediment drops into an external screw conveyor for onward conveyance to a collection/disposal skip. Clarified liquid, meanwhile, is collected in the tank and then returned to the mud room's clean product holding active tank using the effluent transfer pump.
The decanter unit weighs 5,000 kg and can handle solids at a rate of up to 12 ton/hr. The centrifuge has a differential speed range of 2-40 rpm.
"One new feature of this model is that we are offering duplex materials as standard for the bowl," says van der Voort. "This is one reason why in terms of price, the Lynx 40 is at the top of the range. But we offer twice the capacity, at 71 cu m/hr, of the machine offered by our nearest competitor, Varco Rigtech, which has a maximum throughput of half of that. And their machine is more expensive to operate over time.
"To put this in perspective, there are a lot of hard surfaced parts in our bowl, which will reduce wear and bring maintenance down. The tungsten carbide parts are easy to replace, and you can do this most of the time in the field. If we compare our centrifuge with others in terms of installed horsepower, bowl length and diameter, maximum G-force, and gearbox torque, the Lynx is the top performer. Generally, our bowl is longer than our competitors'. Their bowls' diameters are similar, but due to their choice of materials, they can't handle such high centrifugal forces as ours can (up to 3,574g)."
According to van der Voort, "Alfa Laval's new organization is very much more product oriented, with the emphasis on offering a whole portfolio of products to the offshore sector. As an example, we delivered a big order recently to main contractor Halliburton for the Barracuda and Caratinga FPSOs in the Campos basin. This included freshwater distillers, fuel oil heat treatment systems and plate heat exchangers. Currently we are developing plate heat exchangers for higher pressure, higher temperature applications." Another development is the skid-mounted Puma mud temperature control system, which is being targeted especially at high-pressure, high-temperature drilling. This can handle up to 420 cu m/hr of mud at up to 110° C and 150 psi. Drilling fluid is conveyed to the system's two plate heat exchangers via a centrifugal pump. A suction strainer prevents large solids from forcing their way through. A back-flush arrangement is also incorporated for cleaning the system.
For more information, contact Hans van der Voort, Alfa Laval. Tel: +45 39 53 60 00, fax: +45 39 53 65 53, email: hans.vander.voort@alfalaval.com, website: www.alfalaval.com.