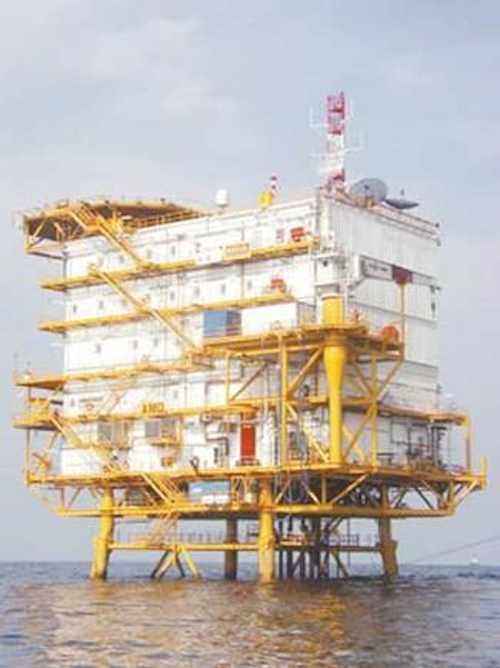 Platform fabrication is still alive in France, thanks largely to the efforts of con-struction group Eiffel. Its yard in Fos-sur-Mer on the south coast is currently completing the drilling facilities for Azerbaijan International Operating Co.'s Central Azeri platform, with shipment to the Caspian due shortly. Eiffel also recently finished the living quarters for Total's Amenam project.
The $30-million quarters module has been installed on Amenam's field in Nigeria and is now operating. Eiffel managed the design, with assistance from Sofresid Aquitaine in Pau. The two have cooperated twice before on small offshore projects. The 80-bed module ended up with a weight of 2,000 metric tons, but had to be pre-fabricated in two blocks, due to the offshore lifting/installation constraints. This resulted in more hook-up activity than had originally been foreseen.
Although this was a traditional quarters construction, as specified by the client, Eiffel sees better prospects in the near term for modularized systems, particularly in the Caspian and West Africa, where some major projects are coming together. According to Offshore Division Director Marcel Dubreuil, operators in the Azeri sector in particular are demanding North Sea-standard accommodation modules that local fabricators are at present unable to supply. They are not equipped to handle tight schedules, although they can manage final assembly under supervision.
Currently, Sweden's Emtunga is the market leader, shipping modules over in sections through the Volga canal system. Eiffel could do the same, Dubreuil says, "and we could also bring an improvement in terms of materials selection."
Eiffel has never been a full-time player in the offshore sector, tending to pick up odd contracts in spurts. At one point, it was looking to form alliances with other offshore contractors, but the newly merged super-groups such as Saipem and Technip now want to do everything themselves, he says.
"We prefer to stay open. Our main interest is to find a niche where the main contractors do not have an interest."
As an independent contractor, Eiffel's best-known deliveries over the past decade were to Cobo and Etim-Ubite in West Africa and BP's Bruce field in the North Sea. A new 500-ton compression module for the Cobo platform is under contract and will be fabricated at Fos.
"Our strategy is to find work where possible for our yard in Fos," Dubreuil says, "although that's not so easy with the current euro-dollar exchange rate, so we must remain flexible."
null
The company's offshore team is adapted with internal resources from the other Eiffel divisions, and Eiffel as a group can provide ready access to specialists in mechanical and electrical engineering, instrumentation, and steel construction. Eiffel Nigeria also now has a base in Port Harcourt, following parent group Eiffage's acquisition of Spie's civil engineering business in Nigeria.
Tight AIOC schedule
The almost-completed engineering, procurement, and construction contract for AIOC was awarded to Eiffel Construction Metallique in August 2001. The Azeri-Chirag-Guneshli fields, with combined reserves of over 4 Bbbl, are being developed in three phases. The first, and current, phase is designed to produce 400,000 b/d of oil and 350 MMcf/d of gas based around a 48-slot drilling and quarters platform bridge-linked to a compression and water injection platform. Water depth is 128 m.
At Fos, Eiffel is assembling a drilling support module, a derrick equipment set, and a drill cuttings reinjection package. Design was subcontracted again to Sofresid Aquitaine.
"BP considers this a very technical construction project," Dubreuil says, "as it includes a fully automated drill floor. Fifty percent of this contract is procurement, with different equipment being delivered from various places in Europe."
Maritime Hydraulics in Norway is supplying the derrick, driller's controls, and pipe-handling equipment, while Wirth in Germany is providing the draw works and mud pumps.
"BP decided that for the schedule of this contract, it was better to have the equipment built outside Azerbaijan. Our deliveries are due in June and July. At the outset, our contract was for a 2,200-ton module with a lump sum price. But at the end of basic engineering, the weight had risen to more than 3,700 tons. So there have been lot of design changes since the early contract negotiations. We are now working on a reimbursable basis to deliver these facilities in three sections, for an overall price of $100 million. McDermott is building the topsides at the SPS yard in Baku, but the contract for hook-up and integration is not fully defined. The Dutch contractor Vopak will ship our package via the Black Sea and the Don/Volga canal system using four vessels, including two river boats."
There was no slackening of the schedule despite the increased work scope. This was due to the need to remove the marine spread from the Caspian Sea by October, before the canal system freezes over. Consequently, the equipment from Norway is being transported directly to Baku, where it will be hooked up to the facilities arriving from France as part of the deck integration program.
Eiffel's latest offshore-related venture is the fast moving workover rig (FMWR) ES 1250, details of which were unveiled at Offshore Technology Conference 2002. The concept was designed by Paris-based Sofindel, a drilling engineering contractor that has connections with Pride/Forasol and Forex Transocean, in response to an operator's request. Eiffel is responsible for construction and marketing.
The lightweight, compact apparatus (footprint is 86 x 30-45 ft, depending on cap beams spacing) is designed for easy mobilization/demobilization, using a standard supply boat. It is intended primarily for workover operations from fixed jacket platforms in mild climate, shallow water regions such as the Persian Gulf and Lake Maracaibo, without the need for tender-assist.
The FMWR comprises four main modules:
Electrical power plant and utilities
Drill floor substructure containing sludge tanks and return sludge treatment
High-pressure sludge pump module, also supporting the rig's own 15-ton capacity crane
Workstring support.
These modules are girthed to allow their simultaneous relocation using hydraulic rolls on grippers. Pipe rack capacity is 200 tons.