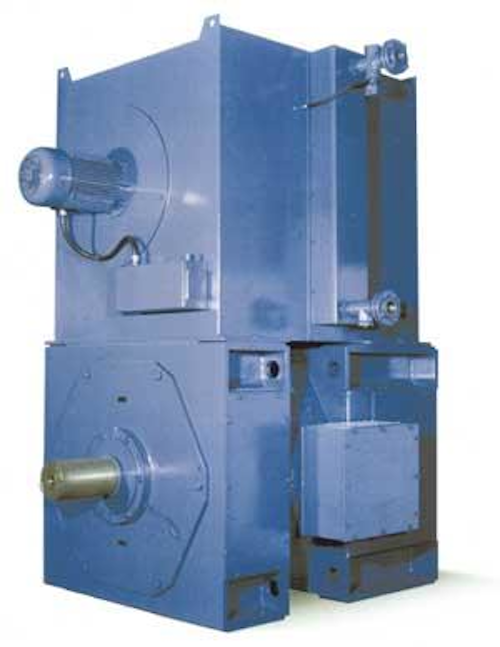 Thrige Electric offers a full range of modern marine and industrial direct current motor types, fully laminated DC machines for variable speed applications up to 3,000 hp. Higher outputs are possible using tandem solutions.
These machines can be supplied in most cooling, protection, and mounting forms, with or without marine approval. Outputs up to 700 hp can also be supplied in NEMA frame sizes.
Thrige Electric is one of Europe's leading suppliers of direct current (DC) machines with manufacturing and sales companies in five countries. The company's DC machines are in operation throughout the world:
From container cranes in Argentina to oil rig pumps in the Atlantic
From bow thrusters in the Gulf of Mexico to anchor-mooring winches in the Indian Ocean
From dredgers in the Pacific to cable laying vessels on the oceans.
The company was founded by Danish engineer Thomas B. Thrige, who designed his first DC machine in 1894, after having worked with Thomas Edison in the US. For more than 100 years, Thrige Electric has produced DC machines for customer applications worldwide. Thrige's commitment to electrical machines continues, and its staff strives to meet customer's requirements for quality, performance, and reliability.
For more information, contact Soren Harris Pedersen. Tel:+45 63 13 06 32; email: shp.thrige@mail.dk.
null
Clean oil reduces failures, improves reliability
In nearly 80% of hydraulic system failures, contamination has been found as the root cause. Life extension tables relate the cleanliness codes (expressed as ISO 4406) directly to the life expectancy of lubricated machines. Clean oil keeps equipment running, reliable, and available.
The most cost-effective method of maintaining clean and dry oil in operating machinery is offline filtration. The C.C. Jensen product line includes systems to remove solids, water, air, and oxidation products such as varnish and sludge from oil without harming the additives in it.
Using cellulose and cotton fiber inserts with a high dirt-holding capacity removes contaminants efficiently and cost effectively. Special fluids such as phosphate ester can maintain low AN using ion exchange inserts.
In the offshore industry, there are many types of lubricated equipment, including hydraulic cranes, compressors, diesel engines, or thrusters. C.C. Jensen offers solutions to reach and maintain the level of contamination in oil specified by the manufacturers and users. Referring to the relevant life extension chart, the return-on-net-asset can be estimated. In most cases, the payback time on C.C. Jensen filtration systems will be less than one year.
Companies should also consider the mean time between default, accessibility, and reliability issues. Adding reliability to lubricated machinery may be worth more than the documented savings achieved in reduced operation and maintenance costs.
For more information, contact Torben Madsen. Email: tm@cjc.dk.
null
Gas leak detection in hazardous environments
Traditional gas detection by the "sniffing" methods does not always detect leaking gas due to:
Fast dilution of leaking gas
The MM0100 detects leaking gas at the speed of sound.
Wind carrying away the gas cloud.
This means that if a traditional gas detector measures a 10% LEL, just a few meters away the gas concentration can be at 100% LEL. The low reading can lead to a false feeling of safety and an explosive environment.
Innova GasSonic designed the Ultrasonic Gas Leak Detector MM0100 for use in the oil industry both onshore and offshore, in power generation, chemical industries, and other hazardous industrial environments. Any potentially dangerous gas concentration must be detected before it is able to create an explosion.
The MM0100 does not provide a concentration level in LEL as do traditional gas detectors; instead it gives an instant alarm if a leak is detected. The transducer provides a trip output that raises the alarm. It is intrinsically safe with its airborne ultrasonic acoustic technique of leak detection.
The MM0100 is able to detect gas leaking from pipeline junctions and gas valves at the speed of sound. Sound emitted by gas travels in all directions, allowing the detector to be positioned anywhere. Unlike other sensors, gas does not have to reach the sensor – just the sound of escaping gas. The sensor reliably detects gas leaks within a distance of up to 25 m from the leak source, even in locations subject to extreme weather conditions.
The MM0100 has four years of field operation on onshore and offshore installations in the North Sea and in the Middle East. The detector satisfies ATEX EEx ib IIC T6 and UL/ULc approval for Class 1 DIV 1. Multiple detectors can be linked to a central control point for area monitoring. Once installed, the MM0100 is virtually maintenance free.
For more information, contact Innova. Tel.: +45 44 20 01 00, email: gasleak@innova.dk, website: www.gassonic.com.
Geotechnical, pipeline projects require sound, creative engineering
Geoline is an engineering consultancy firm providing advice for the planning, design, and supervision of geotechnical, pipeline, and software engineering projects. The company offers foundation studies, design, and analysis services for offshore projects including analysis of shallow foundations, driven piles, suction anchors, and finite element analysis.
null
For pipeline projects, Geoline offers marine pipeline engineering from initial feasibility studies to advanced late-stage engineering. SAGE Profile and Ansys finite element tools are used with survey information to model the seabed soils and their interaction with the pipeline. This analysis can be used to correct spans, prevent upheaval buckling, and ensure pipeline stability. The company has experience with out-of-straightness analysis for specifying the optimal cover height for trenching and burial operations.
Geoline's software development expertise covers the entire software life cycle including: software specifications, design, reporting, validation, and verification. This includes advanced web applications and home pages for use with the Internet. Software development is done in Visual Basic, Digital Fortran, C++, and Java languages. Web applications can be developed in SSSI, CGI, Java script, VB script, ASP, and Mysql.
For information, contact Geoline. Tel: +45 70 22 58 55, email: info@geoline.dk.
Quality tank venting equipment since 1952
Pres-Vac Engineering A/S, the largest vent-ing equipment manufacturer in the world in its specialized field, has expanded its activities and now provides a broad range of tank fittings and engineering services, the comp- any says.
A variety of designs are available for multitude applications, such as vessel cargo tanks, high-pressure gas tanks, ballast tanks, fuel oil tanks, storage tanks, tank trucks, and vapor recovery systems. Pres-Vac venting systems offer several alternatives for protection of storage and gas transfer systems. The systems can be delivered fully remote-controlled and monitored.
Pres-Vac equipment is designed and manufactured to the latest international rules and regulations.
A network of agents and representatives are available throughout the major markets, providing parts, backup, and repair. Parts are kept in stock and readily available for every product.
For more information, contact Pres-Vac Engineering. Tel: +45 48 17 40 55, email: presvac@pres.