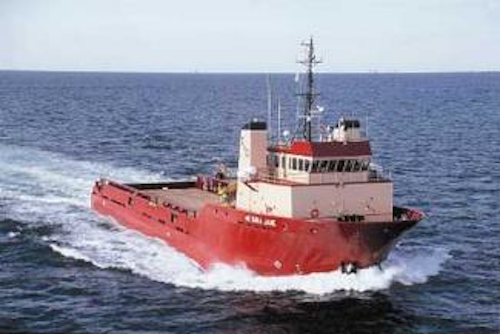 Semi changes hands
Diamond Offshore Drilling Ltd., a subsidiary of Diamond Offshore Drilling Inc., has signed a memorandum of agreement to purchase the semisubmersible drilling rig Omega for $65 million.
Before delivery, the Omega will undergo its regularly scheduled five-year survey. The rig will receive a number of equipment upgrades at that time.
The purchase was expected to be completed in 1Q 2003.
Torch adds to deepwater fleet
Torch Offshore Inc. has entered into an agreement to purchase the Wave Alert from Global Marine Shipping Ltd.
The 340-ft cable-laying DP2 vessel will join Torch's deepwater fleet as a deepwater subsea construction vessel and will be re-christened, Midnight Wrangler.
Delivery of the Midnight Wrangler is expected in March, when the vessel will have gone through its required drydock. All cable-lay equipment will be removed at that time, and Torch will install a 125-ton crane.
"With the addition of the crane, we feel this vessel can perform deepwater construction in all regions of the world," said Torch Offshore chairman and CEO Lyle G. Stockstill.
Bollinger delivers new supply vessel
Bollinger Shipyards Inc. has delivered the supply boat, Ms Sara Jane, to MNM Boats. The Ms Sara Jane is a new design effort between Bollinger and MNM. The vessel is a high cargo capacity offshore support vessel (OSV) that can work on and off the US continental shelf and can access oil and gas well installations in shallow water and deepwater locations, Bolllinger said.
The vessel's mud tanks can carry over 6,000 cu. ft of material, and its three pump systems can carry three different liquid mud products. The vessel, the first of Bollinger's new 220 "super shelf" series, is 207 ft by 53 ft by 19 ft and is designed to carry as much as some 230-ft OSVs, according to Scott Theriot, executive vice president of new construction at Bollinger.
Bollinger has contracts for seven more of the 220 series vessels.
null
Kvitebjørn topsides to move into the North Sea
The topsides for Statoil's Kvitebjørn development has been installed on a barge at the ABB Offshore Systems yard in Haugesund north of Stavanger for tow-out to the North Sea field on March 1.
The topsides measure 100 m long, 45 m wide, and 40 m tall. Remaining fabrication, testing, and commissioning will be done on the barge.
Aker Verdal in mid Norway completed fabrication of the jacket earlier this year. The Kvitebjørn derrick, drill floor, and mud module are being built by Heerema Tønsberg south of Oslo and should be completed before tow-out.
Hook-up and testing of the drilling package is scheduled to be completed on site before drilling begins in August.
Prequalification begins
Woodside Petroleum began the prequalification process for an FPSO with subsea completions for its 100% owned Enfield field off Western Australia.
The company is planning to develop hydrocarbon reserves in deep offshore waters (350-900 m water depth) 40 km northwest of North West Cape, Western Australia. The development area is in exploration permit WA-271-P in the Carnarvon Basin.
An exploration and appraisal program revealed three oil fields (Enfield, Laverda, and Vincent), and a number of other prospects nearby could eventually tie in to the production hub.
Though the decision was made to develop the field using an FPSO, the company reportedly will consider using a newbuild or a converted vessel. The resulting FPSO will have a double hull with a storage capacity of between 850,000 and 1 MMbbl of oil and a production rate of 100,000 b/d.
A contract award for the FPSO is expected in mid-year. First production is planned for mid 2006.
South Venture topsides awarded
The owners of Nova Scotia's Sable Project have awarded a contract for the South Venture topsides fabrication to Halifax Shipyards Ltd. of Halifax, Nova Scotia.
Early this year, the final decision will be made on whether the proposed South Venture development will move forward. If participants adhere to the original plan, the South Venture platform will begin operations in 2004.
Tier 1 of the Sable Project includes the Thebaud, North Triumph, and Venture platforms offshore as well as two onshore processing plants. Tier 2 fields include South Venture and Alma, which is scheduled to come onstream in late 2003, and Glenelg.
The owners of the Sable Project's offshore assets are ExxonMobil Canada, with 50.8%, Shell Canada with 31.3%, Imperial Oil Resources with 9%, Emera with 8.4%, and Mosbacher Operating Ltd. with 0.5%.
Smedvig to build a tender rig
Smedvig has entered into an agreement with Malaysia Shipyard and Engineering Sdn Bnd in South Malaysia to build a self-erecting tender rig. The new unit is scheduled for delivery in 1Q 2004.
The tender rig will be based on a new design developed by Smedvig, with enhanced drilling capabilities allowing for parallel activities, which Smedvig said will significantly increase drilling efficiency. The new unit is to be well suited for production drilling in shallow and deepwater areas in Southeast Asia, one of Smedvig's core service areas. "This will expand our activities in one of the fastest growing energy markets in the world," said Smedvig CEO Kjell E. Jacobsen.
Capital expenditure is estimated at $67 million, which includes the cost of the derrick equipment set.
BP awards classification
BP has awarded classification and verification services for its giant Plutonio FPSO to Bureau Veritas. The building contract for the Plutonio FPSO has not yet been awarded. The contract will be put out to tender following Sonangol's approval.
When the field comes onstream in 2007, the Plutonio FPSO will serve five fields in deepwater block 18 offshore Angola. The FPSO will have a 2 MMbbl storage capacity and will be able to handle 220,000 b/d over a 25-year life span.
Amoco acquired a 50% interest in block 18 in 1996 and brought this into its merger with BP. The consortium was awarded an initial exploration period of four years including a commitment to drill four wells. Amoco had a 100% success rate with the six wells – Platina, Plutonio, Paladio, Galio, Cromio, and Cobalto – that were eventually drilled on the field. Up to four additional wells will be drilled on the block this year.
The Plutonio field is operated by Amoco Angola B.V. with shareholder Shell Exploration & Production Angola B.V.