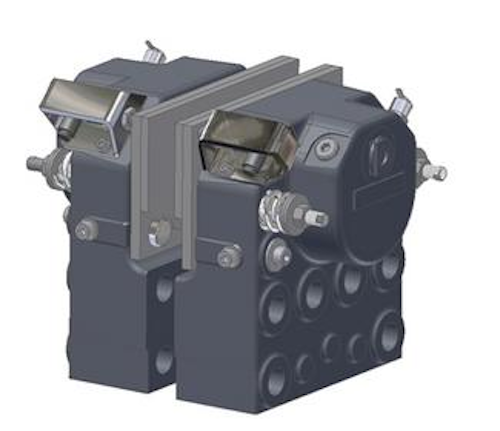 Dellner Brakes has delivered the first in a range of pressure-applied disc brakes suitable for the offshore and marine markets. The newly developed SKD 100 delivers high braking force relative to its size.
The first units will be installed on the Queen Mary 2 cruise ship under construction at the Chantier de l'Atlantique shipyard in France.
The SKD 100's design makes it suitable for marine propulsion and wind power applications.
"It's economical because it only has two pistons," said Niklas Jonsson, Dellner's managing director, adding that competing brakes have four pistons.
No radial force
The SKD's simple design means the units are easy to maintain, he added. The braking power is directly proportional to the applied pressure. The brake consists of two symmetrical brake halves. Each brake half is supplied with two cylindrical guiding pins that transmit the tangential braking force from the brake lining to the brakes. Because of this setup, the brake piston is not subjected to radial force, which in turn helps extends the brake's service life.
The brakes halves feature two retracting springs that draw back the brake linings when the pressure is released. The brake lining wear is compensated automatically through the piston's increased cylinder stroke.
The SKD 100 pressure-applied disc brake.
For the marine industry, Dellner's stop and hold brakes are targeted at propellers and steering equipment as well as emergency stop and hold brakes for winches.
For cranes, the company deals with emergency, stop, and hold brakes for industrial overhead cranes, dock cranes, and construction cranes.
Dellner also supplies brakes for top drives and drawworks for the drilling industry.
For more information, contact Niklas Jonsson, Dellner Brakes. Tel: +46 23 78 30 51, fax: +46 23 77 06 90, niklas.jonsson@dellner-brakes.com, www.dellner-brakes.com.