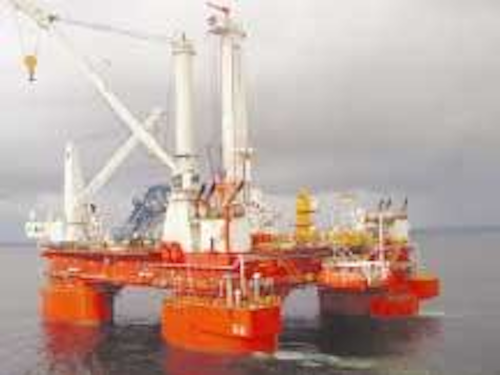 William Furlow Houston
Cal Dive International's semisubmersible DP MSV Q4000 has acquired a 10,000 psi 7 3/8-in. through-bore intervention riser system for subsea well operations.
The intervention riser system was built and tested by Worldwide Oilfield Machines and is the largest of its kind operating in the Gulf of Mexico. It enables access to conventional vertical and horizontal subsea trees in up to 5,000 ft water depth. The riser is capable of extending its reach, with system upgrades, to 10,000 ft.
CDI invested in the system to combine rapid response with maximum operational flexibility. The design is focused on the specific intervention needs of high-rate producing deepwater subsea assets. Through-tubing subsea well operations can be safely serviced with this system. The new riser allows multi disciplinary operations to be conducted in a single mobilization. Capabilities include wireline intervention, production logging, coiled tubing operations, well stimulation, full plug and abandonment operations, along with construction, inspection repair, and maintenance.
null
The addition of this intervention riser system allows the Q4000 to respond to subsea well intervention as an alternative to a drilling rig and deal with issues such as loss of production or other emergency intervention needs using standard tooling and procedures.
Singapore to receive Sumatra gas by end-2003
Completion of a 26-km pipeline linking the Indonesian Island of Pulau Pemping with Pulau Sakra (Jurong, Singapore) at the end of this year will move gas from south Sumatra's onshore fields to Singapore.
Boskalis Offshore BV is responsible for the Pulau Pemping – Pulau Sakra gas line construction, acting as main contractor for this major pipeline project. The project consists of contracts with two clients, with 9 km undertaken in Singapore on behalf of PowerGas and 17 km in Indonesia for Perusahaan Gas Negara.
The 26-km pipeline crosses two busy shipping channels in the Singapore Strait – the Main Strait (westbound vessel traffic) and the Phillip Channel (eastbound).
The 9-km Powergas contract was the first to be signed in November 2001. Completion was scheduled for May of this year. The scope of work consists of four elements: a 150-m onshore connection to the Pulau Sakra receiving station, the dredging/route preparation work, pipeline installation, and pipe protection. The pre-pipelay dredging under this contract respects a 25-m free water depth requirement for vessel navigation in the Singapore Port environs.
The pipe trench involved the dredging of 700,000 cu m of material, using a large cutter suction dredger and the trailing suction hopper dredger Queen of The Netherlands.
Ben Mooibroek, Boskalis Offshore's area manager for the Far East and Pacific Area, said, "The conditions are difficult, with plenty of steep rocky outcrops, including sharp peaks overlain with residual soils and layers of softer marine clay. Some extremely hard material was removed. We were very close to the dredging capabilities for the equipment. In addition, the specification demanded great accuracy. We utilized Aquarius, an enhanced GPS variant with accuracy in the centimeter range, to achieve minimal over-dredging. The entire 26-km route was within the 40-km range of the Base Reference Station, located at Jurong."
Following dredging for the depth requirement, remaining unacceptable free spans were eliminated by means of pre-laid rock supports. This phase of work was completed in December 2002.
In July of last year, preparatory work began for the PGN contract. Dredging started in October. Seabed work along the 17-km stretch differed from the PowerGas section of the route, in that the main task was seabed leveling rather than dredging for depth requirements. The route, however, featured areas of hard material requiring removal. Pre-lay supports were installed to eliminate remaining unacceptable free spans.
The equipment used included a backhoe dredger and the large floating grab crane Goomai, equipped with an 11-cu-m grab and operating in water depths of up to 50 m. As for the shore approach at Pulau Pemping – dredging through the shallow reef flats – the Zinkoon V with hydraulic excavator was deployed.
All dredging and route preparation was completed last November. The next phase, placing of the pre-laid supports with the side stone dumping vessel Cetus, was completed in December.
Pipelaying from Pulau Sakra began in January. The pipe was produced by Europipe of Germany and the pipelay is being executed by subcontractor Global Industries. The main pipelay (24 km), with tie-in to the remaining 2-km section landing at Pulau Pemping, was completed in March. A fiber optic cable was piggybacked to the pipeline. To protect the cable during the main rock-dumping phase, an initial protective layer consisting of filter rock (less than 150 mm) was installed.
The rock protection works along the stretch from Pulau Sakra and into the Strait required 700,000 metric tons of rock. The rock protects the gas pipeline against damage from anchors of up to 22 metric tons. The protection works will be undertaken by the fallpipe barge Zinkoon 6 and the side stone dumping vessel Cetus. Rock-dumping began in late March, followed hydrotesting, and was completed in May.
The Zinkoon 6 and Cetus have now moved to the PGN stretch to dump 1.3 million metric tons of rock. The main source of the rock is at Karimun, an Indonesian island 40 km west of the pipeline route.
FMC, Accentus form GTL JV
FMC Technologies, Inc. and UK-based Accentus PLC, have established GTL Micro-Systems, a joint venture for the commercial development of gas-to-liquids (GTL) technology, with FMC holding a majority ownership interest.
Following a two-year alliance, FMC Techno-logies and Accentus said they have achieved a breakthrough in the fundamentals and economics of GTL technology for exploiting stranded and associated gas reserves.
The majority of the world's natural gas exists in small, stranded reserves or as gas associated with oil production. These reserves are difficult to economically exploit using current GTL technology. However, GTL MicroSystems believes its technology will allow monetization of gas reserves as small as 10 MMcf/d, which is the equivalent of 1,000 b/d, at lower per-barrel capital costs than those of traditional, large-scale plants.
Commercialization of this GTL technology targets oil and gas fields with 200 MMcf/d of gas production or less. GTL MicroSystems has conducted analytical, laboratory, and proof-of-concept trials that have demonstrated the feasibility of manufacturing a compact, high-efficiency, "Process Intensified" GTL plant using microreactor technology. GTL MicroSystems' proprietary technology should enable PI GTL plants to be located in space-restricted areas, such as on offshore platforms, FPSOs, or mobile skids.
Progress toward commercial development of the GTL technology will require the selection of strategic partners to assist in the design, construction, and operation of a demonstration plant with a capacity of 100 b/d.