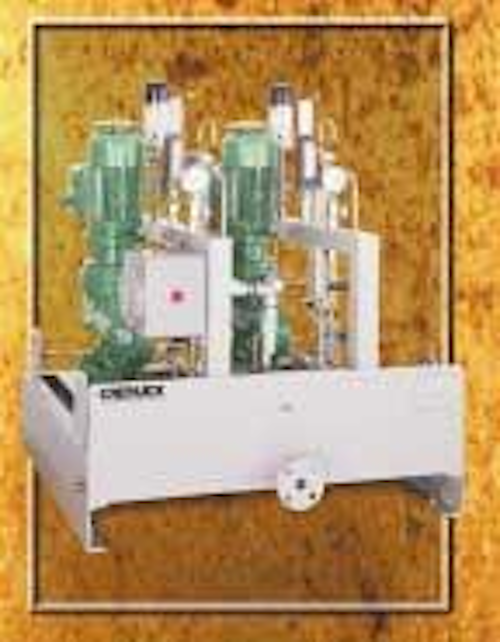 Jaime Kammerzell • Associate Editor
YZ has placed several phosphate injection systems in the Malaysian offshore oil and gas production fields. The electrically-driven positive displacement skid system injects 3-30 gal/day at pressures from 30 to 1,000 psi. The Chemjex Systems can be configured to meet a range of applications where liquid chemical is injected into a process or pipeline. Features include four electrically actuated Milton Roy XTs injecting 30 gal/day at 30 psi and three Milroy B diaphragm pumps injecting 3 gal/day at 1,000 psi, discharge line mounted flow switch for remote flow/no flow indication, 1/2-in. stainless steel tubing throughout, corrosion resistant three-coat Ameron paint system especially suited for offshore applica-tions, and grounding lugs for safe offshore electrical operation.
Subsea MDET detector system
AnTech Ltd. has introduced the subsea MDET detector system, a wellhead sensor that assists deepwater operations to position specialist equipment on the seabed and detects the end of coiled tubing inside a riser. With the industry moving further into deepwater, a successful deepwater operation includes the safe and efficient positioning of equipment on the sea floor. The Subsea MDET makes it possible to see through steel tubulars by its remote audible and visible warning system, making the process of proper equipment positioning a more precise and controlled activity.
Pig tracking
The Pipeline Inspection Co. pig tracking system is fast and simple, and only requires a tracking sensor and standard retail batteries, the company says. Pipeline inspection transmitters have a wide size range from 2-in. pipe diameters up to 72-in. Tracking a pig entails installing the transmitters inside the pig, launching the pig, and waiting for a signal from either pig tracking sensors or an optional wand. The transmitters are pressure and temperature resistant and water tight. Tracker systems can be moved easily. Sensors are non intrusive and can be strapped to the pipe.
In-line process viscometer
Brookfield Engineering Laboratories has an explosion-proof model AST-100 process viscometer with no moving parts. The AST-100 is FM approved for class 1, division 1, groups C&D service and can operate in conditions up to 250° F and 200 psi. The controller, which is included with the sensor, can provide a 4-20 mA, RS-232, or RS-485 output signal. The AST-100 has a clean-in-place design and in-line measurement that minimizes operator involve-ment.
CX-Tec solenoid valves
Springer Co-Ax Inc. has provided compact and low-profile straight-through solenoid valves. The CX-Tec solenoid valve is available in brass or stainless steel construction, and FPM and TFE seals and seats are stan-dard. Available in sizes from 3/8 in. to 1 in., the construction materials are suitable for most commonly seen media from vacuum conditions to 600 psi. Unaffected by system pressure or pressure differentials, the CX-Tec pressure balanced design delivers dependable shut-off in applications formerly reserved for much more expensive or custom valves.
Drilling fluid management
Dust generated while mixing drilling fluid products in drilling rig mud rooms can be prevented with the dual suction Lobestar shear/mixer. The dust containment assembly provides a hermetical seal between the surge tank and the Lobestar shear/ mixer. Bulk barite and bulk bentonite can be delivered and mixed at a regulated rate in a dust-free environment.
Biodegradable corrosion protection
Cortec VpCI-609 provides environmentally acc-eptable and biodegradable corrosion protection for the interior of HRSG and HVAC equipment, piping, and tanks. The product features 100% biodegradability and a "0" bio-accumulation potential, making it suitable for marine and offshore applications. As part of Cortec's advanced green technology, VpCI-609 can replace more hazardous and aggressive treatments with a bio-friendly formulation. Because treatment with VpCI-609 provides liquid, vapo-phase, and interface protection, it is ideal for protecting partially closed or sealed systems with hard-to-reach surfaces, recessed areas, and overhead cavities.
Compact flow meter for low flows
The C-OK45-DL series flow meter from FloCat uses the pelton wheel principle to measure the flow of water and other low viscosity liquids. Liquid passes through a nozzle at the inlet of the flow body and is directed onto a flat blade pelton turbine. The turbine wheel rotates at a speed proportional to the flow rate. The movement of the pelton wheel is detected optically. The signal from the optical sensor is processed as an amplified pulse or 4-20 mA signal, which is proportional to flow rate. The C-OK45-DL flow meters are available in brass or stainless steel construction and are offered with a choice of three output configurations: frequency output, 4-20 mA output, or compact electronics featuring a three-digit LED display.
Sub arc welding process replacement
Stoody ThermaSlag resurfa-cing services has introduced the ThermaSlag pro-cess and ThermaSlag wire to re-place current sub arc welding pro-cess and wire. Full chemistry is achieved in one layer or 6 mm of patented ThermaSlag. As a result, the sub arc welding process can be replaced, along with its need for over alloyed wire.
DirectSense TOX brochure
A new brochure detailing a toxic gas monitor that uses Pocket PC computers is available from GrayWolf Sensing Solutions. Mix or match up to five gas sensors plus temperature from nitrogen dioxide, nitric oxide, sulfur dioxide, hydrogen sulfide, hydrogen cyanide, ethylene oxide, oxygen, ammonia, chlorine, and carbon monoxide. Gray Wolf's WolfSense application software allows for a clear real-time display of up to seven simultaneous measurements on a mobile computer, plus data-logging and long-term trending.