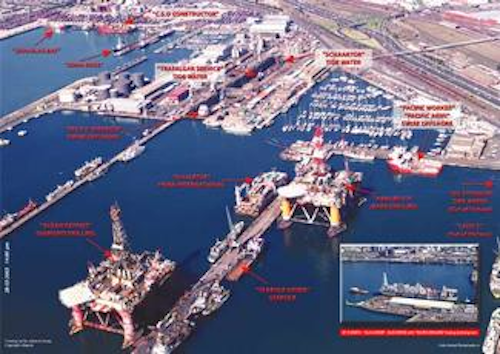 South Africa emerging as an industry hub
Cape Town's waterfront is playing an increasingly larger role in construction for the oil and gas industry. According to South Africans, the area offers the best supply and servicing position on the sub-continent.
Cape Town is in the middle of the major southern ocean trade routes. From a logistics standpoint, location places South Africa in a central position between East and West. More significantly, however, is Cape Town's proximity to oilfields off West Africa. Cape Town is only four days' sail from Luanda, Angola.
South African firms are becoming progressively more involved in servicing the oil and gas industry. For some time, the owners of rigs and oil production vessels have chosen Cape Town as their point of call for repairs, servicing, and refits.
The West African offshore oil fields are rapidly gaining international importance. Deepwater discoveries off West Africa have become commonplace. According to the Cape Town Chamber of Commerce, new oil discoveries are reported from the area almost monthly, and Cape Town is believed to be ideally placed to become a service hub for the industry. Hopes are high in the region for South Africa to become an oil and gas service center.
Work for the West African and Southern African offshore fields sustains over 5,000 jobs in Cape Town. Part of the reason is the cost of skilled labor in South Africa, which is attractive to European and Middle Eastern operators. The relative weakness of the rand against currencies of competitive countries gives South African companies an economical edge when bidding against Middle Eastern, US, or European opposition. This advantage applies particularly to projects off South and West Africa. The low cost of mobilization from South Africa to worldwide destinations is another considerable advantage.
Offshore construction
The Port of Cape Town is a full service, general cargo port with quayside water depths between 9 m and 12 m. It has the benefit of a variety of well-equipped cargo terminals linked to a vast inland transport infrastructure. The port also boasts the longest dry dock in the Southern Hemisphere (369 m) as well as ship repair, rig repair and maintenance, and marine and construction engineering expertise.
The unique port links to a purpose-built railroad service handling facility, which is connected to a dedicated jetty. The port offers breakbulk handling facilities and serves as a major crude oil importation and transhipment port.
The port can handle vessels with a maximum of 20.5 m (on tide) and up to 21.5 m (in ideal conditions) and receives roughly 400 vessels a year.
SA Five Engineering's facilities are used for construction, repair, and maintenance services for the offshore oil and gas industry, vessels topsides conversion projects, and transportation large/vessel load-outs. SA Five's A-Berth facilities include 275 m of quay at a depth of 12.2 m and access to Cape Town harbor through a 180-m-wide channel with a depth of 15 m. Crane capabilities range from a 14-metric-ton Franna "Pick & Carry" to a 1,000-metric-ton Liebherr LTM.
The National Ports Authority's 200-metric-ton floating crane is also available for heavy lifting services. The crane's maximum reach is 24 m at 125 tons.
The Victoria basin is 500 m x 500 m with three jetties and provides 2,200 m of quayage with depths 5.2 m and 9.9 m. The Alfred basin, southwest of Victoria basin, is 300 m by 100 m and is dredged to an average depth of 4 m, with 740 m of quayage. The basin has access to the Synchrolift shiplift facility, which has a lifting capacity of 1,750 tons. There are also five repair lanes available that range from 55 m to 75 m in length.
The Ben Schoeman dock, 1,800 m by 500 m, is the major port of the basin. And Duncan dock, 1,800 m by 600 m, provides 4,000 m berthing face. Duncan dock's entrance is 180 m wide, with the main part of basin dredged to 12.9 m.
Sturrock dry dock, with a docking length of 360 m, is at the southeastern end of Duncan dock. This dock has six 4-metric-ton cranes, a 10-ton crane, and a 50-ton crane, and can be emptied in four hours.
A 457-m repair pier is part of a repair quay near the entrance to Sturrock dry dock. The repair area houses two 15-ton cranes.
The yard in Saldanha Bay is 60 nautical miles north of Cape Town. Saldanha Bay, 120 km north of Cape Town, is the largest natural port in Southern Africa. The concrete slipway is 250 m long with a 40-m-wide quay and a water depth of 8 m.
There has been some interest on the part of the offshore oil industry to market the port of Saldanha as a marine supply hub to supply offshore vessels, including services like ship repair and bunkers. The port has plenty of land available to support the offshore oil and gas initiatives. And the National Ports Authority, Cape Town Chamber of Commerce, local government, and the South African oil industry are working to promote the Western Cape's service capabilities.
Upgrading the Glas Dowr
One local company has been working to establish itself as a viable contender in construction management for the offshore oil and gas industry. SA Five Engineering began operations in South Africa in March 1991. Over the last decade, SA Five has focused efforts on developing project management and construction expertise.
Much of the fabrication work carried out by SA Five is done at the company's facility at A-Berth in Cape Town harbor. To date, work has consisted of topside modules, subsea lateral systems, FPSO upgrades, and ship/vessel conversions.
Last year, SA Five was awarded the multi-million-dollar contract for upgrade work on the Glas Dowr FPSO, by Bluewater Energy Services BV, a Netherlands-based FPSO operator. According to SA Five, the Glas Dowr award marked the first FPSO construction to be carried out on the African continent.
The Glas Dowr arrived at the SA Five facilities at A-Berth in Cape Town harbor at the end of June 2002 and left the harbor nine months later on the way to offshore installation and commissioning, with 1,600 tons of fabricated, erected, and tested topsides onboard.
null
The 110,000-metric-ton FPSO is 245 m long and 52 m wide and was moored at A-Berth for 10 months while upgrade work was carried out. The upgrade involved fabrication design, bulk procurement, fabrication, installation, testing and commissioning of a gas compression module, process separation module, gas turbine generator, water cooling system, and flare structure and stabilizer platform, including erection and alignment of the stabilizer vessel. Various other modifications to existing topside facilities of the FPSO were also performed.
SA Five was responsible for fabrication engineering, drafting, procurement, fabrication, erection, and full painting system, including insulation, bolt tensioning, chemical cleaning, and pipework pre-commissioning, encompassing nitrogen-helium leak testing and hydro testing.
Air Options, an SA Five affiliate, designed and engineered the conversion of the USB and accommodation utilities services ventilation plant into a full HVAC system. While the vessel was in port, Air Options also overhauled and checked the performance and design of the existing HVAC plant serving the main accommodation section.
SA Five Engineering, under a separate contract awarded by Bluewater Energy Services UK, also recruited, trained, and managed a crew of more than 60 for operations, maintenance, production, and marine activities.
The successful completion of the project proved the viability of SA Five as a contractor and Cape Town as a venue for future marine construction projects.