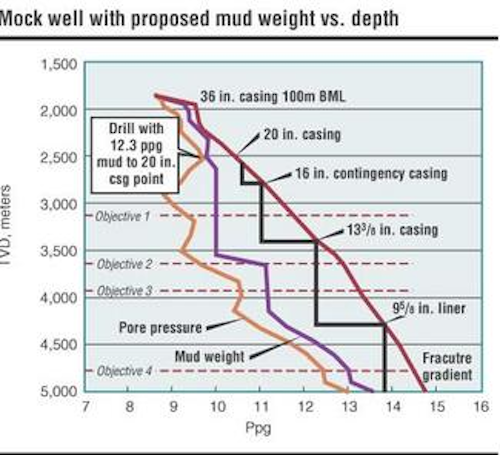 R.W. Jenkins
D.A. Schmidt
Murphy Sabah Oil Co. Ltd.

D. Stokes
Baker Hughes INTEQ

D. Ong
Schlumberger
Malaysia has a long history of offshore drilling with proper oilfield support. However, ultra-deepwater drilling had not taken place in the country when Murphy Sabah Oil Co., Ltd. signed a production sharing agreement with Petronas in January 1999 covering deepwater leases offshore Sabah, Malaysia, near northern Borneo.
Leads on block K ranged in water depth from 1,300 to 2,000 m. Due to limited offset information and the possibility of abnormally pressured zones near the mud line, this project became a classic rank deepwater drilling exercise. With careful attention to logistics, well design, communication with stakeholders, and coordinated operations, all five of the ultra-deepwater wells reached the desired total depth under budget, and all geological goals were accomplished. Lessons learned from this project will have a positive impact on future Malaysian deepwater operations.
Drilling strategy
Based on equipment availability and pore pressure predictions, Murphy Oil developed the following drilling strategy for Block K:
Deliver top quartile HS&E results
Use conventional equipment to drill wells to TD
Communicate plan to all stakeholders up front
Set 20-in. casing at a minimum of 750 m below the mudline
Use synthetic oil mud in all sections below 20 in.
Shoe tests: "They are what they are."
After a detailed procurement process, the Ocean Baroness, a Victory class upgraded rig from Diamond Offshore, was chosen as the drilling rig for the prospect based on overall cost and timing constraints. The rig offered several advantages: mud storage, transit deck loading, offline ability to rack the BHA, ability to "hang off" the 20-in. conductor string in the moon pool area, and 2,200-hp mud pumps.
Drilling fluid selection
As a mainstay of the overall strategy, synthetic oil-based mud was a must to allow for high penetration rates, hole stability, and excellent evaluation ability. No facility existed that could build and store large volumes of oil-based mud. Liquid plant components were transported to Malaysia via a ship and installed on the supply base.
The plant consists of 16 container type storage vessels of 475-bbl capacity and one mixing pit of 600-bbl capacity for a total capacity of 8,200 barrels. The mud transfer pumps are diesel driven to avoid any critical down time due to electrical supply problems at the plant location. The pump engines were configured at 280 hp to provide adequate pumping capacity across the 350-m transfer piping to the jetty. Barite silos, an air dryer and an air compressor were rented locally to complete the dry bulk rig-up.
A large supply of water-based mud was needed for "pushing" the 20-in. casing at 750-m depth below the mudline. No plants or storage facilities were available in Malaysia to manufacture large volumes of weighted water based mud.
Another complicating factor was rig mobilization from Singapore directly to the first drilling site. To spud the well early in the anchoring process, the water-based mud would have to travel with the rig during the mobilization. The volume requirement was 16,000 bbl of 16.0 ppg water-based mud to overcome potential pressures while drilling the riserless section. That the Ocean Baroness was able to hold 6,900 bbl of mud – 2,900 bbl on surface and 4,000 bbl in column tanks – was advantageous. The balance of the mud was held on three workboats.
As there were no floating storage vessels available in Southeast Asia, the decision was made to fabricate and install storage tanks, mixing pit, and barite storage on a 210 ft x 60 ft barge. An additional temporary storage barge with a capacity of 3,400 bbl was also commissioned in Singapore for mixing and transfer operations prior to the departure of the rig.
The barge was towed to Labuan, Malaysia, and anchored in the bay near the supply base for operations offshore Sabah. Re-supply of necessary materials was accomplished at the base jetty, and the mixing process conducted at anchorage to avoid space conflicts at dockside. The barge was used for four of the five wells and was on standby for the last well. As a side benefit, the mixing barge was also used as a platform to clean workboat liquid tanks.
Deepwater cementing considerations
The strategy to set 20-in. casing at 750 m below the mudline and drill all wells to total depth successfully required the use of an appropriate deepwater cementing system for conductor casing. It was also critical to take into account the potential shallow hazards and gas hydrates. A 12.5-13.0 ppg lightweight slurry was designed in view of the low fracture gradient associated with this ultra-deepwater environment. This slurry system would make use of the particle size distribution (PSD) technique to maximize the packing volume factor (PVF) of the slurry, thus reducing the water content to a minimum. The PSD slurry, incorporating low-temperature additives and low-temperature gas migration control additives, has all the properties to control shallow flows and gas hydrates.
Contingency plans
Plans were set forth to use 36-in. and 20-in. as the starting points for the deepwater campaign. Due to the absence of offset information and unknown pore pressures, it was imperative to be able to install an array of casing programs from 36 in. to 9 5/8-in. Two strings of 26-in. casing were also procured to aid in controlling possible shallow-water flow problems. However, this contingency was not included in the drilling program because a drill ahead "pump and dump" scenario was planned. All the liner joints were ordered as 11 hangers with crossover joints made to convert the hangers to 9 5/8-in. liners.
A plan was developed to allow for casing repairs if casings did not go to the bottom; i.e., casing patches for major hole sizes. Pipe recovery equipment was placed on the rig for immediate use. Since deepwater drilling was new to Malaysia, the rig was the only one using pipe larger than 5-in. size. This became an issue on all crossovers and fishing scenarios.
Logging equipment was secured on a stand-alone basis for immediate use. Back-up equipment was secured for all required logging operations. All relevant cased hole products were also secured, such as casing wear indication devices, perforating equipment, and mechanical plug setting gear.
Communication with stakeholders
For this first deepwater drilling project in Malaysia, communication with the stakeholders was critical for achieving successful results. All major service providers were asked to search within their companies for lessons learned from other deepwater provinces. Some of the companies brought in individuals with ultra-deepwater experience. A three-day spud meeting was held twice to include all the field and office service providers as well as senior Diamond Offshore representatives to communicate the HS&E program and standards, well control standards, well design options, and equipment review.
With the final location not decided until rig mobilization, a mock well, which outlined the typical expected well in the area, was constructed. This mock well was used to derive drilling programs and establish contingency plans. The mock well was also used to illustrate possible drilling situations at the advanced pre-spud training sessions held prior to rig mobilization.
Offshore Malaysia has a much higher temperature gradient than other deepwater provinces, exceeding 9° F per 100 m below the mudline. Well design changes were made to prevent casing annulus pressure buildup during drilling. The drilling team went to great lengths to ensure that cement did not enter the annulus.
Calculations were performed to ensure the length of the annulus column from the casing shoe to the top of the cement could accommodate mud solids in the event that barite did fall out of the mud system. Detailed cement modeling helped ensure the proper use of spacers and chemical wash agents for cementing in a synthetic mud system.
General drilling procedure
The following procedure was observed for drilling the five wells:
Move rig on location and set anchor with two boats
Ensure that the rig was loaded with appropriate volumes of liquid water-based mud
Jet in 36-in. casing and drill ahead, monitoring for shallow-water flow
Drill to 750 m below the mudline and install 20-in. casing (casing previously hung off during rig move)
Install BOP and riser. Displace to synthetic oil mud
Drill ahead with 17-in. bit to total depth of surface casing.
Install 13 3/8-in. casing and drill 12 1/4-in. hole to intermediate casing point
Log the well and install 9 5/8-in. liner
Drill to TD in 8 1/2-in. hole
Abandon well, pull BOP, and move off location.
Drilling results
All five of the ultra-deepwater wells reached the desired total depth in water depth ranging from 1,305 m to 1,876 m. From a performance standpoint, the wells were drilled well under budget, and geological goals were accomplished. From a benchmarking standpoint, the wells were drilled at near GoM targets for days/depths below the mudline. The average well in Malaysia was drilled at 3.41 days/300 m below the mudline.
Overall, there were a few areas where performance could be improved:
Directional and hole enlargement bit performance
Enhance casing to handle temperature increases
More accurate temperature readings inside the BOP.
As a whole, the project saw considerable success, including:
Anchoring: world-record water depth was set on the second well at 1,876 m of water
Jetting and drilling ahead worked without an issue on each well
Use of offline equipment: 20-in. casing ran and hung off in the moon pool on all rig moves
Offline BHA handling: majority of BHA equipment was handled off the critical path
Logging: all logging runs were made without any wiper trips, and data was acquired without difficulty
Rig downtime: minimum for the project due to proper commissioning
Safety performance: only three recordable incidents for the entire project and no lost-time accidents
Cementing: no squeeze or cement job failures
MWD performance: 2 tool failures during entire project
BOP performance: no subsea equipment maintenance on the critical path.
Acknowledgement
This article is a synopsis of paper 79807, "Drilling the First Ultra Deepwater Wells Offshore Malaysia," presented at the SPE/IADC Drilling Conference held in Amsterdam, The Netherlands, Feb.19-21, 2003.
Authors
R.W. Jenkins, Murphy Sabah Oil Co Ltd, operations manager, Kuala Lumpur, Malaysia.
D.A. Schmidt, Carigali, drilling engineer, Kuala Lumpur, Malaysia.
D. Stokes, Baker Hughes Inteq, fluids coordinator, Murphy Oil deepwater and shelf operations.
D. Ong, Schlumberger Dowell, technical engineer, Kuala Lumpur, Malaysia.