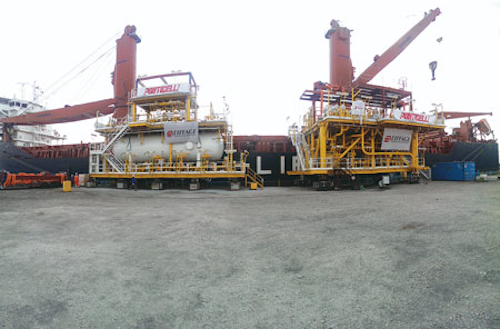 Recently Total started up Moho Bilondo-Phase 1-bis, one of two projects designed to extend production from the Moho-Bilondo permit offshore Republic of Congo. Phase 1-bis involves the subsea tieback of 11 new Miocene wells in the southern part of the permit to the FPUAlimawhich has operated on the Moho-Bilondo field since start-up in 2008.
Technip was the engineering and procurement contractor responsible for re-engineering the vessel's topsides to accommodate fluids from the new wells, while Ponticelli was the construction contractor appointed to install and integrate various new modules. Under sub-contract to Ponticelli, Eiffage Métal's yard in Fos-sur-Mer, southern France constructed the 17 x 14 x 12-m (56 x 46 x 39-ft) M31A manifold module and the 20 x 7 x 13-m (65.6 x 23 x 42.6-m) separator module, which can handle up to 160 cu m/d (5,650 cf/d) of oil and gas-condensate. The two structures, including interconnections, have a combined weight of around 570 metric tons (694 tons).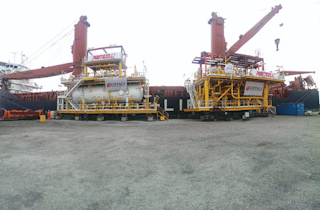 The M31A manifold module for the FPUAlima. (Photo courtesy Eiffage Métal)
According to Arnaud de Villepin, managing director of Eiffage Métal's Industrial Division, "there are no routine jobs in this industry - we had to meet strict targets for weights and dimensions for the two modules - but the project went well, and following delivery last June our equipment was installed on the vessel at the end of last year."
Eiffage is currently in negotiations to acquire a metering skids specialist in France, and hopes to expand its offering in this sector once the offshore market revives. The company also maintains a subsidiary in Nigeria, where over the past decade it has built living-quarter platforms for the Amenam and Ofon projects in partnership with local contractors. Prospects for new construction work took a knock following Shell's recent decision to postpone the Bonga SW project. This has led Eiffage to investigate alternative options such as maintenance and repair of existing Nigerian living quarter platforms. Elsewhere in Africa, Eiffage is in negotiations to acquire a Portuguese company and its subsidiary in Mozambique, which could provide a potential springboard for participation in the country's deepwater LNG projects.
Three years ago, Eiffage acquired Antwerp-based Smulders, a specialist in construction of foundations and substation for offshore wind turbines. Smulders also fabricates offshore oil and gas structures - it built the 4,000-metric (4,409-ton) stinger - the world's largest - for Allseas' new construction vessel Pioneering Spirit. Eiffage plans to use the Antwerp base to bid for future projects in the North Sea, and has discussed a co-operation that could lead to Smulders sub-contracting work to UK yards BiFab and OGN.