New tools and technology for the offshore industry
Nov 9th, 2016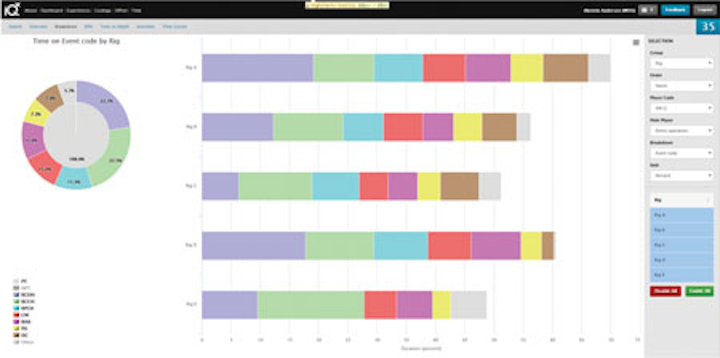 Well assessment software improves benchmarking, highlights inefficiencies
Petter Mathisen
AGR Software
Operational time is one of the greatest variables on any well project. AGR's iQx TIME module, introduced earlier this year, has helped some oil companies increase their drilling operational efficiency by 50%.
Lost time can be challenging to map and therefore difficult to mitigate. Hitherto, drilling managers have also lacked a regular high level overview to monitor the operational development.
The new software, developed with various operating partners and already licensed to oil and gas companies in Norway, combines up-to-the minute data from the user's daily drilling report system with historic activity reports, allowing the operator to accurately benchmark activity against its own historic projects and against third-party activity. Automatic synchronization with all industry-recognized drilling reporting systems also highlights inefficiencies and opportunities for improvement.
Among other features, the software provides users with greater insight into specific operational timings and data across multiple wellbores. This allows them to compare the efficiency of their wellbores in terms of footage/day; to derive an overview of non-productive time and its contributing factors; flat spot analysis; and to undertake a comparison of wells to identify long-term trends grouped by rigs, field or hole sections.
An intuitive time versus depth visualization compared to budget helps the user quickly identify where opportunities for improvement lie. This is supported with key performance indicator functionality, automated reporting, and the automatic transfer of drilling data from the user's daily drilling reporting system.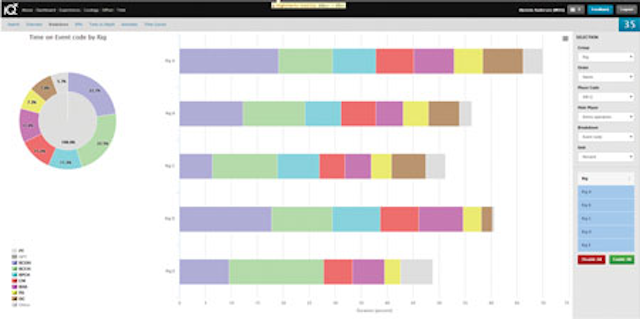 iQx TIME screenshot. (Photos courtesy AGR)
In terms of improving the efficiency of well projects, very often the critical factor is achieving marginal gains across the board. One of the greatest opportunities for improvement comes from cutting inefficient use of time - for example, teams having to spend hours researching past projects. With the new software, the information is at their fingertips, allowing them to remain focused on active operational activity.
AGR has gathered data from a range of different sources and standardized these to ensure data analysis is easy to interpret and compare. iQx users include: Aker BP, OMV, VNG, Lundin, Norwegian University of Science and Technology, and LUKOIL Overseas North Shelf. The software provides access to data from more than 6,000 wells drilled on the Norwegian continental shelf. All the software's modules visualize data in standard format, allowing drilling and subsurface teams to interpret data from real time and historic operations.
The information is drawn from a publicly available databank but can also be tailored to include the end-user's specific data. The software currently provides offset, experience, GEO and TIME modules for knowledge capturing and data analytics. More in-depth analytical tools are planned for 2017 based on the existing AGR software portfolio such as probabilistic well planning tool P1. But the company is also for the first time inviting external companies to deliver modules based on their own developed API standards.
Aker BP's drilling supervisor, Trond Eggen Sivertsen, who is implementing another iQx module, Experience, on the company's Ivar Aasen development in the North Sea, has said that the software is now a daily part of the company's standard working processes, with the derived individual learnings on the project saved and now made accessible on a company-wide level. By standardizing the knowledge management process, Aker BP has been able to locate features for improving effectiveness through minimizing human error. This has led to a higher and more consistent level of quality in the company's project, concept selection, and well planning.
Ivar Aasen's development team used the iQx tool for collecting and analyzing historic well data to minimize the time spent on offset engineering as well as helping to streamline their processes for cross-divisional training and skills development.
Visualizing 'big data'
During the 1990s when the term "big data" first surfaced the collection, storage, and analysis of data were hugely time consuming, significantly limiting the scope and scale of information gathered and how it was used. Well projects then depended on the skill and judgement of the team leaders; projects were high risk and often ran over time and budget.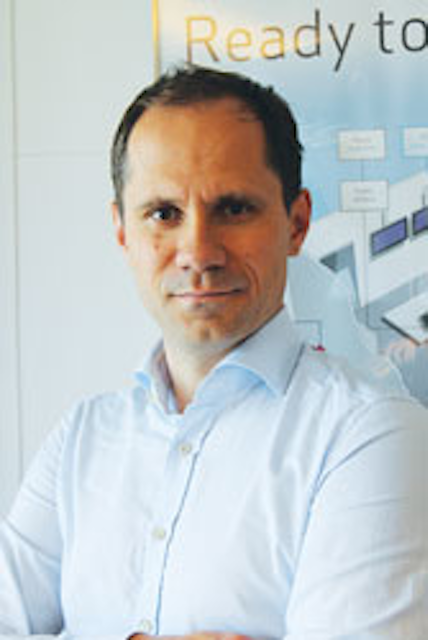 Petter Mathisen, AGR Software
Now more sophisticated tools are being developed to capture information, via sensors placed on drilling rigs, downhole or in production facilities. For a long time, the main focus has been to stream these data real time from offshore to onshore, enabling more decisions to be taken by specialists at onshore bases, with the aim of reduce offshore staff counts.
But the data remains scattered. Due to the industry's current way of managing data, the full effect of using "big data" has yet not been discovered. Due to a large variation in industry formats and reporting, managing a standard platform for all the data has been an important first step to make all data available for the end users.
Rigless ESP conveyance system reduces costs, opens opportunities
Increasing the overall value of a well has never been so critical, and the artificial lift market will witness substantial growth over the next few years. Electrical submersible pumps (ESP) are often the optimal artificial lift option to cost-effectively maximize reservoir recovery and production. However, the full potential of ESPs in offshore and remote locations has been limited by rig deployment, with its high intervention costs, loss of production, and the inability to access the reservoir without pulling the production tubing.
AccessESP's Access375 System is a non-invasive ESP conveyance system. This technology simplifies the ability of an operator to quickly and easily install and retrieve ESP systems on slickline, without a rig. It is designed specifically for high-value wells, where access to the location is difficult, rig interventions are cost-prohibitive and where delays in production cannot be accepted. This rigless conveyance system combines a production-tubing landing string with a side-pocket-mounted downhole wet connector and a high-power permanent magnet motor (PMM).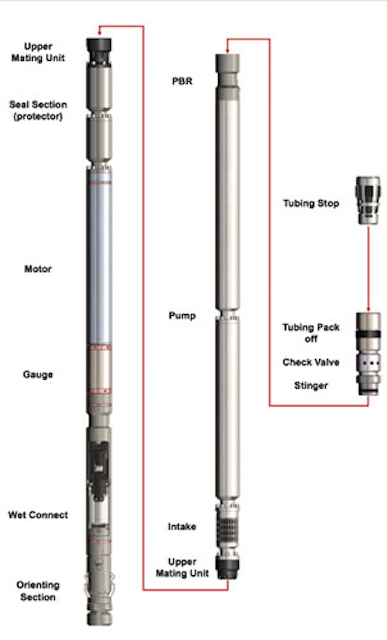 Access375 can simplify the ability to install and retrieve systems without a rig. (Image courtesy AccessESP)
Case study: offshore Nigeria
In 2014-2015, the first rigless ESP conveyance system was installed offshore Nigeria. The operation was performed using the Access375 System, consisting of a 190 hp PMM deployed through 4.5-in. tubing. The operator had a two-well platform with an FPSO, and required an ESP to achieve sufficient drawdown to produce the reservoir. The operator replaced a failed conventional ESP with the Access375 System. After installation of the Access375 Permanent Completion, the retrievable assembly was run, via slickline to a depth of 5,900 ft (1,798 m) in less than 15 hours. AccessESP initially installed a 190 hp ESP system. However, it did not deliver the required drawdown. Months after the initial installation the operator was able to replace the 190 hp system with a 250 hp system in a rigless operation in seven days. The client benefitted by avoiding the significant loss of production and the intervention costs that would have occurred with a conventional ESP change-out.
Slickline retrievable ESP systems are now commercially viable, proven in a variety of environments and successfully operating in fields all over the globe. The application of this technology significantly reduces operating costs, capex, and cost per barrel for operators in the global ESP market, while actively increasing rates of production. By employing the AccessESP System, operators can typically lower their overall cost per barrel by $2 to $5, versus a conventional ESP deployment.
New hybrid drill bit aims to improve penetration rates, run life
Baker Hughes has made the commercial release of its line of Kymera XTreme hybrid drill bits, which are designed to lower well construction costs through faster and more durable drilling performance.
The bits - which combine the strengths of PDC and tricone bit technology - offer the smooth, consistent performance of previous generations of hybrid bits, while improving penetration rates and run life.
Kymera XT drill bits are available in a variety of designs, each capable of addressing specific challenges in numerous applications, formation types, and hole sizes.
The company says the Kymera XT bits drill faster than previous generation hybrid bits and offer a dynamic-balanced design that reduces torque fluctuations to minimize damage to the bit and, deliver efficient, effective performance in both vertical and curve sections. They also offer steerability and control in difficult environments, including carbonates and interbedded formations.
The new bits' sharper, more durable cutting structures incorporate enhanced shapes and carbide grades for improved aggressiveness and accelerated penetration rates.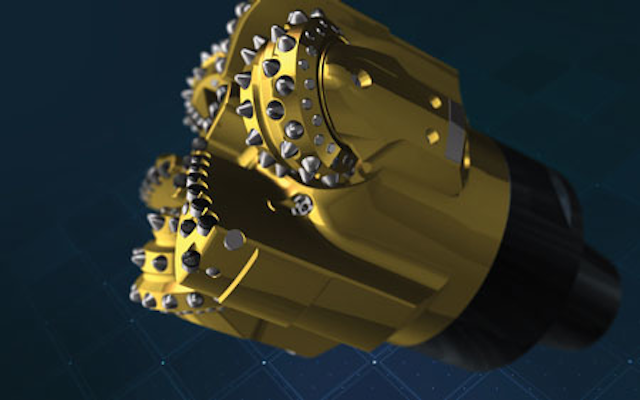 Baker Hughes says that its Kymera XTreme hybrid drill bits combine the strengths of PDC and tricone bit technology. (Courtesy Baker Hughes)
These designs, the company claims, provide added tool face control, enabling the drilling of longer distances at higher buildup rates than was previously possible, while maintaining a high-quality borehole throughout extended runs.
Blade and roller cone designs can be optimized based on the operator's application to deliver a variety of benefits that include long, section-to-section runs and enhanced durability during transitions between formations.
In the Middle East, the new hybrid drill bit demonstrated durability by drilling 2,721 ft (829 m) of extremely hard and abrasive series of limestone, sandstone, and shale formations in one fast run - improving rate of penetration by 138% over the field average and reducing the operator's cost-per-foot by 50%. As a result, the operator finished the section 2.3 days ahead of schedule, saving nearly $100,000.
Scott Schmidt, vice president, Drill Bits at Baker Hughes, said: "Kymera XTreme hybrid bits combine the control and rock-crushing strength of a tricone bit with the speed and shearing action of a PDC bit and, in almost every case, are more durable than either of the alternatives.
"This combination delivers a bit capable of drilling longer vertical and curve sections at higher speeds and in a variety of challenging formations - an extremely valuable tool to help our customers effectively manage their well construction costs in this challenging business environment."
Weatherford introduces new wireline tool
Weatherford International plc has launched its Compact formation sampler. The slim-profile wireline tool can capture up to three 700-cc samples in a range of borehole sizes.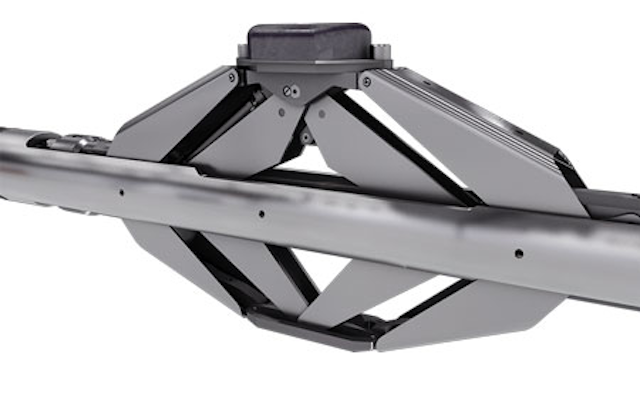 The Compact formation sampler's design is said to be able to improve the efficiency of formation testing and sampling operations.
The size of the Compact formation sampler distinguishes it from other pressure, volume, and temperature (PVT) samplers on the market, the service provider said. The profile enables the tool to be run past restrictions smaller than 3 in. and to operate in boreholes as large as 14 in. Additionally, the self-centering design is said to reduce formation-sticking risks, enable a more efficient and faster connection with the target zones, and makes it possible to deploy the tool on traditional wireline or through drill pipe.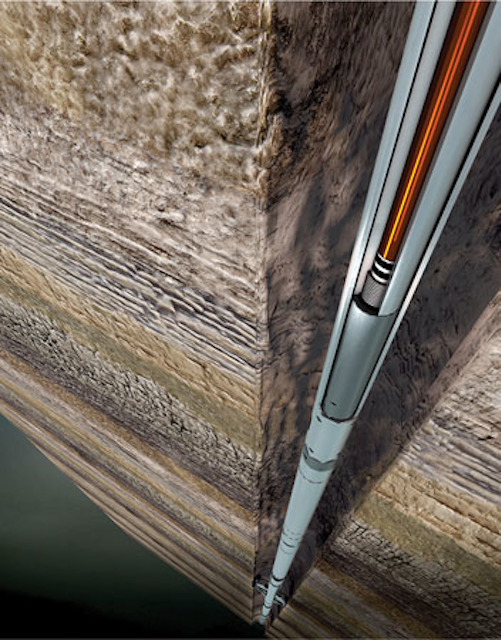 Weatherford says that the slim profile of its Compact formation sampler allows the tool to be run past restrictions smaller than 3 in. (Images courtesy Weatherford International plc)
Olivier Muller, global vice president of Wireline and Testing Services at Weatherford, said: "The design of this new sampler can significantly improve the efficiency of formation testing and sampling operations. By enabling a simpler and safer downhole deployment, the Compact formation sampler helps operators more assertively regain access to representative reservoir fluids."
Roxar multiphase meter suited to varying field needs
Emerson Automation Solutions has introduced the Roxar MPFM 2600 M multiphase flow meter, designed to provide flexibility as fields mature and conditions change.
It is said to be easily retrofitted in the field, straightforward to commission, and designed to meet operators' capex and varying field requirements.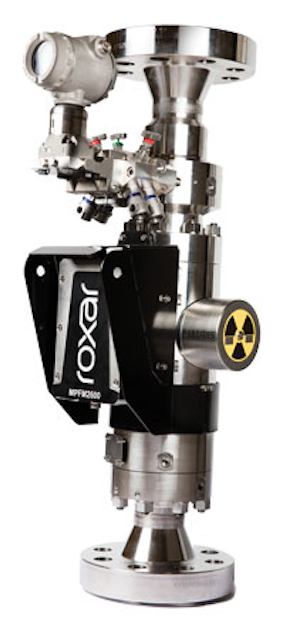 Emerson Automation Solution's Roxar MPFM 2600 M multiphase flow meter features a technology based on a field-proven platform. The scalable meter is designed to provide flexibility as fields mature and conditions change. (Image courtesy Emerson Automation Solutions)
According to Patrick Babka, VP and general manager, Roxar, Emerson Automation Solutions: "It is also ideal for applications requiring one multiphase meter per well, allowing operators to track multiphase flow from all of their individual wells accurately and cost-effectively."
The MPFM 2600 M can identify and measure non-symmetrical flow in varying flow regimes. Different modules can be placed into a variety of configurations and software modules are available to support flow back measurements, well testing and allocation metering.
Schlumberger introduces geo-based well test design software
Schlumberger has released GeoTesting, geology-based well test design and interpretation services.
GeoTesting services, built in the Petrel E&P software platform, integrate geological and geophysical models with dynamic well test data in a shared earth model for more accurate interpretation compared with conventional analysis limited to geometrical models.
Wallace Pescarini, president, Testing Services, Schlumberger, said: "GeoTesting services bring a new level of certainty to reservoir characterization with optimized well test designs that validate and calibrate reservoir models using dynamic measurements.
"With high-quality data and analysis representative of the reservoir, customers can vastly improve production forecasting, determine reservoir connectivity and identify sweet spots."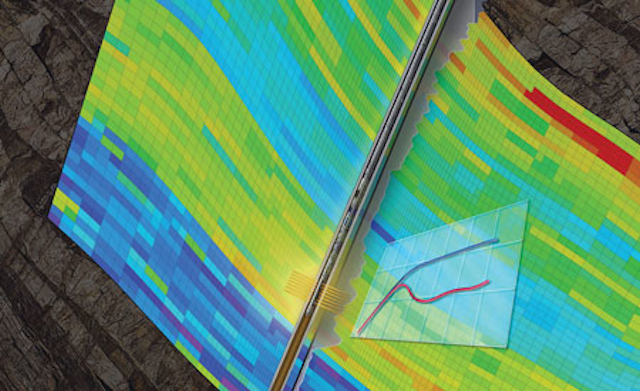 GeoTesting services maximize the value of well tests by integrating geological and geophysical models with dynamic well test data in a shared earth model. (Image courtesy Schlumberger)
The Petrel GeoTesting plug-in features global sensitivity analysis designed for targeting geological features of interest and incorporating uncertainty in the geological model during well test design and execution. This, the company claims, maximizes confidence in the data while minimizing well test duration and cost.
The new grid-based inversion technology automatically calibrates reservoir models with dynamic well test data for direct integration into the reservoir model, enabling more accurate reservoir characterization. In addition, the naturally fractured reservoir pressure transient simulator provides new insight into the complex behavior of transients and the matrix-fracture interaction.
Operating in the Norwegian Barents Sea, OMV used the new services to characterize a geologically complex reservoir, which presented many challenges including proximity to nearby faults, oil/water contact, uncertainty in fault conductivities, permeability and anisotropy.
Success was achieved using GeoTesting services to optimize the well test design and calibrate the reservoir model with dynamic well test data-establishing confidence in the final model and confirming reservoir connectivity.