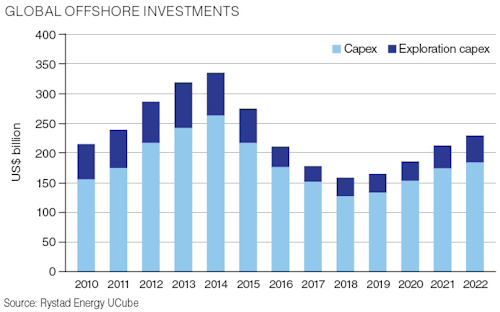 Christopher M. Barton, Wood
Just prior to the oil price crash in 2014, oil majors were investing more than $300 billion in global offshore projects. Investment in deepwater projects reached a low of $155 billion last year. Fortunately, a more optimistic view of the future has returned to the industry and investment in deepwater projects is climbing again. Rystad Energy estimates that from 2019 through to 2022 investments will break the $230 billion per year mark.
Operators are intensifying the competition in deepwater projects again, and they have recalibrated and redesigned projects to be more capital efficient. The relative recovery in oil prices, improved break-even prices, and the opening of new leases offshore South America, Norway, Gulf of Mexico, and other global locations have once again made capital-intensive deepwater projects an attractive proposition to the majors. Major capital projects (MCPs) are being phased to reduce upfront outlays and provide more flexibility in spend, while smaller fields can use nearby infrastructure to be developed via subsea tieback. Simple subsea tiebacks that are incremental to an existing field are highly competitive with tight oil.
Operators continue their relentless focus on overall cost reduction in deepwater. A key trend to note is that projects have become cheaper, simpler, and often smaller than those sanctioned pre-crash. In addition, projects are making more use of existing infrastructure, renegotiating terms with contractors, and using new technologies to drive efficiencies and improve production volumes and rates.
Stage gate process
The Stage Gate process is a tool used for planning and development of deepwater projects. It covers all aspects of a classical upstream MCP management process, including seismic program analysis and design, exploration and appraisal drilling decisions, field development planning and resource estimation, well and reservoir performance predictions, uncertainty management, and project economics.
The Stage Gate or "Toll Gate" process is a project management technique in which a project is divided into distinct stages or phases, separated by decision points (known as gates). It is a cross-functional approach that involves many different business functions throughout the entire project life-cycle. This process is used by operators in various forms to enable consistency across all MCPs within their portfolios.
After the acquisition phase, there are basically five stages in the project development process:
• Stage 1 (Explore + Appraise Phases) is devoted to the identification and assessment of opportunities. This is essentially the exploration process. Conceptual design options are also analyzed in terms of their feasibility during the appraise stage.
• Stages 2 (Select Phase) and 3 (Define Phase) are the development planning stages, where many teams of specialists perform feasibility studies to define the optimal development plan for the field, including costs, schedule, and project economics in order to obtain a final investment decision (FID). Recommended design options then pass onto the select stage during which the preferred option for development is further studied and selected. During the define stage, the scope of the preferred option is more fully defined and final design decisions are made. It should be noted that throughout the process, environmental evaluation of the project options has also been undertaken alongside technical and economic evaluation and consultation with stakeholders.
• Stage 4 (Execute Phase) takes place once the FID is made. This represents the execution of the development plan (essentially the field construction period) and encompasses the detailed engineering, fabrication, onshore commissioning, transportation and installation, and offshore hook-up and commissioning elements of the project.
• Stage 5 (Operate Phase) is devoted to the long-term management of production operations. At this stage, the objectives are to optimize production, improve efficiency, and maximize the net present worth of the asset by often making additional investments to recover incremental reserves.
Within each stage, teams of specialists perform studies, prepare project documents and then present their findings with recommendations, as appropriate, to an executive decision board, to move the project to the next stage. The board may agree to move the opportunity forward, ask the team to do more studies, put the opportunity on hold, or terminate its consideration altogether.
The poster sponsor
Wood has a rich heritage in the deepwater market and has been a leader in the engineering and design of deepwater production facilities for more than two decades. The company has designed more than 60% of the topsides facilities in the deepwater Gulf of Mexico, encompassing the three primary types of floating production systems: spar, semisubmersible, and TLP.
The company has contributed to many offshore industry initiatives including the development and sponsorship of various reference posters in Offshore magazine.
Wood initiated development of the first Deepwater Solutions for Concept Selection poster in 2002. The 2019 Deepwater Technologies & Solutions for Concept Selection poster marks the 18th edition. The company has been, and will continue to be, a proud supporter and sponsor of Offshore magazine's poster series. The poster and its corresponding content have evolved over the years to ensure its relevance to the deepwater industry. The objective has always been to provide the best reference tools and accurate industry information available.
This year's poster update represents the most significant change to date as it involves a major content upgrade. The layout has been reformatted and the visuals have been updated with new reference information. Some of the more notable changes include the addition of the following:
1. A Stage Gate graphic illustrating the typical deepwater oil and gas field life cycle phases for major capital projects.
2. A new table reflecting all floating production system designs in the market today, both proven and conceptual.
3. Photographs and drawings of all floating production system designs in the market today.
4. A US GoM Host Platform Trends chart showing floating production system types by year and water depth.
5. A water depth and topside capacity envelopes chart showing production capacity vs water depth.
6. A project cycle time summary comparison chart which compares the FID to first production for TLPs, spars, and semi-FPSs and award to first production for FPSOs. •
The author
Christopher M. Barton is senior vice president Business Development, Capital Projects Upstream, at Wood. For any questions, comments, or suggestions for improvements to future updates of the poster, please contact him at chris.barton@woodplc.com.